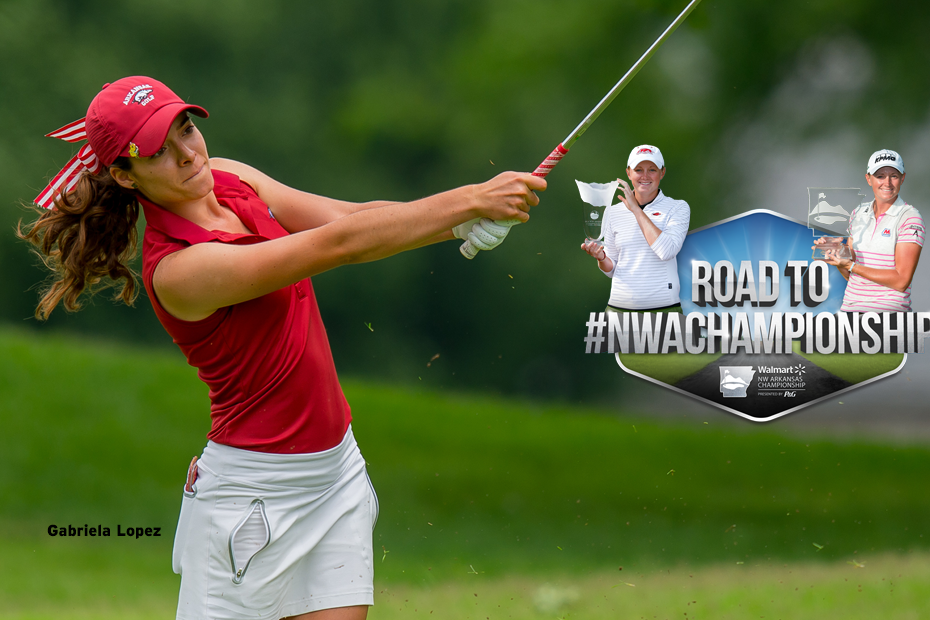 W. Golf And The #NWAChampionship
FAYETTEVILLE, Ark. – Gabriela Lopez, Regina Plasencia and Samantha Marks traveled the Road to #NWAChampionship this season and now have the opportunity to play In the Walmart NW Arkansas Championship presented by P&G.
The Razorback women's golf team took part in a season-long team competition that factored in stroke average, team contributions and academics for the right to earn a sponsor's exemption into the professional event held at Pinnacle Country Club in Rogers, Ark.  The tournament is scheduled for June 22-June 28 with the qualifier taking place on June 22.
Lopez clinched the sponsor's exemption with a 71.76 stroke average making her the top-ranked Razorback player. Plasencia and Marks will take part in the tournament's Monday qualifier for a chance to play on the weekend.
"I couldn't be happier to earn an opportunity to compete in my third Walmart NW Arkansas Championship presented by P&G," said Lopez. "Not many collegiate golfers have had the chance to test their skills against the best golfers in the world, and to be able to do so for the third year now—I feel very lucky."
Lopez has played in the NW Arkansas Championship twice, finishing T57 in 2014. Earlier this year, Lopez finished tied for third at the Mexican Amateur Championship. In 2014, she was selected to the All-SEC First Team, her second All-SEC honor. Lopez played in the 2011 U.S. Women's Amateur and is currently ranked ninth in the Golfstat Player Standings.
"As their coach, I am immensely proud of each of these girls for their hard work throughout this spring season," said Arkansas head coach Shauna Estes-Taylor. "The competition was fierce and the scoring came down to the wire. Gaby, Regina and Samantha are very deserving of these spots, and I know they will represent our Razorback golf team very well."
The Road to #NWAChampionship was announced earlier this year as a partnership between the Walmart NW Arkansas Championship presented by P&G and the University of Arkansas women's golf team. The program guarantees one Razorback student-athlete a Sponsor's Exemption into the tournament and two qualifying spots for the Razorback Women's Golf Team in the 2015 & 2016 LPGA events. Past exemptions have included Stacy Lewis and Emily Tubert.
For more information on Arkansas women's golf, follow @RazorbackWGolf on Twitter.