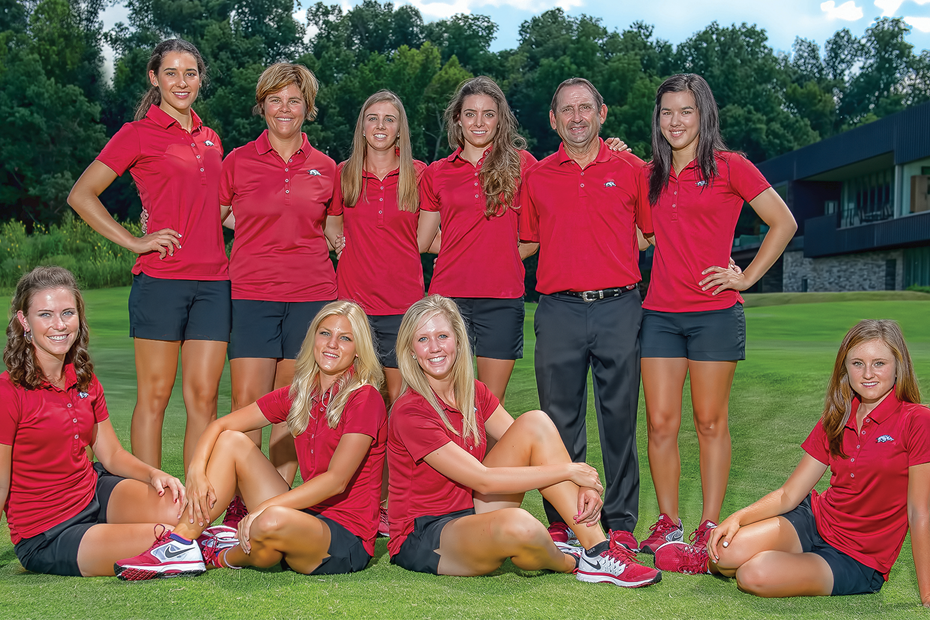 W. Golf At The Liz Murphey
FAYETTEVILLE, Ark. – The No. 7/8 University of Arkansas women's golf team tests their skills this weekend at the 42nd Annual Liz Murphey Intercollegiate in Athens, Ga.
Six teams who have combined to win 13 of 15 NCAA Division I Women's Golf titles during the 2000s headline the challenging 12-team field this season.
Last spring, the Liz Murphey became one of the first women's events to switch to a combination of stroke and match play in advance of the NCAA Championships' adaptation of a similar format in 2015. Sixteen teams competed in the 2014 event, playing 18 holes of stroke play qualifying followed by two eight-team match play brackets.
Arkansas played to a runner-up finish in stroke play last season shooting a 291, behind winner Northwestern. The Razorbacks advanced defeating Denver in their first match, followed by a 3-2 win over Mississippi State in the second match.
Regina Plasencia and former Razorback Emily Tubert each won all three of their match play competitions.
@Estes-Taylor
The Liz Murphey is actually really special for me. Having played golf at the University of Georgia it's just fun to be able to take the team back to my old stomping grounds. I think this course (UGA Course) fits us but it is a championship-style golf course and we are going to have to be prepared to play. We have such depth this year that it has been difficult to solidify the lineup. We are getting better and getting more polish and I'm looking forward to the weekend.
The Field (Golfstat.com rankings)
No. 1 Southern California, No. 3 South Carolina, No. 4 UCLA, No. 5 Duke, No. 7 Arkansas, No. 9 Northwestern, No. 16 Stanford, No. 20 Alabama, No. 29 Auburn, No. 34 Baylor, No. 38 Purdue, No. 73 Georgia