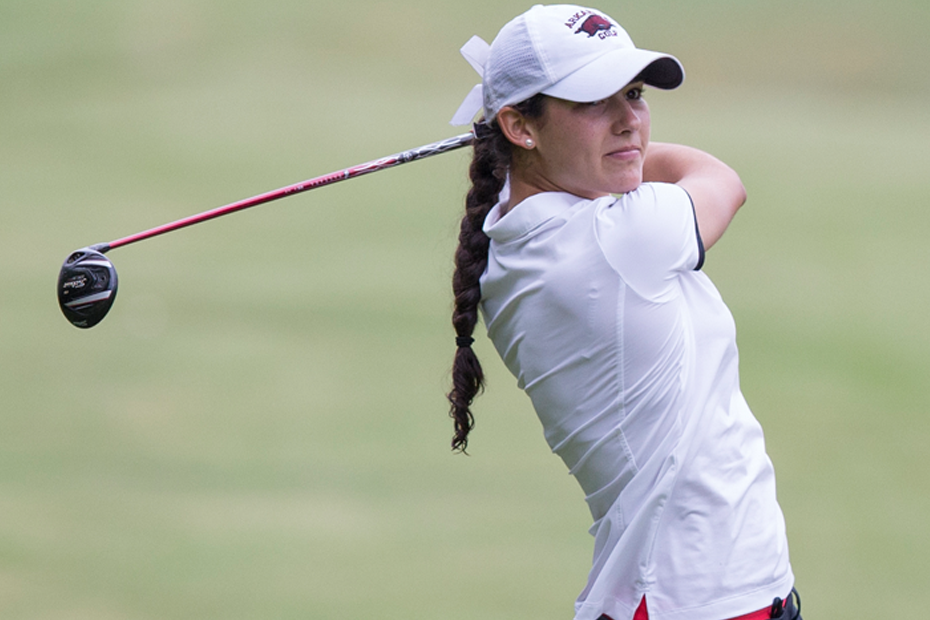 W. Golf Drops Two Matches
ATHENS, Ga. – The University of Arkansas women's golf team dropped a pair of matches in second and third round action at the Liz Murphey Intercollegiate Classic in Athens, Ga., Saturday.
The Razorbacks fell to Northwestern, 4&1, and to South Carolina, 3.5-1.5. Arkansas takes on UCLA in the final match on Sunday.  Friday's format for the Liz Murphey schedule featured 18 holes of stroke play. Those results determined the individual medalist and the seedings for match play competition that will begin on Saturday and continue through Sunday.
Junior Regina Plasencia continues to play well.  The junior won her first collegiate title shooting 71 in stroke play action Friday.  She was the only Razorback to win both of her matches Saturday.  Junior Gabriela Lopez finished her second match square.
The final match is scheduled for an 8:40 a.m. start at the UGA Golf Course.  The Liz Murphey is the second to last regular season event of the year for the Razorbacks.
The Field (Golfstat.com rankings)
Round One Stroke Play Friday
No. 4 UCLA
391
+13
No. 3 South Carolina
308
+20
No. 7 Arkansas
309
+21
No. 5 Duke
310
+22
No. 34 Baylor
311
+23
No. 9 Northwestern
315
+27
No. 73 Georgia
317
+29
No. 1 Southern California
317
+29
No. 38 Purdue
318
+30
No. 16 Stanford
319
+31
No. 20 Alabama
320
+22
No. 29 Auburn
323
+35
Arkansas Lineup – Friday Stroke Play Results
3
Arkansas
309
+21
1
Regina Plasencia
71
-1
T15
Gaby Lopez
77
+5
T24
Samantha Marks
79
+7
T40
Jordy Labarbera
82
+10
T48
Summar Roachell
84
+12
Match Play Schedule
Red Bracket-Saturday Morning
Northwestern 4, Arkansas 1
Hana Lee, Northwestern, def. Summer Roachell, Arkansas, 6-and-4
Kaitlin Park, Northwestern, def. Jordy LaBarbera, Arkansas, 2-and-1
Kacie Komoto, Northwestern, def. Samantha Marks, Arkansas, 3-and-2
Regina Plasencia, Arkansas, def. Hannah Kim, Northwestern, 4-and-3
Suchaya Tangkamolprasert, Northwestern, def. Gabriela Lopez, Arkansas, 2-up
Red Bracket-Saturday Afternoon
South Carolina 3.5, Arkansas 1.5
Regina Plasencia, Arkansas, def. Sarah Schmelzel, S. Carolina, 3-and-2
Justine Dreher, S. Carolina, vs. Gaby Lopez, Arkansas, All square
Katelyn Dambaugh, S. Carolina, def. Samantha Marks, Arkansas, 6-and-5
Ainhoa Olarra, S. Carolina, def. Jordy LaBarbera, Arkansas, 2-up
Jiaxin Yang, S. Carolina, def. Summer Roachell, Arkansas, 3-and-2