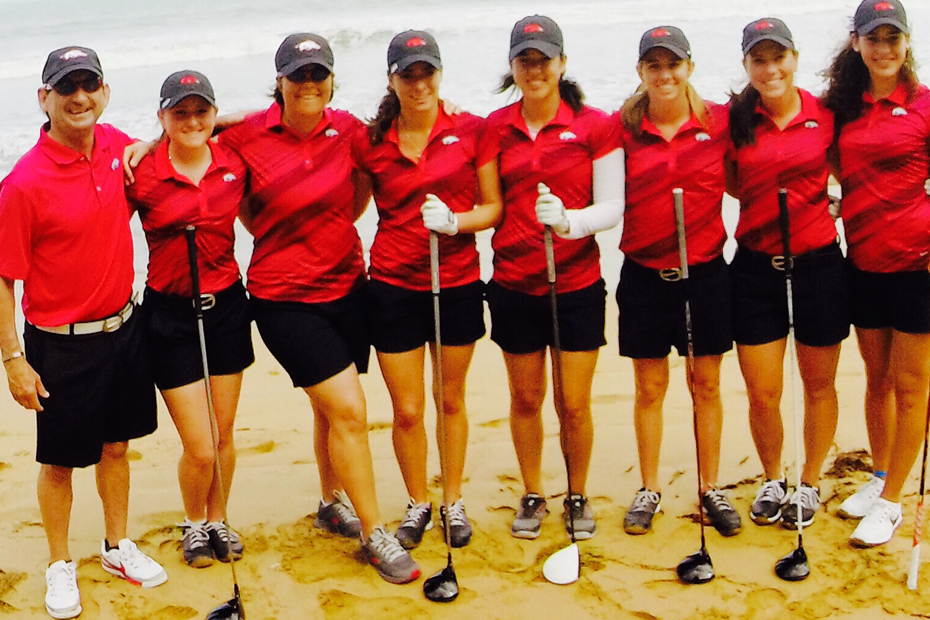 W. Golf Leads After Second Round
RIO DEL MAR, Puerto Rico – The fourth-ranked University of Arkansas women's golf team fired a second round 295 and held on to the lead with one round to play at the Lady Puerto Rico Classic in Rio Del Mar, Puerto Rico, Monday.
Arkansas is in the clubhouse with rounds of 290-295 for 585 and a two-stroke lead over Iowa State.  Junior Gabriela Lopez leads Arkansas and is tied for third overall with a 144.  Lopez posted a three-under 69 in the first round and a three-over 75 Monday.
Lopez is tied with teammate sophomore Summar Roachell who is also counting a 144.  Roachell has been even in both rounds shooting 72-72 for Arkansas.
Roachell, a Conway, Ark., native, was all over the scorecard for her first nine holes.  She opened with a bogey, shot par on the second hole and birdied her next two moving to one under.  Roachell gave one stroke back with a bogey on the fifth hole and followed up with a double and a bogey moving to three over.  The sophomore settled in with birdies on nine, 10 and 18 to finish even.
Freshman Jordy LaBarbera improved from round one shooting a one-over 73 shooting 76-73 for 148.  LaBarbera is tied for 15th overall.  LaBarbera shaved a couple strokes off her round one total in the second round.  She was steady on the front nine with eight par holes, to turn two-over.  She added three birdies and two bogeys on the back nine to finish plus-one for the day.
Junior Regina Plasencia is tied for 20th overall with a 149.  Plasencia shot 74-75 for the Razorbacks.
Sophomore Kayli Quinton shot 79-82 for 161 and is tied for 68th while sophomore transfer Samantha Marks, playing as an individual, is tied for 27th round rounds of 77-73 for 142.
QUOTING @ESTES-TAYLOR
It was a great battle for us today out there.  It blew like 20-25 mpg cross winds all day.  We got out to a rocky start but this team just really persevered and relied on their short game. They did a good job of just getting the ball in the hole and taking advantage of things when they got them.  I'm really proud of the fight and the way that we finished today.  Four of the five players birdied the 18th hole and helped create some momentum heading into the final round.  We are going to go out and take care of Arkansas and give ourselves a chance to win the tournament.
@RAZORBACKWGOLF LINEUP
| | | |
| --- | --- | --- |
| T3. | Gabriela Lopez | 69-75=144 |
| T3. | Summar Roachell | 72-72=144 |
| T15. | Jordy LaBarbera | 76-73=148 |
| T20. | Regina Plasencia | 74-75=149 |
| T68. | Kayli Quinton | 79-82=161 |
| T27. | Samantha Marks | 77-73=142 (Ind.) |
#LPRCLASSIC FIELD