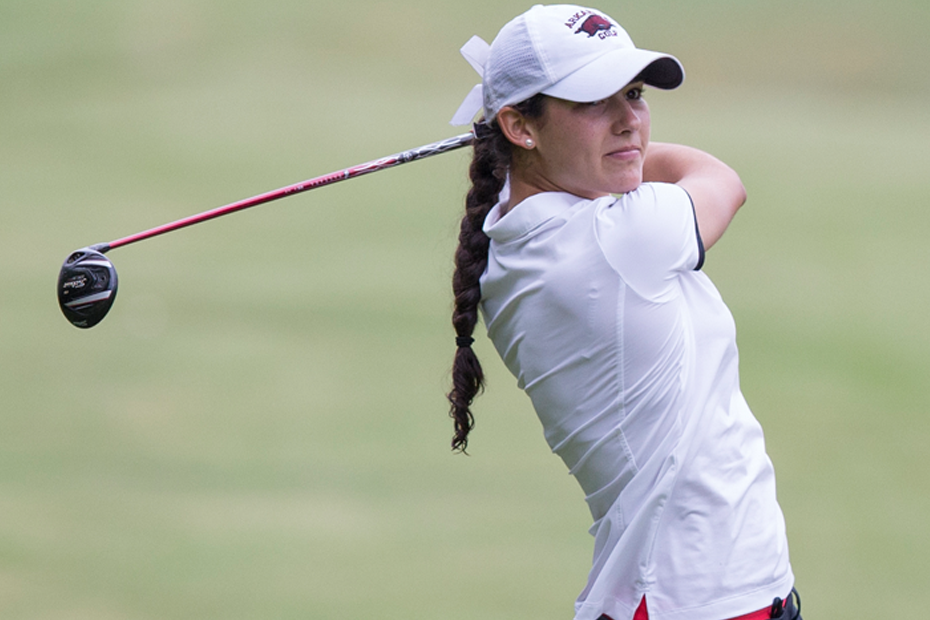 W. Golf On Top Of Leaderboard
TEMPE, Ariz. – University of Arkansas junior Regina Plasencia posted a two-under 69 and is tied for fourth place leading the No. 7 Razorbacks to the top of the leaderboard after first round action at the PING/ASU Invitational in Tempe, Ariz., Friday.
Arkansas has a two-stroke lead over the fifth-ranked Duke in what was a back-and-forth battle for the top spot late in the round. Arkansas counted a four-under 284 followed by a 286 from the Blue Devils. The rest of the top five include No. 25 Arizona State with 287, No. 19 Stanford, No. 4 South Carolina and No. 8 Arizona tied for fourth with 288.
Plasencia, coming off her first collegiate win at the Liz Murphey Classic last weekend, opened play with a 69 and is tied for fourth place overall. The Guadalajara, Mexico, native opened her day on the 10th hole with a birdie and went on to birdie the 14th and 15th holes to turn three-under in her first nine.
She picked up a bogey on the tricky par four third hole but finished strong with her fourth birdied of the day on the eighth hole.
Teammate and countrywoman Gabriela Lopez is tied for ninth overall with a two-under 70 in the first round. She also started on the back nine and was three-under at the turn. Lopez moved to five under through 14 holes before finishing her round with a 70.
Sophomore Samantha Marks was even for the round and is tied for 24th overall. Marks was one-under at the turn and had two birdies and two bogeys on the day.
Sophomore Summar Roachell is tied for 29thshooting a one-over 73 in the first round. The Conway, Ark., native played the back nine even for the day. Freshman Alana Uriell rounded out the Arkansas scores shooting a 79. She is tied for 75th.
The Razorbacks continue play Saturday alongside Duke and host Arizona State with tee times beginning at 10:30 a.m. central.
Inside The Ropes With Shauna Estes-Taylor
Obviously we are out to a good start this week. I'm really proud of Regina's 69 and Gaby's two-under and Samantha's even par are really solid rounds. Summar was one-over and it was really a group effort today. We talked a lot about attitude and effort. Our team is good enough and if our attitude is right we can shoot some really good numbers and that is what this group did today. Alana also did some really good stuff for her first competitive round in a while and we are in a position where if we keep plugging away we will be in a position to win on Sunday.
 @RazorbackWGolf Lineup
Pos.
Team/Player (seed)
Rd 1
1
Arkansas
284
-4
T4
Regina Plasencia (1)
69
-4
T9
Gaby Lopez (2)
70
-2
T24
Samantha Marks (3)
72
E
T29
Summar Roachell (4)
73
+1
T75
Alana Uriell (5)
78
+5
The Field