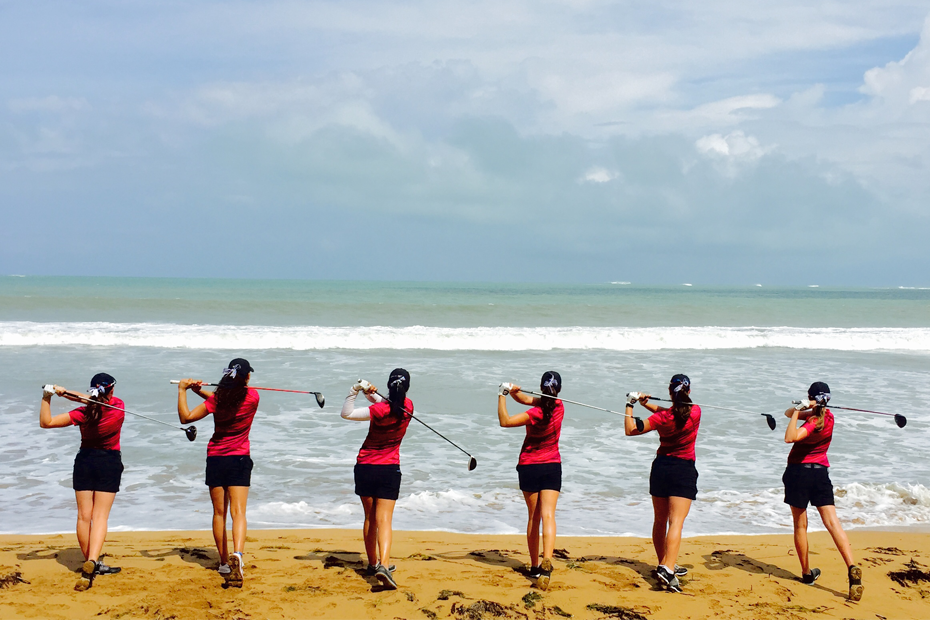 W. Golf Opens Spring In Puerto Rico
RIO DEL MAR, Puerto Rico – The fourth-ranked University of Arkansas women's golf team returns to collegiate competition this week at the 2015 Lady Puerto Rico Classic at the Wyndham Rio Mar Resort and Country Club.
The three-day event features 15 teams, including five teams who start the spring ranked in the Golfstat.com top 20 this week.
Arkansas headlines the field with their No. 4 ranking and they are joined by No. 7 Northwestern, No. 18 North Carolina State, No. 20 LSU and No. 21 Auburn as contenders for the title.
Arkansas put together a strong fall that included the program's first No. 1 national ranking in program history.  Four top-five finishes highlighted by the win at the Powerade Cougar Classic gave Arkansas head coach Shauna Estes-Taylor a good look at the team and set expectations high as the spring starts.
Junior Gabriela Lopez paced Arkansas in the four fall events.  The Mexico City, Mexico, native averaged 70.92 in the fall with eight rounds at par or better. Lopez ranks first in the SEC this week in stroke average and is one of four Razorbacks ranked in the top five in the SEC.
Transfer Samantha Marks was solid in her first semester as a Razorback.  The Florida native is second in the SEC with a 71.25 stroke average.  Junior Regina Plasencia is a close third with a 71.33 stroke average after the fall.
Sophomore Summar Roachell is tied for fifth in the SEC with a72.25 stroke average this season. Also making the trip for the Razorbacks is sophomore Kayli Quinton and freshman Jordy LaBarbera.
ABOUT THE EVENT
Dates: Feb. 15-17, 2015
Location: Wyndham Rio Mar Resort and Rio Mar Country Club – River Course
Host: Purdue University
THE FIELD
No. 4 Arkansas, No. 21 auburn, No. 26 GRU Augusta, No. 100 Clemson, No. 45 Georgia, No. 84 Indiana, No. 102 Iowa, No. 33 Iowa State, No. 28 Kent State, No. 20 LSU, No. 82 Michigan, No. 18 North Carolina State, No. 7 Northwestern, No. 36 Purdue, No. 77 TCU.
LIVESTATS
www.BirdieFire.com
For more information on Arkansas women's golf, follow @RazorbackWGolf on Twitter.