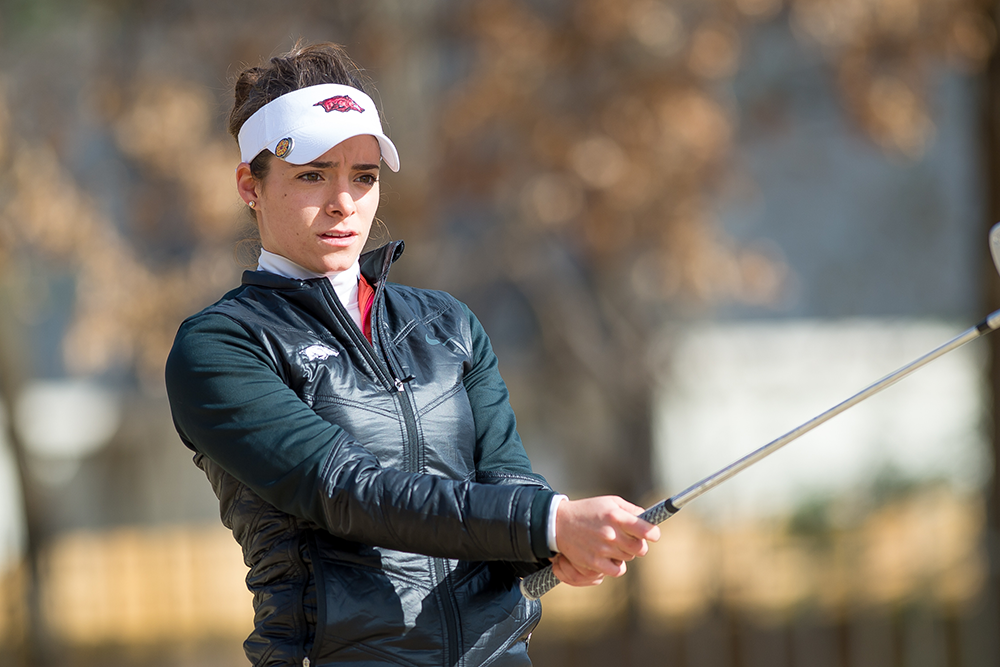 W. Golf Slips In Second Round
HILTON HEAD ISLAND, S.C. – Tough conditions and a strong field took their toll on the No. 4/5 University of Arkansas women's golf team as they slipped down the leaderboard in second round action at the Darius Rucker Intercollegiate at Hilton Head Island, S.C., Saturday.
The tournament start was delayed due to frost and when teams did begin play, temps were in the 30s and 40s. Arkansas shot a second round 22-over 306 and is in ninth place, 23 strokes out of the lead.
Sixth-ranked Duke moved up two spots into first. The Blue Devils are in the clubhouse with a 576 after posting a one-under 283 Saturday.
Arkansas junior Gabriela Lopez continues to lead the Razorbacks and the Mexico City, Mexico, native is tied for ninth place overall. Lopez shot a 70-76=146 for the Razorbacks. Sophomore Samantha Marks posted the lowest round of the day shooting a 72 and is tied for 34th overall with rounds of 78-72=150.
Junior Regina Plasencia is tied for 45th overall shooting 72-80=152 followed by sophomore Summar Roachell who is tied for 52ndac with 75-78=153. Freshman Jordy LaBarbera rounds out the Razorback scoring. LaBarbera is tied for 79th shooting 76-85=161.
The Razorbacks are in the midst of a solid season with five top five finishes including two team titles this year. Arkansas is coming off a win at the Lady Puerto Rico Classic in Rio Grande, Puerto Rico, in the first event of the spring and face a tough stretch over the next couple of weeks.
Arkansas has faced several strong fields in the first five events of the year but this week's field might be the best of the season. Top-ranked South Carolina along with No. 2 Southern California, No. 4 Arkansas, No. 6 Duke, No. 8 LSU, No. 9 Mississippi State and No. 10 Virginia are the headliners. The rest of the field is littered with Golfstat.com top 25 teams.
@ESTES-TAYLOR SAYS
I was honestly a little surprised that everyone had a tough day today. It doesn't happen very often in our sport but we are just going to chaulk it up as a bad day at the office and I know this team is disappointed. And I know that tomorrow they will come back and fight hard. I was really proud of Samantha and the round she had. She did it when we needed her most. It was by far the best round of golf for her this spring. We are looking forward to tomorrow to fight and do our very best.
 @RAZORBACKWGOLF LINEUP
| | | |
| --- | --- | --- |
| T9 | Gabriela Lopez | 70-76=146 |
| T34 | Samantha Marks | 78-72=150 |
| T45 | Regina Plasencia | 72-80=152 |
| T52 | Summar Roachell | 75-78=153 |
| T79 | Jorday LaBarbera | 76-85=161 |
DARIUS RUCKER INTERCOLLEGIATE FIELD (Golfstat/Golfweek rankings)