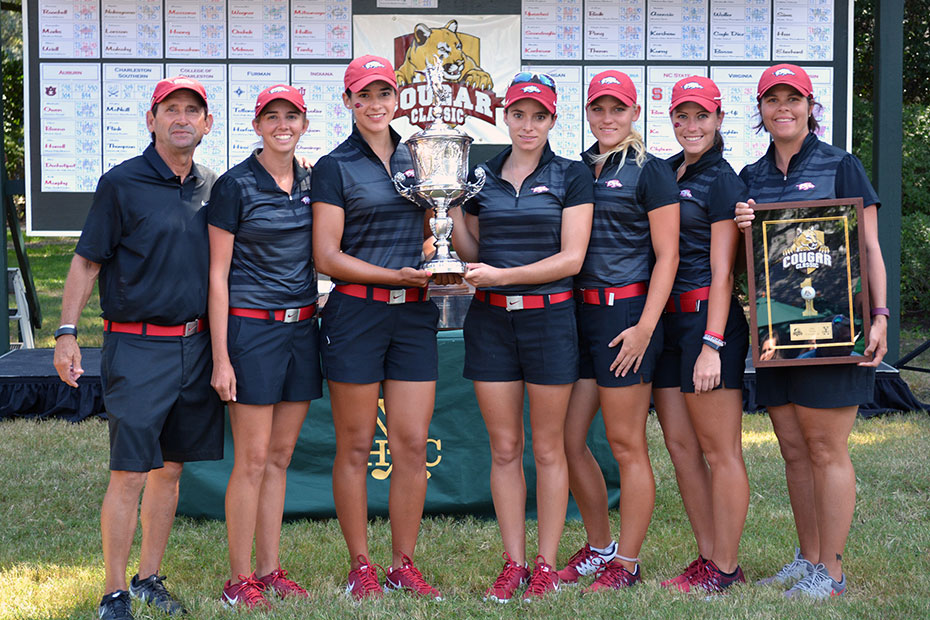 W. Golf Wins Powerade Cougar Classic
CHARLESTON, S.C. – Three players in the top 10 powered the fourth-ranked University of Arkansas women's golf team to the tournament win at the Powerade Cougar Classic in Charleston, South Carolina, Tuesday.
The Razorbacks led wire-to-wire but battled tough conditions and a strong field in the final round. Only one team was under par Tuesday and Arkansas' four-over 292 was enough to hang on for the seven-shot win. The Razorbacks finished with rounds of 282-283-292=857 to pick up back-to-back wins at this event.
Senior Regina Plasencia moved up three spots in the final round shooting a two-under 70 to tie for third place overall. Plasencia is in the clubhouse with rounds of 70-72-70-212.
The Guadalajara, Mexico, native turned even with two birdies and two bogeys on the front side. She birdied the 10th and 11th holes but gave a shot back on No. 13 with a bogey. Plasencia got that shot back on No. 15 and finished with three consecutive par holes for her tie for third place.
Sophomore Alana Uriell made a five-spot move and posted a career-best finish tying for fifth. The Carlsbad, Calif., native shot 73-70-71=214. Senior All-American Gabriela Lopez finished tied for seventh overall. The Mexico City, Mexico, native carded rounds of 68-70-77=215.
Junior Summar Roachell was just outside the top 10 tying for 12th place shooting 71-71-75=217, and junior Samantha Marks rounded out the scoring tying for 56th with 75-76-76=227.
The Razorbacks continue the four-event fall traveling to the ANNIKA Intercollegiate Presented by 3M Sept. 27-29, in Orlando, Fla.
From Shauna Estes-Taylor
It's always great to start the year out with a victory. It says a lot about this group and they are very seasoned in competition. They got of the gates early and this is the same lineup we won with here last year and we have a lot of great memories here. It was definitely a lot harder golf course today – it was a little windy. I was really proud that every time we hit a road bump we were able to overcome that and come back with a birdie or a great up and down.
It was a great effort by Regina (Plasencia), who was two-under today. It was solid play out of her all week. Alana has come so far and improved so much. I'm really proud of her. This was a total team effort this week. We have a lot of good things to build on. We are looking forward to getting back home and tweaking a few things before we get back on road at the ANNIKA.
Team Scores
| | | | |
| --- | --- | --- | --- |
| 1 | ARKANSAS | 282-283-292=857 | -7 |
| 2 | Georgia | 290-287-287=864 | E |
| 3 | Virginia | 293-282-290=865 | +1 |
| 4 | Florida | 290-287-292=869 | +5 |
| 5 | Clemson | 297-290-291=878 | +14 |
| 6 | Wake Forest | 289-300-300=889 | +25 |
| 7 | NC State | 294-297-301=892 | +28 |
| 8 | Indiana | 294-302-297=893 | +29 |
| T9 | UCF | 288-302-304=894 | +30 |
| T9 | Auburn | 298-292-304=894 | +30 |
| 11 | Furman | 298-291-307=896 | +32 |
| T12 | North Carolina | 299-297-301=897 | +33 |
| T12 | Michigan | 297-298-302=897 | +33 |
| T14 | College of Charleston | 303-302-295=900 | +36 |
| T14 | Penn State | 304-296-300=900 | +36 |
| 16 | Mississippi State | 302-295-307=904 | +40 |
| 17 | Wisconsin | 303-315-309=927 | +63 |
| 18 | Charleston Southern | 319-297-316=932 | +68 |
| 19 | Maryland | 308-319-314=941 | +77 |
| 20 | UNCG | 320-307-331=958 | +94 |
Arkansas Individuals
| | | |
| --- | --- | --- |
| T3 | Regina Plasencia (2) | 70-72-70=212 |
| T5 | Alana Uriell (5) | 73-70-71=214 |
| T7 | Gaby Lopez (1) | 68-70-77=215 |
| T12 | Summar Roachell (3) | 71-71-75=217 |
| T56 | Samantha Marks (4) | 75-76-76=227 |