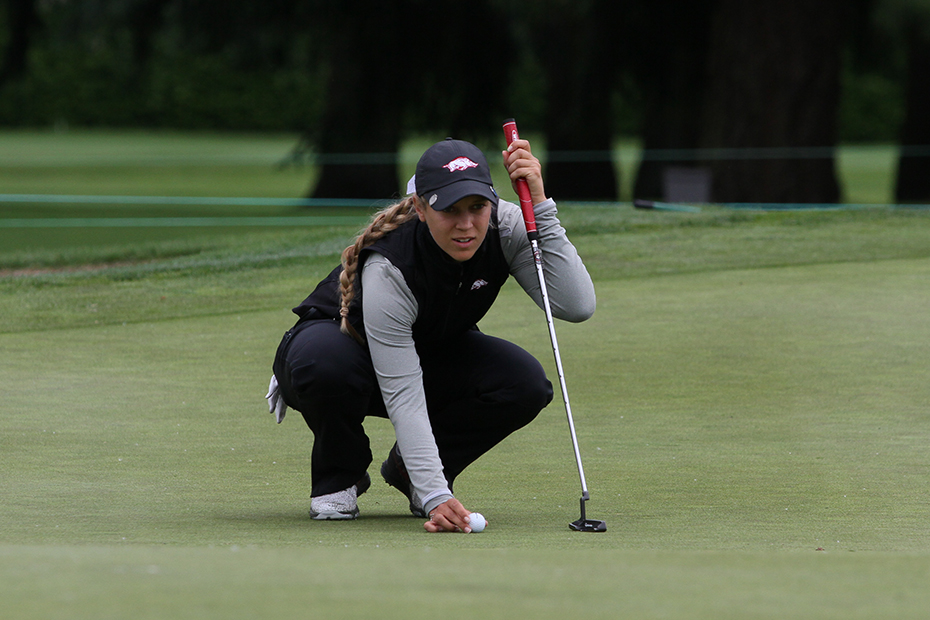 WCGA Honors Gorlei
FAYETTEVILLE, Ark. – University of Arkansas rising sophomore Cara Gorlei earned selection to the Women's Collegiate Golf All-American Scholars team the organization announced on Tuesday.
Gorlei, a Cape Town, South Africa, native, was selected to one of the most stringent academic teams in college athletics. Gorlei has better than a 3.50 grade point average, competed in more than 50 percent of the team's events, and is majoring in kinesiology. Gorlei plans to play professional golf after graduation.
Gorlei is the 11th Razorback selected to the WCGA All-Scholars team and Arkansas' 24th selection since 1997.
In her first season with Arkansas, Gorlei played 10 of 11 events in 2015-16. She recorded 29 rounds played, 2,171 strokes and a 74.86 stroke average.
Her best finish came with a tie for ninth at the LSU Tiger Golf Classic in Baton Rouge, Louisiana. Gorlei counted 72–77–77—228, in that event. Gorlei also took part in three postseason events, helping Arkansas finish third at the Southeastern Conference Championship, fifth at the NCAA Stanford Regional and tied for 12th at the NCAA Championship in Eugene, Oregon, this season.
Gorlei is a two-time University of Arkansas Athletics Department Honor Roll selection, and was named to the SEC's First-Year Academic Honor Roll.
Jordy LaBarbera, Samantha Marks, Regina Plasencia, Shawn Rennegarbe and Summar Roachell were named to the SEC Spring Academic Honor Roll in late June.