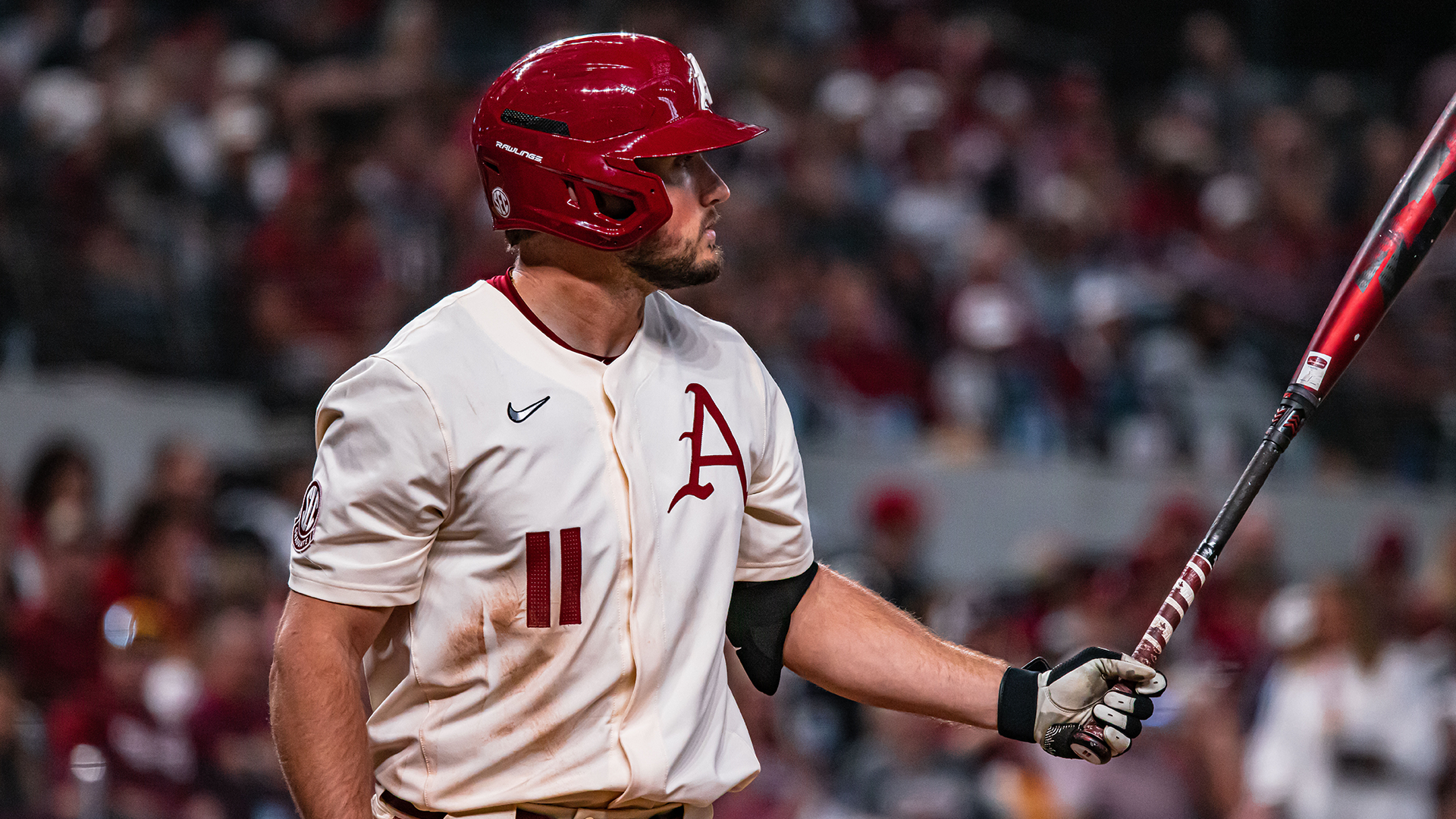 Wegner, Hollan Rock Cowboys in Run-Rule Win
ARLINGTON, Texas – No. 8 Arkansas (2-1) bullied No. 9 Oklahoma State (1-2) from start to finish in an 18-1 run-rule win on Sunday afternoon to close out the College Baseball Showdown at Globe Life Field.
The Hogs scored five runs in the second, third and fifth innings, taking control early and never looking back. The game was called after seven innings as Arkansas and Oklahoma State agreed to a 10-run rule on the final day in Arlington.
Arkansas was all over Oklahoma State starter Bayden Root, tagging the right-hander for five runs on four hits and two walks over 1.2 innings. Jared Wegner was responsible for much of the damage against the Cowboy right-hander, picking up pair of two-out extra-base hits to cap the five-run second and third innings.
Wegner's three-run triple to right center in the top half of the second extended the Razorbacks' early lead to 5-0. His two-run home run down the left field line in the third put Arkansas up by 10, effectively silencing the Cowboys for good.
The Creighton transfer finished 2-for-4 with a walk, two runs scored and a season-high five RBI. For the weekend, Wegner slashed .545/.643/1.364 (6-for-11) with four extra-base hits, including two home runs, and eight runs batted in over three games in the College Baseball Showdown.
Wegner's explosive bat gave Hunter Hollan, who was making his first start on the mound as a Razorback, a big cushion to work with. The left-hander made the most of it, twirling four innings of one-run ball with five strikeouts before he was lifted due to pitch count. The San Jacinto College transfer was credited with the win.
Arkansas padded its lead with a five-run fifth and three-run seventh. All five runs in the fifth inning came with two outs, started by Tavian Josenberger's solo shot to right center. In total, 13 of the Razorbacks' 18 runs came with two outs.
Right-handers Koty Frank, Cody Adcock and Gage Wood worked in relief of Hollan, combining for five strikeouts and three scoreless innings out of the bullpen. Wood, a true freshman, struck out the side in the bottom of the seventh to close out the game and seal the Hogs' dominant 18-1 win.
With the season-opening weekend in the books, Arkansas now turns its attention to Grambling. The Razorbacks will host the Tigers at 3 p.m. Tuesday, Feb. 21, in a rare midweek home opener at Baum-Walker Stadium.
For complete coverage of Arkansas baseball, follow the Hogs on Twitter (@RazorbackBSB), Instagram (@RazorbackBSB) and Facebook (Arkansas Razorback Baseball).