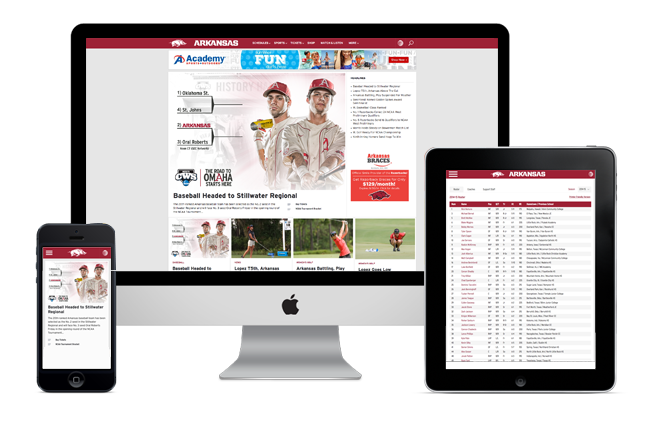 Welcome to the New ArkansasRazorbacks.com
After listening to feedback provided from fans, we made significant changes to ArkansasRazorbacks.com to help make our site easier to navigate and more intuitive to the needs of our users.
"In the new derivation of ArkansasRazorbacks.com, we put the priority on content and information above all else," said Chris Freet, Senior Associate AD. "The expectation from fans is to be delivered accurate and entertaining content in the fastest way possible regardless of whether they begin that process with a search engine or on a mobile phone, tablet or desktop computer."
With a new look and layout, our goal was to make things like finding schedules, stats and news as easy as possible. Whether you're looking for Jonathan Williams' hometown, checking to see which game is in Little Rock or simply trying to quickly print off a schedule, you'll now be able to get the information you want in a much more efficient manner.
Our schedule pages have been simplified and include all the necessary information including the location of the game and active links to box scores.
"The web-browsing preferences of sports fans change every day and the desires of Razorback fans are certainly unique," said Freet. "To match those preferences, we've taken greater control of the site's infrastructure, development and maintenance. This will allow us to make changes, adjustments and improvements faster than ever before on ArkansasRazorbacks.com."
We are also pleased to introduce a much larger database of historical information for each of our sports. You can now easily look up a variety of historical information and records including football year-by-year results, all-time team records and individual records. We will continue to build out these sections with all of our sports to give you the most updated information and an accurate historical perspective.
In an effort to streamline your online and mobile experience, we are adding a feature to save the new website to your mobile device's home screen. The first time you access our new website, you'll be prompted with an option to save the website to your home screen. Soon, you will never be more than a touch away from the latest Razorback information on your mobile device.
Now that ArkansasRazorbacks.com is fully responsive and optimized for any device, we will be discontinuing our official app (icon looks like this). Please note, however, the game day app (icon looks like this) will remain untouched and you will continue to find game day specific items such as live audio, stats and game day guides.
The new and improved ArkansasRazorbacks.com will include the same news and videos that you're used to seeing but now the content will be delivered in an endless scroll, very similar to Twitter or Facebook. New to the content feed are animated GIFs and graphics that you have probably become accustomed to seeing from the Razorbacks on social media.
Through consultation with digital marketing firm WMT, we've had the unique opportunity to create a web experience designed exclusively with Razorback fans in mind. The partnership with WMT will allow Arkansas to continue to adapt to the latest trends in technology and be nimble in its ever-changing world.
Thank you again for your feedback and your continued support of the Arkansas Razorbacks. We hope you find the new ArkansasRazorbacks.com a more efficient and satisfying online experience.
Have a question or feedback about the new website? Drop us a note and we'll be glad to help.