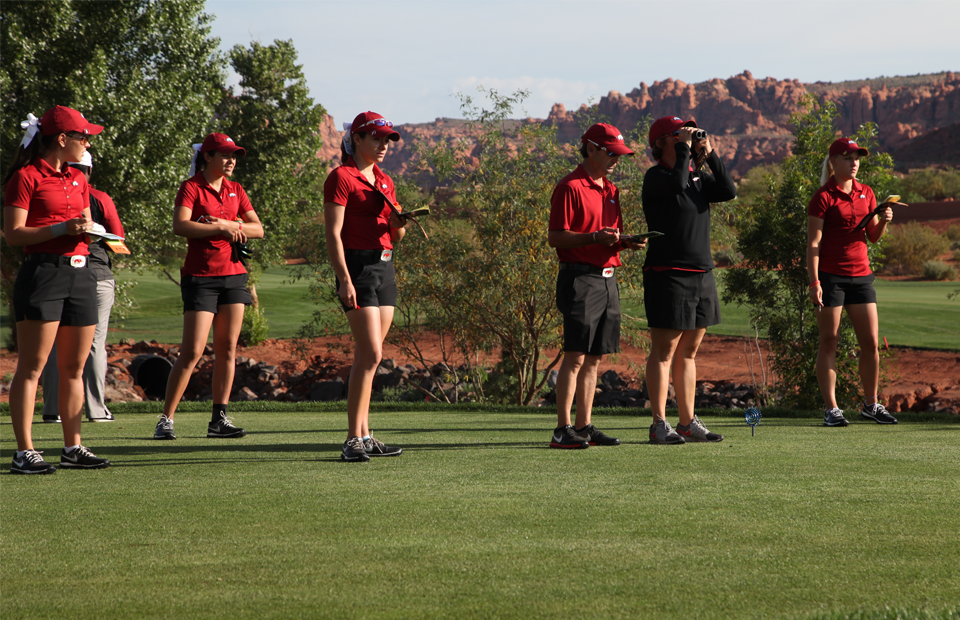 WGolf At NCAA Regionals In Utah
ST. GEORGE, Utah –The eighth-ranked University of Arkansas women's golf team continues postseason play with round one action of the NCAA Regional Championship in St. George, Utah, Thursday.
The Razorbacks are playing at Entrada At Snow Canyon Country Club, May 7-9. The Razorbacks are making their 14th NCAA Regional appearance and their 13th consecutive trip in program history. Arkansas has been selected to a Regional in each of Shauna Estes-Taylor's seasons as both an assistant and head coach for the Razorbacks.
The Razorbacks played a practice round Wednesday and enjoyed a great course and beautiful weather.  The front nine is lush and wide and the back side changes up challenging players with narrow fairways and lava rock roughs if players miss the fairways.
Arkansas opens play at 10:39 a.m. playing with Southern California and Virginia off of hole 1.  Following the scoring on http://www.golfstat.com.
This year, women's golf faces a new challenge in the postseason with a change in the format. NCAA Regional Championships have expanded from three sites in which the top eight teams advance to the NCAA Championship to four sites with only six teams moving on.
The Razorbacks have advanced to six NCAA Championships, most recently in 2013, with the program's best finish, a tie for fifth, coming in 2011.
Making the trip to NCAA Regionals this year will be a cast of familiar characters for Arkansas. Juniors Regina Plasencia and Gabriela Lopez are taking part for the third time in their collegiate careers, while sophomore Summar Roachell is making her second appearance. Transfer sophomore Samantha Marks and freshman Alana Uriell are making their first postseason appearances but have traveled most of the 2014-15 season for Arkansas.
The field will challenge Arkansas as the Razorbacks take on seven Golfstat.com top-25 programs including top-ranked Southern California. The rest of the field includes No. 9 Virginia, No. 16 Stanford, No. 17 Vanderbilt, No. 22 UNLV and No. 25 San Diego State among others.
From Shauna Estes-Taylor
The team is excited. I've coached on this course before and it sets up really well for us. We have the depth and talent to get the job done. I'm really proud of this group and their continued efforts to reach our goals. This is the next step in the process of getting to a National Championship.
@RazorbackWBB Lineup
| | | | |
| --- | --- | --- | --- |
| Gabriela Lopez | Jr. | Mexico City, Mexico | 71.76 |
| Regina Plasencia | Jr. | Guadalajara, Mexico | 73.16 |
| Samantha Marks | So. | Maitland, Fla. | 74.04 |
| Summar Roachell | So. | Conway, Ark. | 74.08 |
| Alana Uriell | Fr. | Carlsbad, Calif. | 75.67 |
2015 NCAA Utah Regional Field (Golfstat.com rankings) 
No. 1 Southern California, No. 8 Arkansas, No. 9 Virginia, No. 16 Stanford, No. 17 Vanderbilt, No. 22 UNLV, No. 25 San Diego State, No. 32 Miami, No. 36 Colorado, No. 38 California, No. 44 SMU, No. 48 TCU, No. 50 Denver, No. 56 Wisconsin, No. 61 MTSU, No. 90 New Mexico State, No. 123 Northern Arizona, No. 201 Albany
What You Need To Know
Date: May 7-9, 2015
Location: St. George, Utah Course: Entrada At Snow Canyon Country Club
Number of Regional Appearances: 14
Format: Four regional sites with the top six teams and individuals moving on
About: 72 teams and 24 individuals earning bids to the 2015 NCAA Division I Women's Golf Regional Championships… Twenty-nine of the 72 teams are automatic qualifiers from conference championships, while 43 are at-large teams.
2015 NCAA Women's Golf Regional Championships, Thursday-Saturday, May 7-9
Lonnie Poole Golf Course, Raleigh, N.C. (North Carolina State University, host)
Briggs Ranch Golf Club, San Antonio, Texas (University of Texas at San Antonio, host)
Entrada at Snow Canyon Country Club, St. George, Utah (Brigham Young University, host)
Warren Golf Course, South Bend, Indiana (University of Notre Dame, host)
Golf Channel will feature scores, highlights and interviews from the regional championships, airing within Golf Central and Morning Drive. The low six teams and low three individuals (not on those teams) from each of the four regionals advance to the NCAA Women's Golf Championships, taking place May 22-27 at Concession Golf Club in Bradenton, Fla. Golf Channel will air live coverage of the final three days of Women's Golf Championships, May 25-27.
Golf Channel NCAA Women's Division I Golf Championships Tournament Coverage
| | | |
| --- | --- | --- |
| Monday, May 25 | Final Round, Individual Stroke Play | 4-7 p.m. ET (Live) |
| Tuesday, May 26 | Quarterfinals, Match Play | 10:30 a.m.-12:30 p.m. ET (Live) |
| Tuesday, May 26 | Semifinals, Match Play | 3:30-7 p.m. ET (Live) |
| Wednesday, May 27 | Finals, Match Play | 3-7 p.m. ET (Live) |
For more information on Arkansas women's golf, follow @RazorbackWGolf on Twitter.