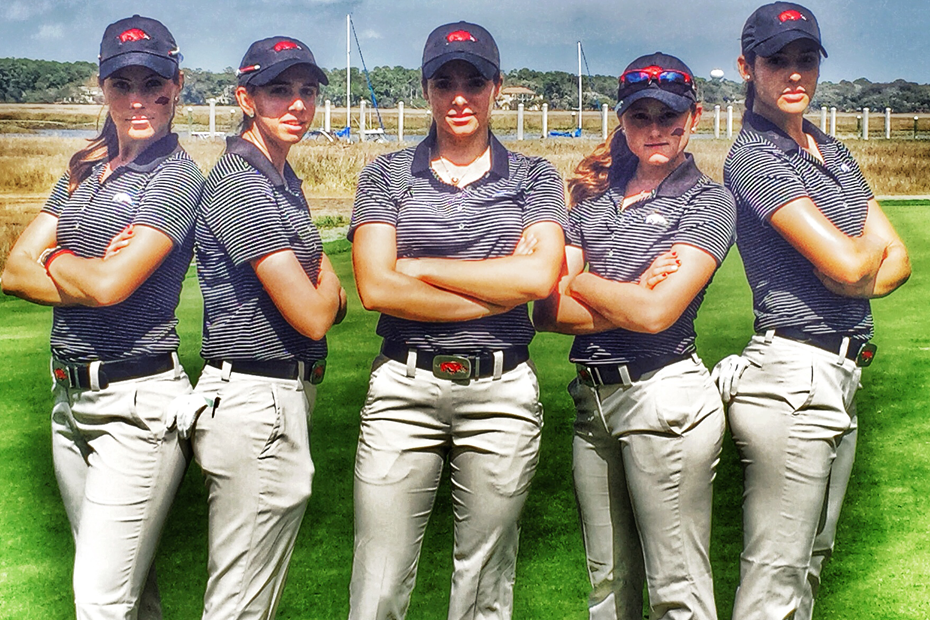 WGolf Ninth At Darius Rucker
HILTON HEAD ISLAND, S.C. – Junior Gabriela Lopez paced the No. 4/5 University of Arkansas women's golf team to a ninth place finish at the Darius Rucker Intercollegiate at Hilton Head Island, S.C., Sunday.
The Razorbacks battled tough conditions, a challenging course and one of the toughest fields of the season this weekend at the Long Cove Club. Lopez paced Arkansas tying for 23rd overall shooting 223 while helping the Razorbacks to a 901 for the tournament.
Arkansas shot 293-306-302 for the weekend. Sixth-ranked Duke hung on for the win followed by No. 8 LSU and No. 2 Southern California who tied for second overall.
Lopez was in the clubhouse with rounds of 70-76-77=223. She was two-over heading into her final three holes but struggled to finish and was four-over on 16, 17 and 18.
Junior Regina Plasencia finished tied for 30th overall. Plasencia shot 72-80-73=225 and had the low round of the day with her 73. Sophomore Summar Roachell finished tied for 47th shooting 75-78-80=235 followed by sophomore Samantha Marks who tied for 54th with 78-72-79=229. Freshman Jordy LaBarbera rounded out the Razorback scores with a 76-85-77=238. She tied for 75th overall.
The Razorbacks are in the midst of a solid season with five top five finishes including two team titles this year. Arkansas is coming off a win at the Lady Puerto Rico Classic in Rio Grande, Puerto Rico, in the first event of the spring and face a tough stretch over the next couple of weeks.
Arkansas has faced several strong fields in the first five events of the year but this week's field might be the best of the season. Top-ranked South Carolina along with No. 2 Southern California, No. 4 Arkansas, No. 6 Duke, No. 8 LSU, No. 9 Mississippi State and No. 10 Virginia are the headliners. The rest of the field is littered with Golfstat.com top 25 teams.
Arkansas travels to Athens, Ga., March 27-29, for the Liz Murphey Collegiate Classic as the season continues.
@RAZORBACKWGOLF LINEUP
| | | |
| --- | --- | --- |
| T23 | Gabriela Lopez | 70-76-77=223 |
| T30 | Regina Plasencia | 72-80-73=225 |
| T47 | Summar Roachell | 75-78=75=228 |
| T54 | Samantha Marks | 78-72-79=229 |
| T75 | Jorday LaBarbera | 76-85-77=238 |
DARIUS RUCKER INTERCOLLEGIATE FIELD (Golfstat/Golfweek rankings)