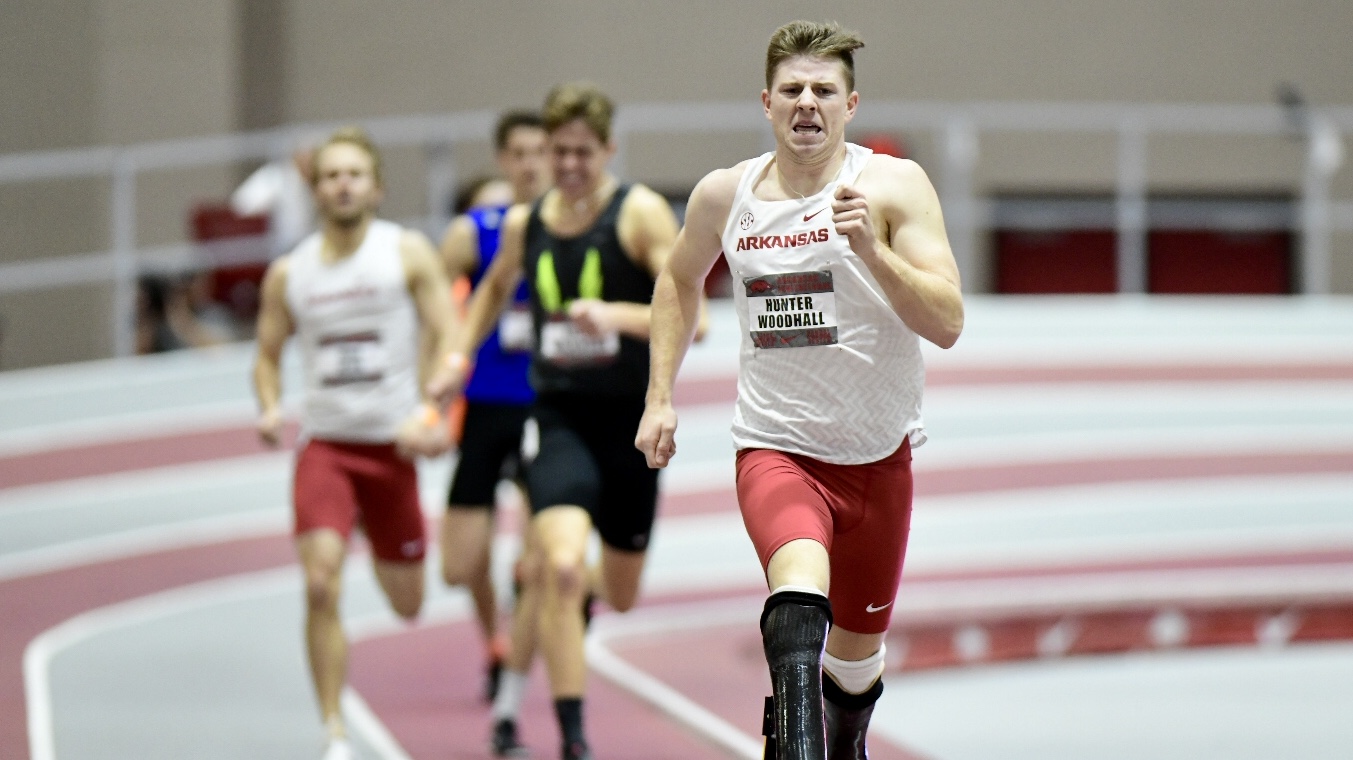 Woodhall/DMR Spotlight Regular Season Finale
FAYETTEVILLE, Ark. – Arkansas closed out the 2019 indoor track and field regular season Friday night hosting the Arkansas Qualifier and competing on the east coast at the JDL DMR Invitational in North Carolina.
Starting on the east coast. Arkansas turned in a solid performance in the distance medley relay, finishing fifth in a loaded field. Ethan Moehn popped off the relay running 2:59.39 over 1,200-meters, John Winn carried the baton on the 400-meter portion of the relay clocking 47.81, Kieran Taylor 1:49.62 on the 800-meter leg, and Cameron Griffith closed in 4:00.14 over the last mile to cross the line and stop the clock at 9:36.99. After the flat-track conversion, Arkansas sits at No. 6 in the NCAA with a converted time of 9:29.26.
Men's head coach Chris Bucknam, who traveled with the relay to North Carolina, was proud of his relays performance. "The guys ran really well," said Bucknam. "I was really pleased with Ethan's [Moehn] effort despite his not feeling well. He hung in there and got the stick to John Winn who turned in a real solid effort, [John] did a great job. Taylor ran a phenomenal race, setting Cameron [Griffith] up exactly where he needed to be, it was an outstanding effort by Taylor. Cameron anchored the relay, he's such a great racer and turned in the fastest split of all the anchors in the race," Bucknam finished.
Back at Randal Tyson, Hunter Woodhall stole the show with his lifetime-best in the 400-meters. Woodhall, who started the 2019 indoor season holding a best of 48.31 indoors in the event, has put together runs of 47.07 and today's mark of 46.64 in back-to-back weeks. Woodhall's day wasn't finished as the sophomore returned to anchor the men's relay to a total time of 3:08.47 running 45.83 on his carry. The 400-meter time moves Woodhall up the performance list to No. 22 in the NCAA this season.
Roy Ejiakuekwu led the way as the top sprinter on the night, posting a personal-best in the event of 6.69 finishing in second-place.
Chase Pareti won the 800-meters in a personal-best 1:50.93, while Carl Elliot III won the 60-meter hurdles running 7.89.
Sam Kempka (shot put) and Erich Sullins (weight throw) won their respective events with marks of 17.38m (57-0.25″) and 21.18m (69-6) with the latter extending Sullins program record.
With the regular season completed, Arkansas turns its attention to the postseason as the Razorbacks host the SEC Championships next week Feb. 22-23 when 14 teams travel to Randal Tyson for a two day meet.
For more information on Arkansas track and field including in-meet updates, follow @RazorbackTF on Twitter.