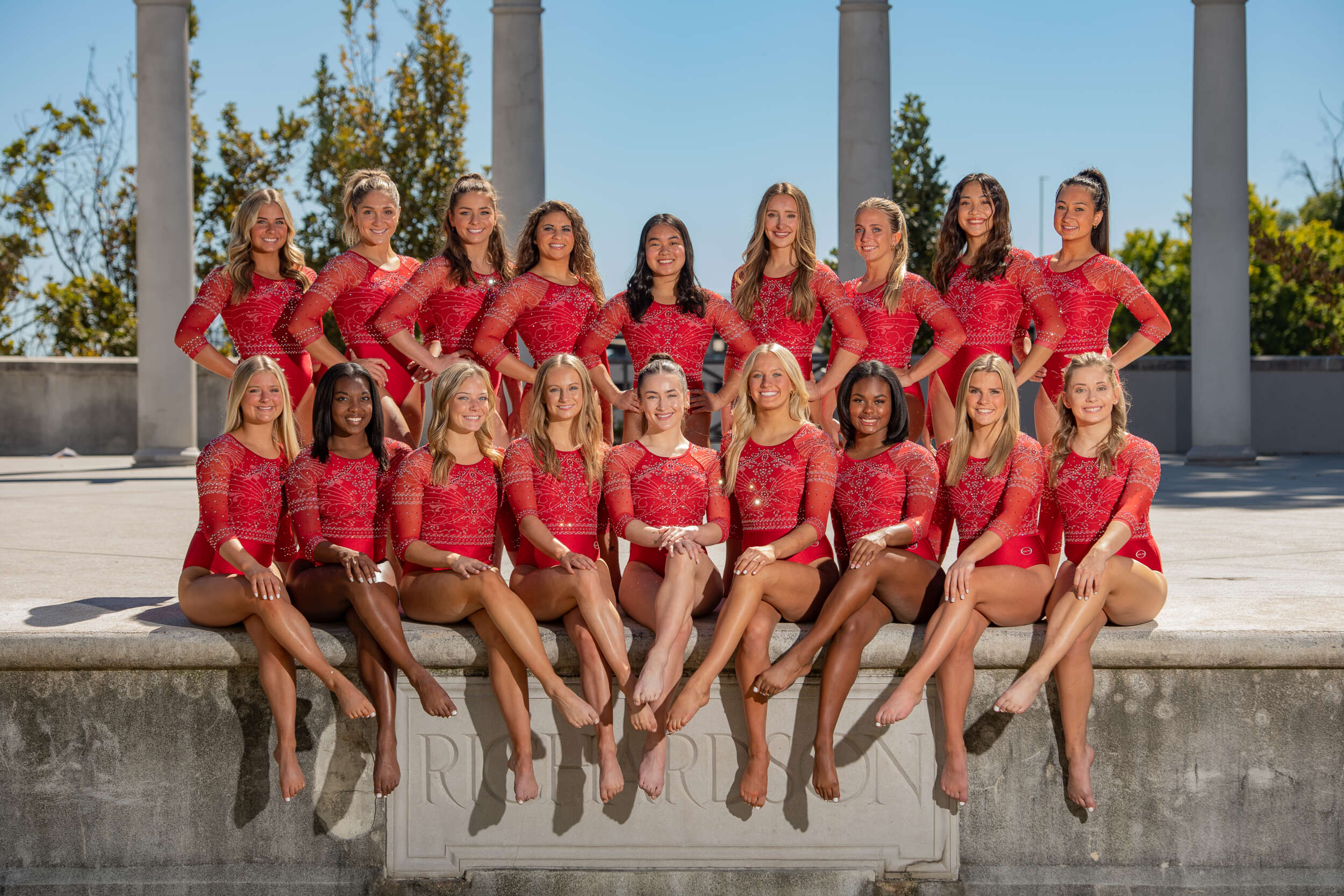 2023 Arkansas Gymnastics Schedule Released
With less than three months remaining until the Gymbacks take the floor for the 2023 season, the team's full schedule has now been revealed.
Arkansas has 10 regular season meets on deck for 2023, which includes five at home. Three will take place at Barnhill Arena, and two are set for Bud Walton Arena. Last season, the Gymbacks made history with the first-ever gymnastics meet at the venue against Auburn on. Jan 14, and a new single-meet attendance record was set with 10,345 fans in the building.
The schedule includes seven SEC meets, two against Big Ten teams, and a quad meet featuring Alabama, Oklahoma, and Stanford.
General admission season ticket deposits are also now open to fans for $25. Season ticket renewals will begin on Wednesday, October 19.
Before getting official competition going, the team will host a Gymback Preview Intrasquad on Saturday, Dec. 18 at Barnhill Arena. The event will be free and open to the public.
Arkansas kicks off competition with a road trip to Lincoln, Neb. on Saturday, Jan. 7 to face off against the Cornhuskers. It will mark the ninth meeting between the two teams and the first in Lincoln since 2014.
The Hogs get the SEC schedule going at home against Alabama on Friday, Jan. 13, the Tide's first visit to Fayetteville since 2021. SEC competition continues the following week with a dual meet at Auburn on Jan. 20.
Arkansas then returns home for back-to-back meets, the first against LSU on Jan. 27 at Barnhill Arena. The Gymbacks get back into Bud Walton Arena the next Friday, Feb. 3, for a showdown against the national runner-up and defending SEC champion Florida Gators. The Hogs will be searching for their first home wins against LSU and Florida in over 10 years.
A four-way battle of red teams takes place in Fort Worth, Texas, on Sat. Feb. 11, when Arkansas goes up against Alabama, Oklahoma, and Stanford in the Metroplex Challenge. Oklahoma won its fifth national championship in Fort Worth in April, and all four of the participating teams finished in the top 16 nationally last year.
The Hogs get back to SEC action on Friday, Feb. 17 with an away tilt against the Wildcats in Lexington, Ken., and take the Barnhill Arena floor a final time in 2023 on Friday, Feb. 23 against the Missouri Tigers.
Athens, Ga. is the final road stop for the Gymbacks in the regular season, as the Hogs take on the Georgia Bulldogs in their gym on March 3rd.
The Hogs will then send their seniors out in a way like never before as they host the Minnesota Golden Gophers in Bud Walton Arena on Friday, March 10.
In postseason action, the Gymbacks head to the 2023 SEC Gymnastics Championships in Duluth, Ga. on March 18. NCAA regional competition is set to begin on March 31 with Denver, UCLA, Oklahoma and Pitt serving as host sites, and the NCAA Championships will run from April 15 to April 16 in Fort Worth, Texas.
TV information, meet times, and promotional information will be released at a later date.
2023 Arkansas Gymnastics Schedule
| | |
| --- | --- |
| 12/18 | Gymback Preview |
| 1/7 | Nebraska |
| 1/13 | Alabama |
| 1/20 | Auburn |
| 1/27 | LSU |
| 2/3 | Florida* |
| 2/10 | Metroplex Challenge |
| 2/17 | Kentucky |
| 2/24 | Missouri |
| 3/3 | Georgia |
| 3/10 | Minnesota* |
| 3/18 | SEC Championships |
| 3/31-TBA | NCAA Regionals |
| 4/15-4/16 | NCAA Championships |
Home meets in bold, * denotes BWA meets
More Information
Visit ArkansasRazorbacks.com for the latest information on all things Arkansas Gymnastics. You can also find the Razorbacks on social media by liking us on Facebook (Arkansas Razorback Gymnastics) and following us on Twitter and Instagram (@RazorbackGym).