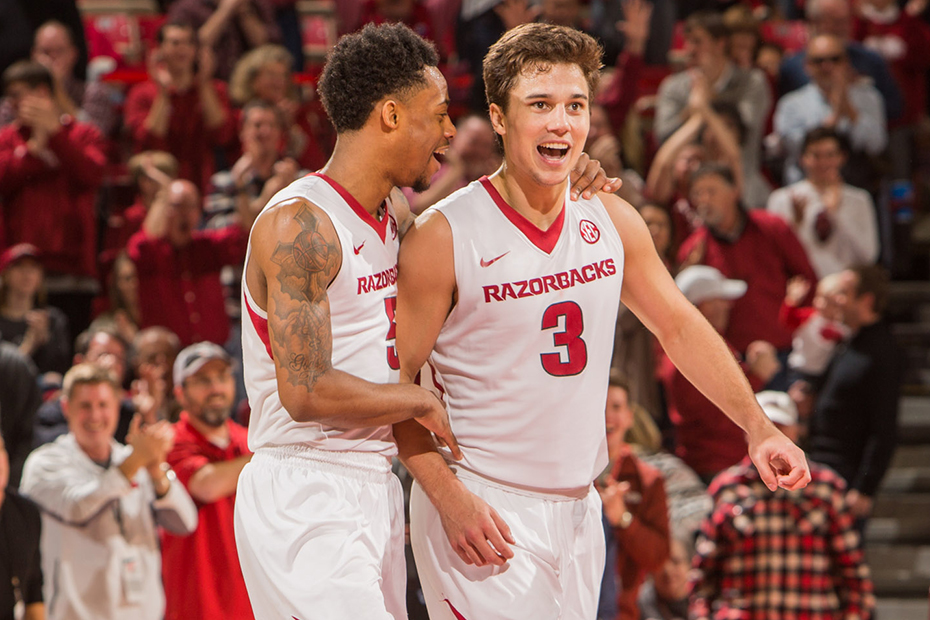 3's Company: Hannahs, Bell Light Up Bulldogs
FAYETTEVILLE, Ark. — Shooting might be contagious.
Through Arkansas men's basketball's first two SEC games, Anthlon Bell had 10 of the team's 12 three-pointers. But in Saturday afternoon's contest against Mississippi State, the Razorbacks set a season-high with 16 treys, as Arkansas defeated the visiting Bulldogs 82-68 in Bud Walton Arena.
Bell continued his tear, draining five from beyond the arc to score 25-plus points for the second-consecutive game, but it was Dusty Hannahs who stole the show. Hannahs set a career high with 26 points and eight threes, including three late in the second half to clinch the game for Arkansas.
With two treys from Jabril Durham and one by Anton Beard, Arkansas shot 16-for-24 from deep, its second-best mark of the Mike Anderson era, to improve to 8-7 overall and 2-1 in SEC play. Durham once again produced a dynamic stat line, this time with 10 points, along with career highs of 12 assists and six steals for his second double-double of the year.
The hot shooting began early in the first half, as six of the Razorbacks' first eight field goals were from beyond the arc and the hosts took a 21-14 lead nine minutes into the game. But back came MSU, who took a 27-26 lead only five minutes later. It would be the last lead the Bulldogs would have, however, as Arkansas proceeded to go on a 24-9 run over the next 10 minutes and into the second half to push its lead back to 10.
Again, MSU responded and was able to claw back within three, at 62-59, with four minutes left in the contest. But that's when Hannahs took over. The Razorbacks connected on their next six shots, including a trio of three-pointers by Hannahs, to balloon their lead to 17. A late breakaway slam by Moses Kingsley put an exclamation point on the game, as Arkansas took home its second SEC victory of the week.
QUOTABLES
"To me, Jabril has taken command out there on the floor getting guys in the right place and right position, knowing where their shooters are. Now he is starting to knock shots down as well and he's like the energizer bunny on defense, he's everywhere." — Head coach Mike Anderson
"When you see the first one or two go in, it's just free sailing after that. The rim gets a little bigger. I've never played with a point guard who finds me as well as Jabril, that helps me a lot too because I have confidence that I am going to touch it and get good looks." — Junior guard Dusty Hannahs
"You might as well get a big umbrella because it's going to be raining if they get hot like that. It opens up everything. Once both of them are hitting three's like that, it opens it up for Moses, it opens it up for me to penetrate and I can still find them after." — Senior guard Jabril Durham
QUICK HITS
• By shooting 16-for-24 from beyond the arc, the Razorbacks became only the third team in the country to make 16-plus threes and shoot at least 66.7 percent while doing so.
• Eight three-pointers in each the first and second halves were the most of any half by Arkansas this season.
• In two SEC home games this week, Anthlon Bell has averaged 25.5 points and four rebounds. He shot 18-for-35 (52.4 percent) from the field, including 11-for-17 (64.7 percent) from three-point range.
• Through three SEC games, Bell is shooting 15-for-26 (57.7 percent) from three, which is the best in the conference.
• Bell is one of 10 players in the nation to have eight games of four-plus threes, and one of 11 players in the nation to have five games of five-plus threes.
• Jabril Durham is the only player in the country with two games this season reaching 10 points, 10 assists and five steals.
• With a career-high six steals, Durham is one of six players in the country with five-plus steals in four or more games this season.
• With 13 points, Moses Kingsley has scored in double figures in all 15 games this season.
• Kingsley led the team in rebounds, while Durham led the team in assists, each for the 14th time this season.
• Nine blocks by the Razorbacks is their second-highest mark in a game this season.
• Arkansas had two players with 20-plus points in a game for the seventh time this season. The Razorbacks had two players with 25-plus points in a game for the second-consecutive contest.
UP NEXT
Arkansas travels to Missouri on Tuesday, Jan. 12 for an 8 p.m. tip-off on SEC Network.