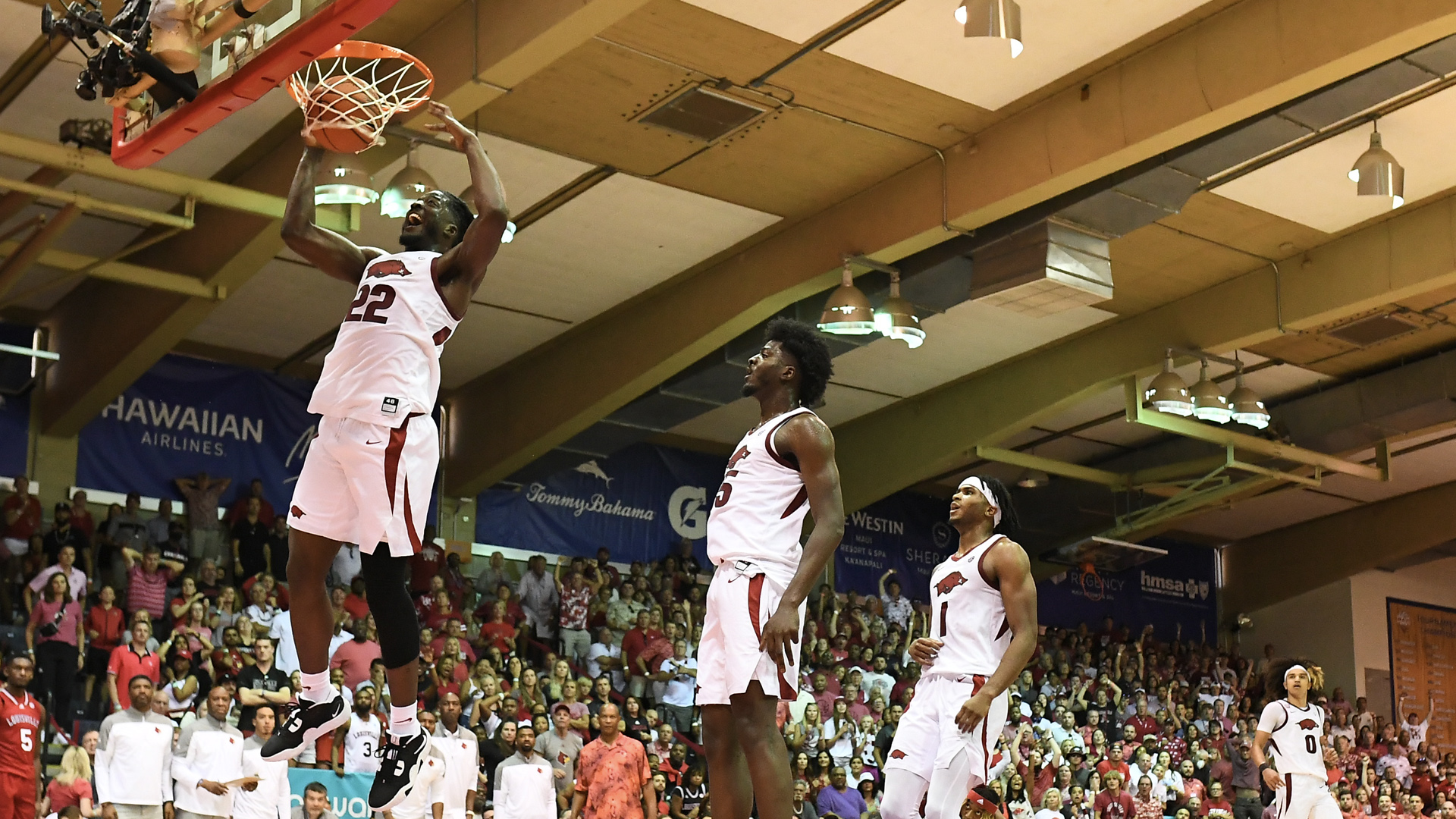 #9 Arkansas Dunks Louisville
LAHAINA, Hawaii – Arkansas (4-0) did not give Louisville (0-4) an inch during a dominating defensive second half, turning an eight-point halftime lead into a 26-point, 80-54 victory in the opening round of the Maui Jim Maui Invitational.
Anthony Black led the Razorback by scoring a career-high 26 points while adding a game-high six assists.
The Razorbacks overwhelmed the Cardinals, using a 17-0 run in the second half to break the game wide open. Also, Arkansas threw down 11 dunks including four by Makhel Mitchell, three by Jalen Graham and two each from Black and Ricky Council IV. Council added 15 points and Mitchell 12.
Arkansas' depth and athleticism took a toll on the Cardinals, forcing 22 turnovers (16 in the second half). Also, mainly due to Davonte Davis' defense, Arkansas held Louisville's top scorer El Ellis to 11 points on 4-of-16 shooting while forcing him into seven turnovers.
Kamari Lands led the Cardinals with 13 points.
Arkansas moves into Tuesday's semifinals against No. 10 Creighton. Tipoff is set for 3 pm (HT) / 7 pm (CT) and the game will be televised on ESPN.
FIRST HALF: Arkansas: 36 – Louisville: 28
Arkansas scored off the opening tip and did not surrender the lead throughout the half.
Louisville did not score its first points until 14:27.
Anthony Black had a pair of 5-0 runs. First, he had a dunk followed by a 3-pointer to put the Hogs up 14-7. Later, as part of a 10-0 run, he made a jumper and a 3-pointer. The 10-run was capped by a Makhel Mitchell for a 25-13 lead.
Arkansas went 4-of-4 from the field during the 10-0 run while holding the Cardinals to 0-of-6 shooting.
Black led Arkansas with 12 points, which is his career-best four games into his career.
El Ellis led the Cardinals with eight points on 3-of-10 shooting.
Arkansas had seven assists on its 12 made baskets.
SECOND HALF: Arkansas: 44 – Louisville: 26
Louisville for to as close as five (43-38 at 14:26). Arkansas extended the lead to 10 (52-42) before a 17-0 run that put the Hogs up 69-42 with 4:29 to play.
Arkansas sot 68 percent from the field (17-25) in the period.
Louisville only attempted four 3-pointers in the second half.
During the decisive 17-0 run, Mitchell had an alley-oop dunk from Black and Council and Mitchell added fastbreak dunks to put the game out of reach.
GAME NOTES
Arkansas' starting lineup was Anthony Black – Davonte Davis – Ricky Council IV – Jordan Walsh – Makhi Mitchell for the third game in a row.
Arkansas won the tip.
Devo Davis scored the game's first points on a layup at 19:47.
Trevon Brazile was the first Razorback sub for the fourth straight game.
Arkansas and Louisville are now tied 4-4 in the all-time series. The series is also tied, 3-3, on neutral courts.
Arkansas is now 5-5 in its fourth appearance in the Maui Invitational.
Arkansas has yet to allow 60 points in its first four games. The Hogs entered the game 19th in the NCAA in defensive scoring (54.0 ppg).
Arkansas has forced at least 20 turnovers in three of its first four games, including 22 today. The Hogs entered the game 12th in the NCAA in turnovers forced (21.33 avg.).
For more­­ information on Arkansas Men's Basketball, follow @RazorbackMBB on Twitter.