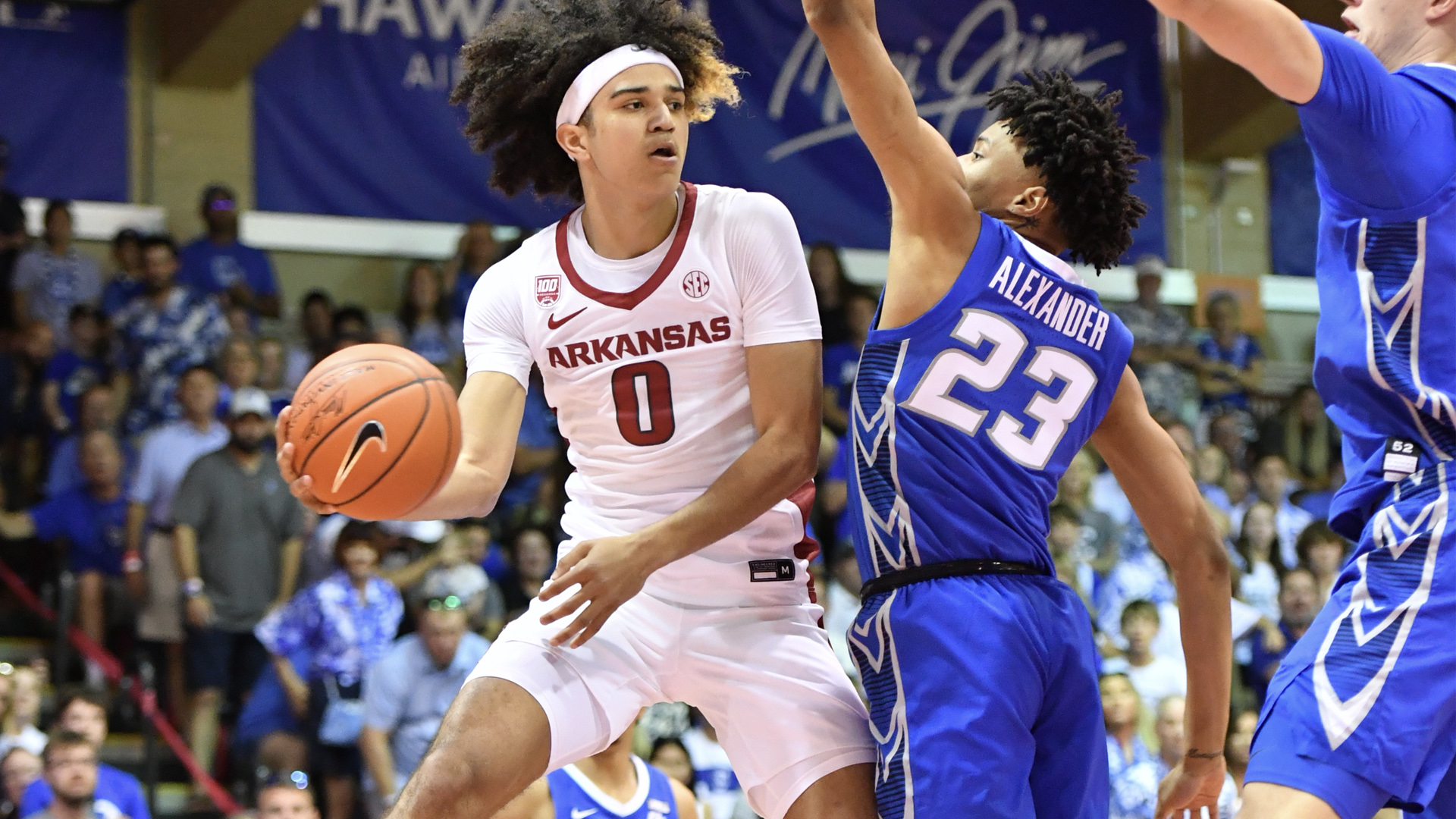 #9 Arkansas Edged, 90-87, by #10/8 Creighton
LAHAINA, Hawaii – The ninth-ranked Arkansas Razorbacks made a furious comeback attempt but fell just short to #10/8 Creighton in the semifinals of the Maui Jim Maui Invitational Tuesday afternoon.
For the second straight game, Anthony Black scored a game-best 26 points while leading the team with six rebounds and six assists while Ricky Council IV pumped in 24 and Trevon Brazile had 17 off the bench.
Creighton was in control through most of the first half, leading by 12 with 1:43 left. Arkansas ended the half on a 6-0 run and rode that momentum to start the second half.
The Razorbacks began the second period on a 12-5 run, thanks to a highlight-reel Council dunk and a Council 3-pointer to give Arkansas its first lead of the game, 46-45 with 16:14 left. From that point, the game featured 10 ties and nine lead changes.
Brazile hit a pair of 3-pointers late, one to give Arkansas a 64-63 lead and one to tie the game 79-79. The last tie, 81-81, came when Jordan Walsh made a pair of free throws with 1:32 left. The Hogs got to within one twice inside the final 20 seconds. Davonte Davis sank two free throws with 18 ticks left to make the score 85-84 and Black drained a 3-pointer with seven seconds left to make the score 88-87.
Creighton's Trey Alexander made two free throws with 1.9 seconds left to put the Blue Jays up three and Arkansas' half-court attempt at the buzzer came up empty.
Creighton was led by Ryan Nembhard's 25 points, Ryan Kalkbrenner's 21 and Baylor Scheierman's 20.
Arkansas will face the loser of Arizona-San Diego State in the 3rd-place game on Wednesday. Tipoff is set or 5 pm (HT) / 9 pm (CT) and the game will be televised on ESPN2.
FIRST HALF: Arkansas: 34 – Creighton: 40
For the first time this season, Arkansas trailed at the half and allowed as many as 40 points in a half.
Creighton scored first and never surrendered the lead in the period.
The Blue Jays took a 16-8 lead to force a rare Razorback timeout.
Arkansas worked the deficit to two (26-24) after a tip dunk by Anthony Black with 6:03 left.
Creighton responded with a 14-4 run to take its largest lead of 12 points (40-28) with 1:43 left.
The Razorbacks scored the last six points of the half to trail by six (40-34) at the break.
Arkansas was led by Anthony Black's 14 points, four rebounds and four assists.
Creighton put three players in double figures including Ryan Nembhard (13), Baylor Scheierman (11) and Ryan Kalkbrenner (10).
Creighton is the first team to make more than four 3-pointers in a game versus Arkansas, going 5-of-10 from deep in the first half.
SECOND HALF: Arkansas: 53 – Creighton: 50
Arkansas was 0-of-5 from 3-point range in the first half but was 8-of-15 from deep in the second.
Arkansas forced 10 of Creighton's 17 turnovers in the half.
Ryan Nembhard was 10-of-12 at the free throw line in the second half and the Blue Jays were 20-of-28 at the line in the period compared to Arkansas going just 9-of-11.
GAME NOTES
Arkansas' starting lineup was Anthony Black – Davonte Davis – Ricky Council IV – Jordan Walsh – Makhi Mitchell for the fourth game in a row.
Arkansas won the tip.
Creighton's Ryan Nembhard scored the game's first points, a 3-pointer at 18:44. Makhi Mitchell scored Arkansas' first points at 18-28.
Trevon Brazile was the first Razorback sub for the fifth straight game.
This was just the 24th time a top-10 Arkansas team faced a top-10 opponent. The Hogs are now 9-of-15 in such contests. Overall, Arkansas is 46-50 when ranked in the top 25 and facing a top 25 opponent.
Arkansas lost despite committing just nine turnovers and out-scoring the Blue Jays 21-3 on points off turnovers.
Arkansas also out-scored the Blue Jays 21-3 in points off the bench.
This is the second game in a row Black had 26 points and six assists.
For more­­ information on Arkansas Men's Basketball, follow @RazorbackMBB on Twitter.