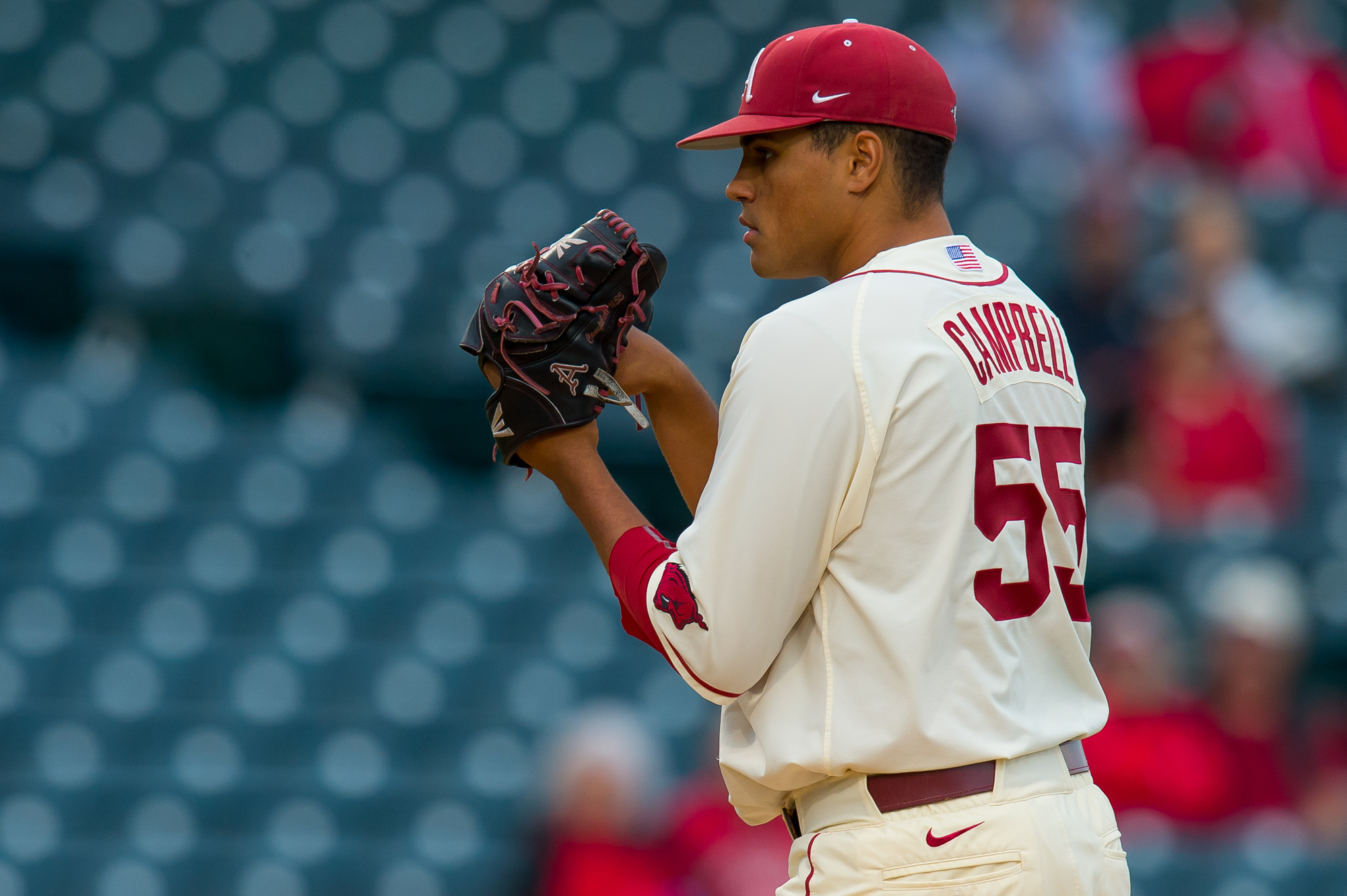 Arkansas and Oklahoma State in Midweek Clash
Arkansas Notes vs. Oklahoma State (PDF) | Watch on SEC Network+
FAYETTEVILLE, Ark. – The Razorback baseball team returns to Baum Stadium Tuesday night when it hosts Big 12 conference foe and 18th-ranked Oklahoma State (25-14) for a single game starting at 5 p.m. CDT.
Arkansas (24-16, 6-12) is set to start freshman right-hander Isaiah Campbell. Campbell will be making his fifth start of the year and third in as many weeks. Last week, Campbell started in Arkansas' midweek contest against No. 25 Creighton, earning his third win after going 3 shutout innings and giving up only 2 hits, while striking out 2.
Tuesday will be Campbell's fifth midweek start of the year and in each of his previous 4 starts, he has only allowed more than 2 runs once against Grambling State (March 15). Campbell now has a 3.38 ERA and has struck out 14 batters over 16 innings, while only walking two.
The Razorbacks will be looking to avenge a 5-4 loss at the hands of Oklahoma State earlier this year in Stillwater, Okla., as Blaine Knight was touched up for three runs in the second inning after Arkansas took a 3-0 lead in the top half of the same inning. A three-run home run Collin Theroux pulled the game even and the Cowboys were able to score two more runs in the later part of the game.
Things to know
Arkansas is coming off one of its best weekend's on the mound as juniors Dominic Taccolini and Zach Jackson each threw complee game shutouts against No. 12 Kentucky, helping earn the first series win in nearly four weeks. Taccolini went a career-long 10 innings, striking out a career-high 10 batters and walking none. His performance earned him the SEC Co-Pitcher of the Week.
Tuesday's midweek game with Oklahoma State will be Arkansas' eight-straight game against a ranked opponent. The Razorbacks claimed a win over No. 25 Creighton last Tuesday and two games against the Wildcats to give the them six wins over ranked opponents this year.
Junior Clark Eagan had one of the best weeks for all Hog hitters last week, averaging .375 with three multi-hit games and two runs scored. Eagan hit his first home run since late February on Saturday, going deep in the final game against the Wildcats, breaking a 3-3 tie in the fifth inning of a seven-inning game. Eagan now has 50 hits on the season, which leads all Razorback players and his home run was his third of the year.
Sophomore Chad Spanberger hit .333 over the last four games, breaking out for four hits in 12 at-bats, two being home runs. His home run in the opening game of the series with Kentucky was the difference in a 1-0 win, helping break an eight-game conference losing streak. Spanberger is only hitting .236 this season, but has 6 home runs and 13 RBI, half of those home runs coming in SEC play
Follow Live
SEC Network+ will broadcast Tuesday's game between Arkansas and Oklahoma State with Alex Perlman (PXP) and Troy Eklund (analyst) calling the game.
Phil Elson (PXP) and Rick Schaeffer (analyst) can heard on the radio via the Razorback Sports Network from IMG. Fans in the Fayetteville area can listen to the game on the flagship station 92.1 FM The Ticket or online at ArkansasRazorbacks.com.
Probable Starters
Tue | 5:00 p.m. CDT | (ARK) RHP Isaiah Campbell (3-0, 3.38 ERA, 14/2 K/BB) vs. (OSU) TBA