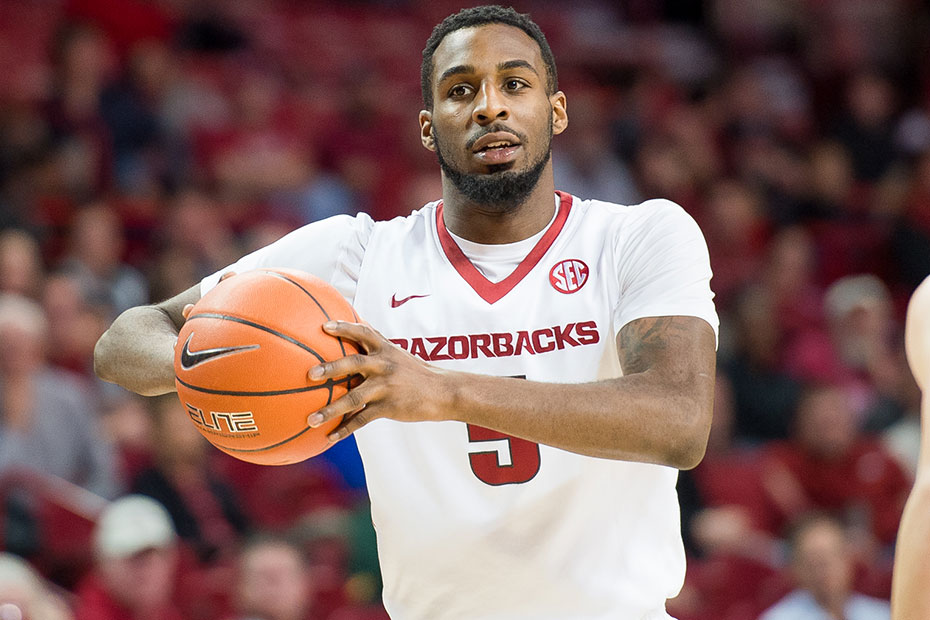 Arkansas Battles Back On Road To Beat Texas A&M
COLLEGE STATION, Texas — Holding the Aggies without a field goal for the final six minutes and 52 seconds of play, the Arkansas men's basketball team battled back on the road to defeat Texas A&M 62-60 Tuesday night in Reed Arena.
Arkansas (14-4, 3-3) moves to 4-1 in its last five SEC road games and captures its 100th win in the all-time series with Texas A&M.
Arkansas went down 10 points early, as the Aggies jumped out to a quick 15-5 lead. The Razorbacks fought back to take a one-point lead by taking advantage of a Texas A&M (9-8, 1-5) scoring drought that lasted three minutes and 45 seconds and using a 17-5 run of their own. Daryl Macon, Moses Kingsley and Arlando Cook had four points each in that span. Arkansas later used a 6-1 run to close out the half cut the Aggie lead to 32-30 at the intermission.
The Razorbacks got off to a slow start in the second period, letting the Aggies build their largest lead of the game at 12 points. Arkansas battled back once again after a three-pointer by Kingsley with 4:55 left in the game cut the lead to three. Arkansas used an 11-0 run over a span of three minutes and 34 seconds to reclaim the lead at 61-56 with 1:21 left. The Razorbacks forced the Aggies to miss their final six field goal attempts to end the game.
Macon led all Razorbacks with 16 points, making nine of his 12 free throw attempts. Kingsley was the only other Razorback to score in double-figures as the big man recorded 12 points, four rebounds and two blocks.
Cook was clutch down low with six points and led the team with seven rebounds, including two on the offensive end. Manuale Watkins also had a big night, going 3-of-3 from deep, a career-best, to finish with nine points and six rebounds.
UP NEXT
The Razorbacks will return to Bud Walton Arena on Saturday, Jan. 21, welcoming the LSU Tigers to Fayetteville for a 7:30 p.m. tip-off on SEC Network.
TICKETS
Mini plans and single-game tickets for the 2016-17 season are available now at the Razorback Ticket Center by calling at 1-800-982-HOGS (4647) and online by clicking here.
For more information on Arkansas Men's Basketball, follow @RazorbackMBB on Twitter.