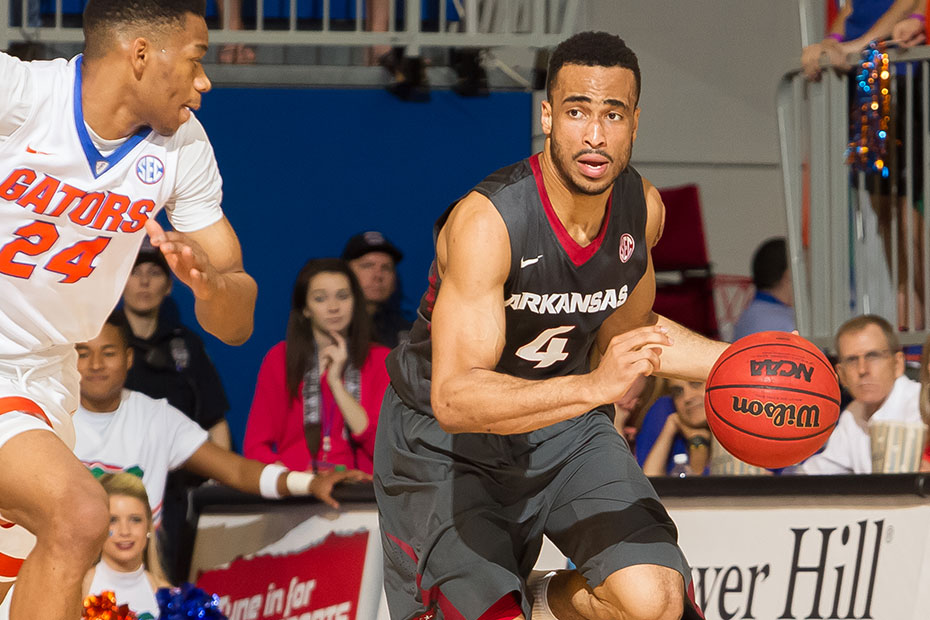 Arkansas Battles Florida Thursday in SEC Tourney
Game Notes (PDF)  |  Anderson Presser  |  Player Presser
NASHVILLE, Tenn. – The No. 9 seed Arkansas men's basketball team will make its 25th SEC Tournament appearance Thursday afternoon, taking on No. 8 seed Florida at Bridgestone Arena. Tip-off is set for noon CT on SEC Network.
Tip-off: Thursday, March 10 at noon CT
Location: Bud Walton Arena (Nashville, Tenn.)
TV: SEC Network  |  WatchESPN
Talent: Brad Nessler (PXP), Sean Farnham (Analyst), Shannon Spake (Sideline)
Tournament Central: Click Here
Interactive Bracket: Click Here
The Opponent
• The Gators are 18-13 on the year with a 9-9 record in SEC play. Florida and Arkansas tied conference marks to fall in the No. 8 and 9 seeds in the 2016 SEC Tournament. The Gators defeated the Razorbacks 87-83 in the teams' only meeting this season in the O'Connell Center on Feb. 3. Since then, Florida has gone 3-6, including losses in four of its last five games. The lone win was an 82-72 victory over Missouri in the team's regular-season finale on Saturday.
• Florida's rotation boasts six players averaging 22-plus minutes and 7.5-plus points per game, led by redshirt senior forward Dorian Finney-Smith, who averages 15 points and 8.2 rebounds. Freshman guard – and Little Rock native – KeVaughn Allen is tied for second on the team with redshirt sophomore forward John Egbunu in scoring with 11.5 points per contest. The Gators are second in the SEC with 40 rebounds per game and third in the conference at 13.2 offensive rebounds per contest.
• Head coach Mike White is in his first season at Florida, and has a 119-53 (.692) record in four-plus seasons, combined with his career at Louisiana Tech. With the Bulldogs, White coached three 27-plus win teams in a row. He had a 50-16 (.758) record in four years of Conference USA play and won three-consecutive regular season titles. Louisiana Tech never made the NCAA Tournament in White's regime, but made NIT Quarterfinal appearances in 2014 and 2015.
SEC Tournament Facts
• Arkansas is making its 25th SEC Tournament appearance where it has an all-time record of 22-23, including a berth in the championship game last season.
• The Razorbacks are 1-3 all-time against Florida in the SEC Tournament and will be the No. 9 seed for the second time in school history.
• Arkansas is 2-4 in the SEC Tournament since the league went away from divisions after the 2010-11 season.
• The Razorbacks have finished higher than projected in the preseason media poll each of the last three years. Arkansas was picked 11th in 2015-16 and finished tied for eighth with Florida.
• Arkansas won its only SEC Tournament championship in 2000 as the No. 3 seed, defeating Georgia, Kentucky, LSU and Auburn to capture the title.
#Fastest40 Facts
• Arkansas ends the regular season having won four of its last five games for the second time in the last 10 years after doing so during the 2013-14 campaign.
• Over the last three years under head coach Mike Anderson, Arkansas has posted an impressive 21-10 regular season record in the months of February and March, including a 9-7 mark on the road. During that 31-game span, the Razorbacks have only lost back-to-back games one time.
• Arkansas and No. 1 seed Texas A&M are the only teams in the league to win each of their last two road games. The Razorbacks won at Tennessee and Alabama, while the Aggies picked up victories at Auburn and Missouri.
• Arkansas is the only team in the SEC with more than one player in the top 10 in the league in scoring. The Razorbacks have three with Moses Kingsley, Dusty Hannahs and Anthlon Bell ranking 8-10. They are the only high-major trio in the country averaging over 15 points per game.
• Arkansas leads the SEC and ranks No. 11 in the country in three-point field goal percentage at .402 and is on pace to break the school record of .395 set during the 1992-93 season. An SEC team has not shot 40-percent from behind the arc in a season since Florida in 2007.
• Moses Kingsley picked up second team All-SEC honors and was named to the league's All-Defensive Team Tuesday afternoon (Click here for details).
• Kingsley is one of five high-major players in the country averaging at least 16.0 points and 9.0 rebounds per game this season.
• Anthlon Bell has been perfect from the charity stripe over the last 10 games, sinking 29 consecutive foul shots to raise his free throw percentage from 76-percent to 85-percent.
• Jabril Durham has been #JaBrilliant over the last six games, dishing out 39 assists and committing only three turnovers. His 198 assists rank fifth all-time for a single season and he is two dimes away from becoming the fourth player in program history to record 200-plus assists in one season.
Up Next
The winner advances to Friday's quarterfinal round to play top-seeded Texas A&M at noon CT on SEC Network.
For more information on Arkansas men's basketball, follow @RazorbackMBB on Twitter.