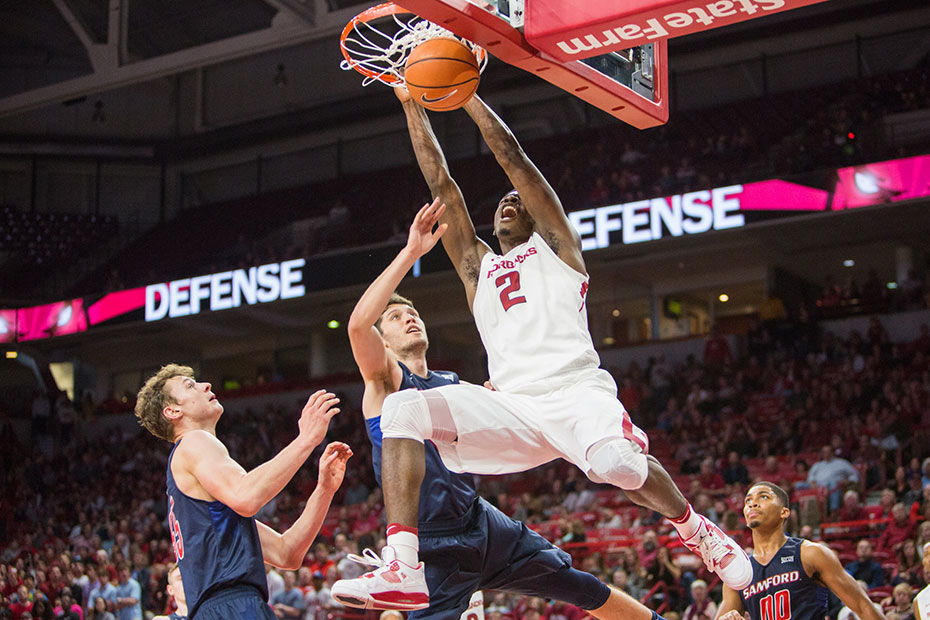 Arkansas Cruises In Season Opener Over Samford
FAYETTEVILLE, Ark. – The Arkansas men's basketball team opened its 95th season of play on Friday night, seventh under head coach Mike Anderson, and the Razorbacks used hot shooting and good ball distribution to roll over the Samford Bulldogs 95-56 inside Bud Walton Arena.
The 39-point victory is the largest since Arkansas defeating defeating Northwestern State on Dec. 1, 2015.
The Razorbacks (1-0) went 18-of-30 (.553) from the field in the first half to go along with 14 assists to take a 47-19 lead into the locker room at the break. Arkansas' opening period included runs of 16-0 and 11-0 to take jump out on top and cruise Friday night.
The Hogs' 16-0 run to break open the contest at 21-6 with 13:00 left in the first half, was led by senior guard Daryl Macon.  Just hours after Macon was named to the coaches preseason All-SEC second team, he showed why. Arkansas' early 15-point lead was thanks in large part to Macon, who opened the game 4-for-4 from the field, including 3-for-3 from behind the arc. He led all scorers at the break, as the only player in double-digits with 14 points.
Sophomore forward Adrio Bailey was a big factor early as well, posting nine first-half points. Just five shy of a career-high, Bailey which he would later pass that mark, finishing with 15 points. Senior guards Jaylen Barford and Anton Beard each finished the opening period with five assists each. Combined, Arkansas had 28 dimes in the win, tying its game high from last season.
Arkansas opened the second half on another 10-0 run, as Barford accounted for the first eight, after knocking down back-to-back three pointers. The Razorbacks finished with four runs of 10-points or more to race past the Bulldogs. Arkansas scored 35 points off of 19 turnovers.
Macon finished with 16 points on 5-of-9 shooting, going 4-of-7 from deep.  He also broke his career high with a game-high eight assists. Barford matched Macon with 16 points of his own, tying his career high in assists with six.
Beard posted 14 points, tying Barford with six assists, one shy of a career high. Sophomore guard C.J. Jones added 10 of his own, finishing 4-of-7 from the floor. Senior big man Trey Thompson went a perfect 4-for-4 shooting for eight points and a game-high eight rebounds.
Freshman forward Daniel Gafford finished with 10 points, four rebounds, three blocks and two assists.
The Razorbacks in Season Openers
• The Razorbacks have won 44 straight home openers, including a 25-0 record in openers inside Bud Walton Arena.
• Arkansas has won 23 consecutive season openers and have opened the year in the win column in 45 of the last 47 seasons.
• Mike Anderson coached teams have never lost a season opener, going 16-0 with an average margin of victory of 20.4 points.
The Razorbacks have a quick turnaround as they host the Bucknell Bison of the Patriot League on Sunday at 5 p.m. in Bud Walton Arena. The game will be televised on SEC Network.
Ticket Packages
Season tickets, mini plans, mobile passes and single-game tickets for the 2017-18 season are available now at the Razorback Ticket Center by calling at 1-800-982-HOGS (4647) and online by clicking here.