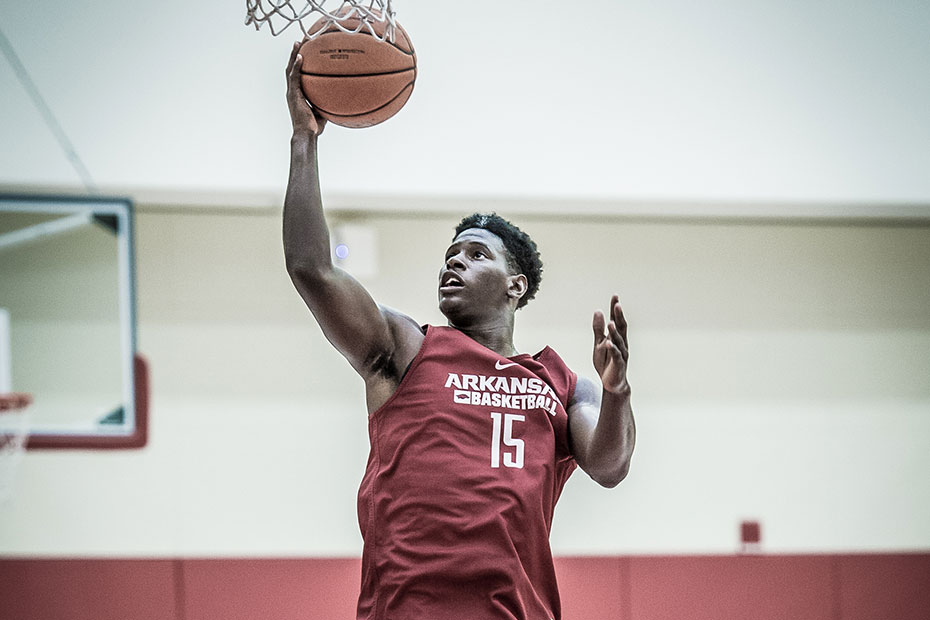 Arkansas Dominates Barcelona All-Stars
Box Score (PDF) | Beard to Bailey alley-oop
BARCELONA, Spain – The Arkansas men's basketball program returned to the court Saturday evening and continued its domination in Spain, racing out to an early lead before picking up a 99-77 victory over the Barcelona All-Stars in the third of four games during the 10-day tour of the country.
Here are three takeaways from a 22-point victory and consecutive wins in Spain.
1. This team is all about depth
Arkansas scored 56 points in the first half as nine different players recorded at least two field goals in the first two quarters. While the starting five of Barford, Macon, Hannahs, Thomas and Kingsley has been consistent the last two games, the bench play has been equally impressive with interchangeable pieces at nearly every position. During the last two games, the bench has been responsible for over 50 percent of the scoring production.
2. #BeastMo is back
Moses Kingsley returned to the dominant big man we all know Saturday evening, scoring 10 points in the first half and pulling down 16 rebounds for a double-double. He grabbed eight rebounds in each half to go along with a pair of blocks as he controlled the lane and Arkansas held a 54-18 edge on points in the paint. During the three-game tour in Spain, Kingsley is averaging a team-best 8.7 rebounds per contest and has eight blocks.
3. Big men control the glass
Arkansas has owned the boards in Spain with the trio of Kingsley, Dustin Thomas and Trey Thompson combining to pull down 37 rebounds on Saturday. While Kingsley led the way, Thomas wasn't far behind with 12 rebounds, and Thompson was one shy of double-digits. Over the last three games, Arkansas has outrebounded its opponent by a combined 50 rebounds and dominated second-chance points 41-11 in the last two contests.
The Razorbacks will stay in Barcelona the remainder of their trip and will play the final game of the tour Sunday afternoon at 1 p.m. CST against the European Basketball Academy, before returning to the United States on Tuesday, Aug. 16.
For more information on Arkansas men's basketball, follow @RazorbackMBB on Twitter.