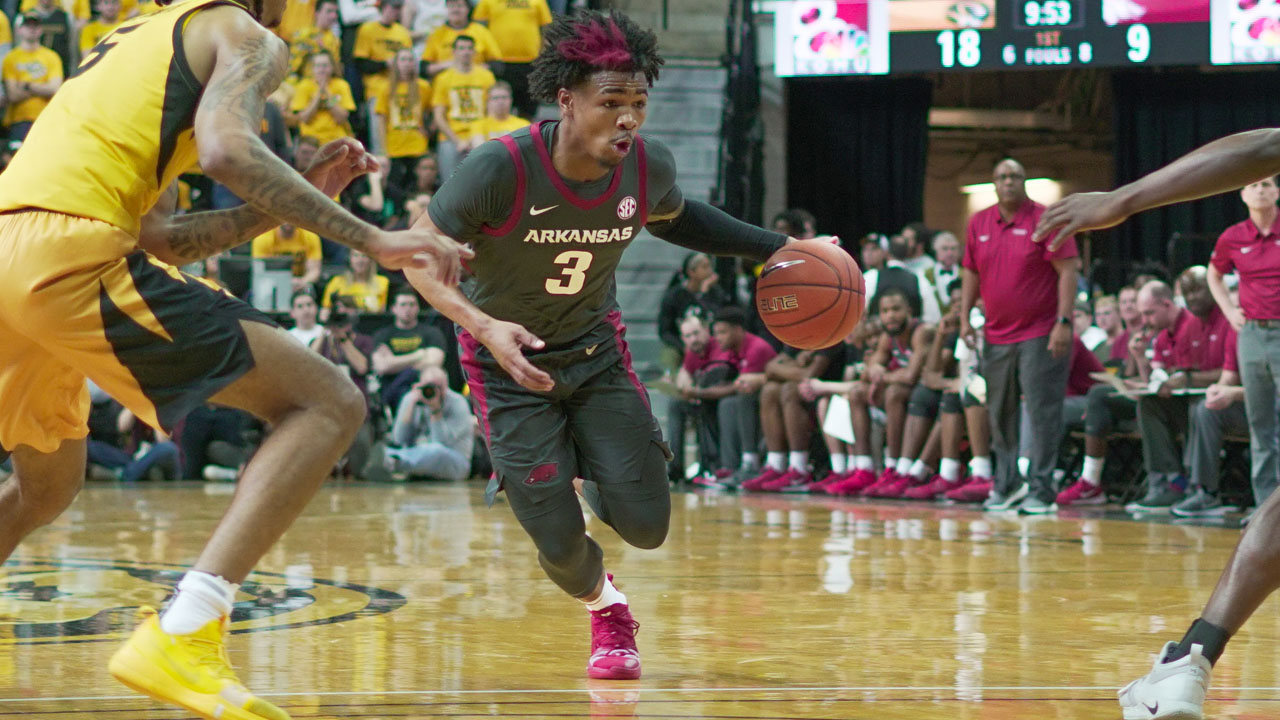 Arkansas Drops 2nd Straight in OT
COLUMBIA, Mo. – For the second time in as many games, Arkansas pushed its opponent to overtime but could not pull out the win. On Saturday, Missouri defended its home court with an 83-79 victory over the Razorbacks at Mizzou Arena.
The loss spoiled a career game from Arkansas sophomore Reggie Chaney. He posted his first career double-double with a career-high 17 points and tying his career high with 11 rebounds while adding two steals and two blocked shots.
Missouri was in control most of the first half, except for 40 seconds Arkansas led. However, the Razorbacks were able to hang around and trailed by six at halftime, 36-30.
The Razorbacks opened the second half with a 12-6 run to tie the game, 42-42 at the 12:49 mark. The Tigers responded and led by as many at seven (54-47) with just under nine minutes left in regulation. Arkansas bounced back to lead, 56-55, with 6:10 left in the second half. From that point, the lead changed hands three times. Missouri's Javon Pickett sank two free throws at the 1:19 mark to go up two before Desi Sills scored on a layup with 33 seconds left to tie the game, 67-67.
Arkansas' defense, like it did versus Auburn on Tuesday, forced a shot clock violation on the Tigers' last possession. Jalen Harris had a shot at the buzzer but missed to force overtime.
In overtime, Mizzou led by as many as seven twice, the last being 79-72 with 1:32 left. Arkansas got a quick layup from Harris and quickly forced a turnover. Desi Sills drained a 3-pointer to get the Hogs to within two, 79-77, with 34 seconds left. The teams traded baskets and the Tigers maintained a 2-point. Xavier Pinson was fouled with 16 seconds left and he sank both free throws to push the lead to four, 83-79. Arkansas could not convert, and the Tigers missed their final two free throws with five seconds left to provide the final score.
Pinson led Missouri with 24 points, making 12-of-13 free throws. Overall, the Tigers were 34-of-44 from the free throw line as Arkansas was whistled for 35 fouls, three shy of the school record.
Arkansas was 28-of-39 at the charity stripe, committed 14 turnovers and saw four players foul out. The Razorbacks did force 17 turnovers.
Arkansas stays on the road to face Tennessee on Tuesday (Feb. 11 at 6 pm CT). The game will be televised on the SEC Network.
FIRST HALF: Arkansas 30 – Missouri 36
Mizzou scored the first points but Arkansas led 7-5 at the first media timeout thanks to a Desi Sills 3-pointer, Arkansas' only field goal attempt. The other points came on two free throws by Reggie Chaney and two by Mason Jones.
Whitt ended a 7-0 Tiger run with a jumper in the lane to cut the Hogs' deficit to 14-9.
Down nine (20-11), Desi Sills hit two free throws and Adrio Bailey a 3-ppointer to get Arkansas to within four (20-16).
Both teams only shot 32 percent from the field and the Tigers took advantage of 10 Razorbacks turnovers to lead at the break.
There were a combined 25 first-half fouls and the teams combined to shoot 34 free throws (Missouri was 15-of-18 and Arkansas was 12-18).
Mason Jones had eight points, making 6-of-8 from the line, to lead Arkansas.
GAME NOTES
Arkansas' starting lineup was Jimmy Whitt (G) – Desi Sills (G) –Mason Jones (G) – Reggie Chaney (F) – Adrio Bailey (F) for the second straight game.
Missouri won the tip for the 12th time in 23 games this season. Arkansas is 7-5 in such games.
Missouri's Reed Nikko scored the first points of the game, an old-fashion 3-point play at 18:57. Reggie Chaney scored Arkansas' first points with two free throws at 18:38 – his first time to score the Razorbacks' first points
Mason Jones joined Chaney in scoring 17 points. The junior was 11-of-14 at the free throw line and he added five rebounds. Jimmy Whitt Jr., had 15 points, Sills added 12 and Adrio Bailey had 10. It was the first time five Razorbacks have scored double digits in a game this season.
Other career highs for Chaney include: 6 field goals made tied an SEC career high; 12 field goals attempted is a career high; 5 free throws made is a career high; 7 free throw attempts is a career high. His two steals were his first two thefts in SEC play this season and his two blocked shots tied season-high in SEC play.
Adrio Bailey, who scored an SEC career-high 11 points last outing, had 10 points at Missouri. He was 3-of-3 from the field, including a 3-pointer. He is 8-of-20 from 3-point range this season.
Arkansas, the NCAA leader in 3-point percentage defense, held the Tigers to just 3-of-16 (18.8%). It marks the sixth time an opponent has shot below 20% from long range this season.
For more­­ information on Arkansas Men's Basketball, follow @RazorbackMBB on Twitter.