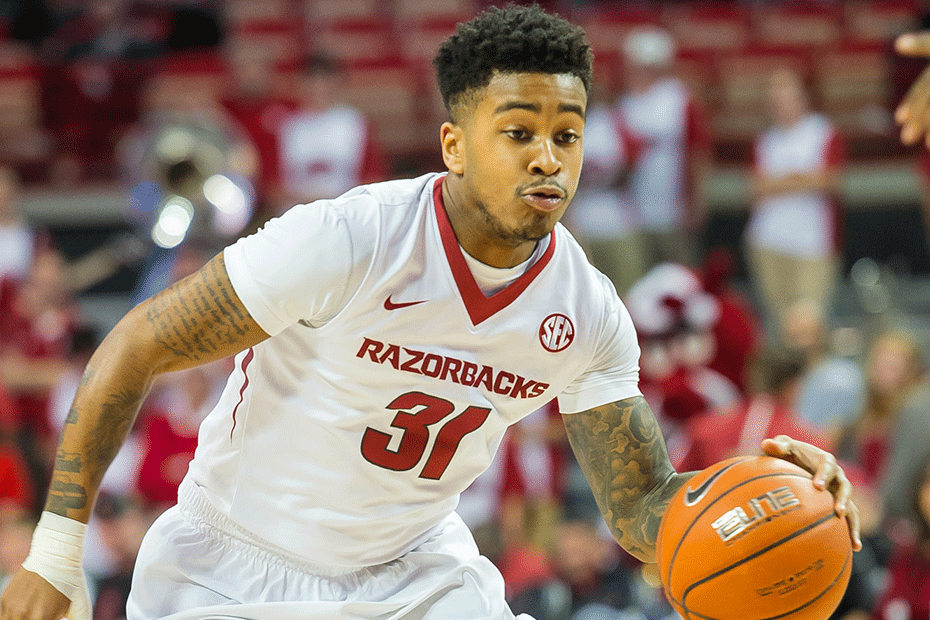 Arkansas Edged By Bulldogs in OT
ATHENS, Ga. — Moses Kingsley recorded his ninth double-double of the year, but the Arkansas men's basketball team fell to Georgia 76-73 in overtime on Saturday evening at Stegeman Coliseum. Kingsley had 11 points and 10 rebounds, reaching double figures in points for the 19th time this season.
Dusty Hannahs added a team-high 24 points, including 4-for-7 from beyond the arc, and Anton Beard scored a career-high 18 off the bench. In yet another close road contest for the Razorbacks, neither team led by more than eight points in the game.
An early 10-0 burst from the Splash Zone duo of Hannahs and Anthlon Bell gave Arkansas a 14-6 lead only five minutes into the game. But back came the Bulldogs, who proceeded to go on an 11-1 run of their own to take a two-point lead five minutes after. As the halftime horn sounded, it was Georgia who held a slim, 28-25 lead.
After scoring a team-high 11 points in the first half, Hannahs came out for the second and dropped another 12 to have 23 at the end of regulation. Beard came on strong in the second frame, going 4-for-5 from the field for 14 points in 15 minutes.
Beard went 5-for-5 from the charity stripe in the final 10 minutes of regulation, including a pair of foul shots to give the Razorbacks a two-point lead with 47 seconds remaining. But Georgia's JJ Frazier, who had a game-high 26 points, finished a tough running layup with 24 seconds left to knot the score 64-64 and send the contest into overtime.
The Bulldogs jumped out to a five-point lead in the extra frame, but four-consecutive missed free throws by the home team gave Arkansas a shot at a desperation tie at the end of 45 minutes. But a long-distance heave by Bell missed its mark and the Razorbacks fell to 9-10 overall and 3-4 in SEC play.
QUICK HITS
• Dusty Hannahs scored 20-plus points for the ninth time this season and the 11th time in his career. He has done so in four of the last five games.
• With 11 points, Moses Kingsley has scored in double figures in all 19 games this season.
• Kingsley led the team in rebounds (10), while Jabril Durham led the team in assists (6), each for the 18th time this season.
• Anton Beard had a career-high 18 points on 5-of-9 shooting from the field and a 7-for-9 performance from the foul line.
• Anthlon Bell has hit a three-pointer in all 19 games this season.
• Arkansas has hit eight-plus threes in five games this season, including three times in the last five games.
• The Razorbacks have played four overtime games in their last 10 contests.
UP NEXT
Arkansas returns home Wednesday, Jan. 27, welcoming SEC-leading and No. 10 Texas A&M to Bud Walton Arena for a 6 p.m. tip-off on ESPNU.
For more information on Arkansas men's basketball, follow @RazorbackMBB on Twitter.