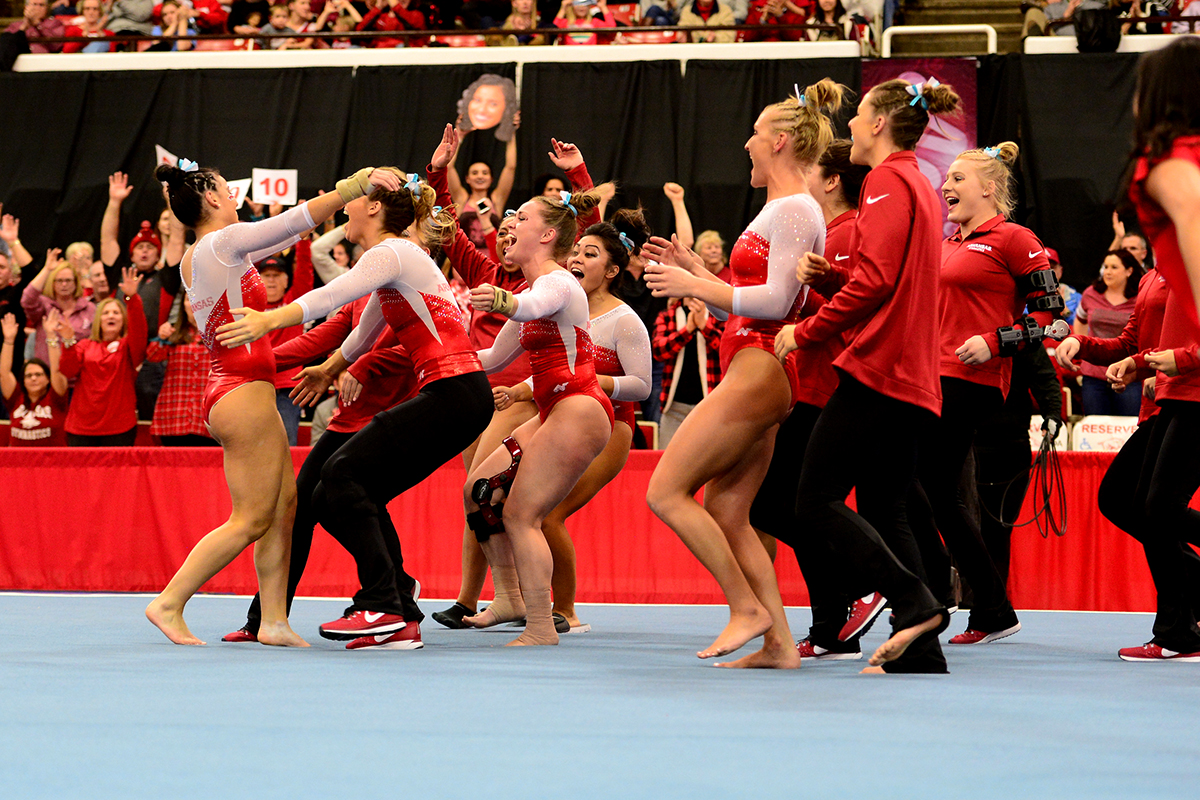 Speed Wins Vault Title As Arkansas Falls At No. 10 Alabama
TUSCALOOSA, Ala. – Senior Braie Speed secured the vault title as the 8th-ranked Arkansas gymnastics team fell to No. 10 Alabama in Tuscaloosa Friday night 197.000-196.350.
"We were a little off tonight as far as some of our landings," said head coach Mark Cook. "We did a decent job, but we didn't maximize our potential tonight. We've got to do a little better on the road, but the girls had a lot of focus and a lot of energy and we competed pretty hard here."
First Rotation: Arkansas Bars: 49.075, Alabama Vault: 48.950
Arkansas led by a slight margin over the Crimson Tide after the first rotation. The Razorbacks got four scores over 9.800, with freshman Sydney Laird leading the way with a 9.850. Senior Braie Speed and freshman Sarah Shaffer were just behind Laird, each tallying a 9.825. Sophomore Hailey Garner got the solid score in the anchor spot that Arkansas needed to take the lead, recording a 9.800.
Second Rotation: Alabama Bars: 49.325, Arkansas Vault: 48.825
Competing just five athletes on vault, Arkansas fell behind in the second rotation by a score of 98.275-97.900. Speed and Wellick led all Razorbacks with scores of 9.850 and 9.800, respectively. Junior Sydney McGlone was Arkansas third best scorer, recording a 9.775 in the third spot in the rotation. Speed's score gave her a share of the event title with Alabama's Nickie Guerrero.
Third Rotation: Arkansas Floor: 49.325, Alabama Beam: 49.325
Arkansas got solid scores from its entire lineup on floor, including a 9.900 from Shaffer. Sophomores Hailey Garner and Jessica Yamzon were right behind Shaffer with scores of 9.875 each. Arkansas was unable to gain ground on the Crimson Tide, as each team matched event scores of 49.325 on its apparatus.
Fourth Rotation: Alabama Floor: 49.400, Arkansas Beam: 49.125
Shaffer led Arkansas with a 9.900 on beam, while Yamzon and Carter recorded scores of 9.825. Wellick recorded a 9.800 and Burton tallied a 9.775 to round out Arkansas' scoring in the final rotation.
Sarah Shaffer won the all-around with a score of 39.350 while Yamzon recorded a 39.150.
Up Next
The Razorbacks return home next Friday for another Southeastern Conference showdown against the Auburn Tigers inside Barnhill Arena. The meet is scheduled to begin at 7 p.m. Tickets for the meet can be purchased here.
For more information on Razorback gymnastics, including in-meet updates, follow @Razorbackgym on Twitter.