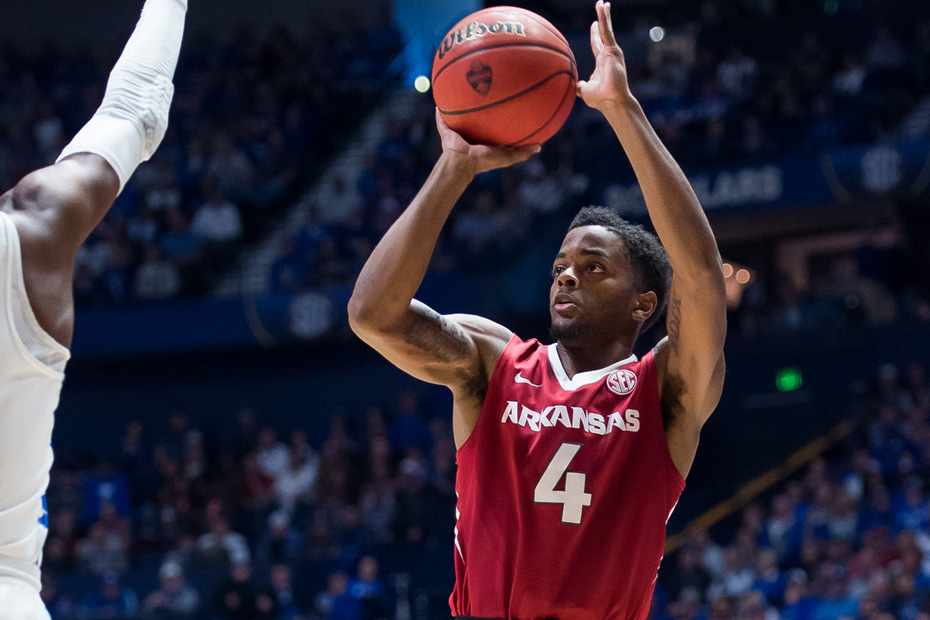 Arkansas Falls In Title Game To The Wildcats
NASHVILLE, Tenn. — The Arkansas men's basketball (25-9) team fell to the Kentucky Wildcats (29-5) Sunday afternoon in the SEC Tournament Championship 82-65.
Down by as many as 19 in the second half, Arkansas fought back to cut the deficit to nine with 1:32 left in the contest, after sinking six of its last seven shots. Kentucky made its late free throws to keep Arkansas from getting any closer.
Arkansas' bench, with the exception of Daryl Macon, did not perform as it has all year. Macon led the Razorbacks and tied for the game-high in scoring with 18 points, including 10 in the first half. The junior also pulled down four rebounds, tying for the most among Arkansas guards.
To start the contest, Kentucky raced out to an early 6-2 lead but Arkansas shortly responded. Going on a 7-0 run, the Razorbacks were able to take their first lead of the game at 9-7. Early on, neither team could pull away from the other. Kentucky and Arkansas battled for the first 18 minutes of the game, before Kentucky was able to use a 9-0 run at the end of the first half to take a 12-point lead into the locker room.
Dusty Hannahs tallied 14 points, as Jaylen Barford scored 13 points to go along with two rebounds. Manuale Watkins posted seven points, four rebounds, two assists and two steals. Trey Thompson led the team with four assists and two blocks.
UP NEXT
Arkansas now waits for its ticket into to the NCAA Tournament. The selection show begins at 4:30 p.m. CT Sunday afternoon on CBS.
For more information on Arkansas Men's Basketball, follow @RazorbackMBB on Twitter.