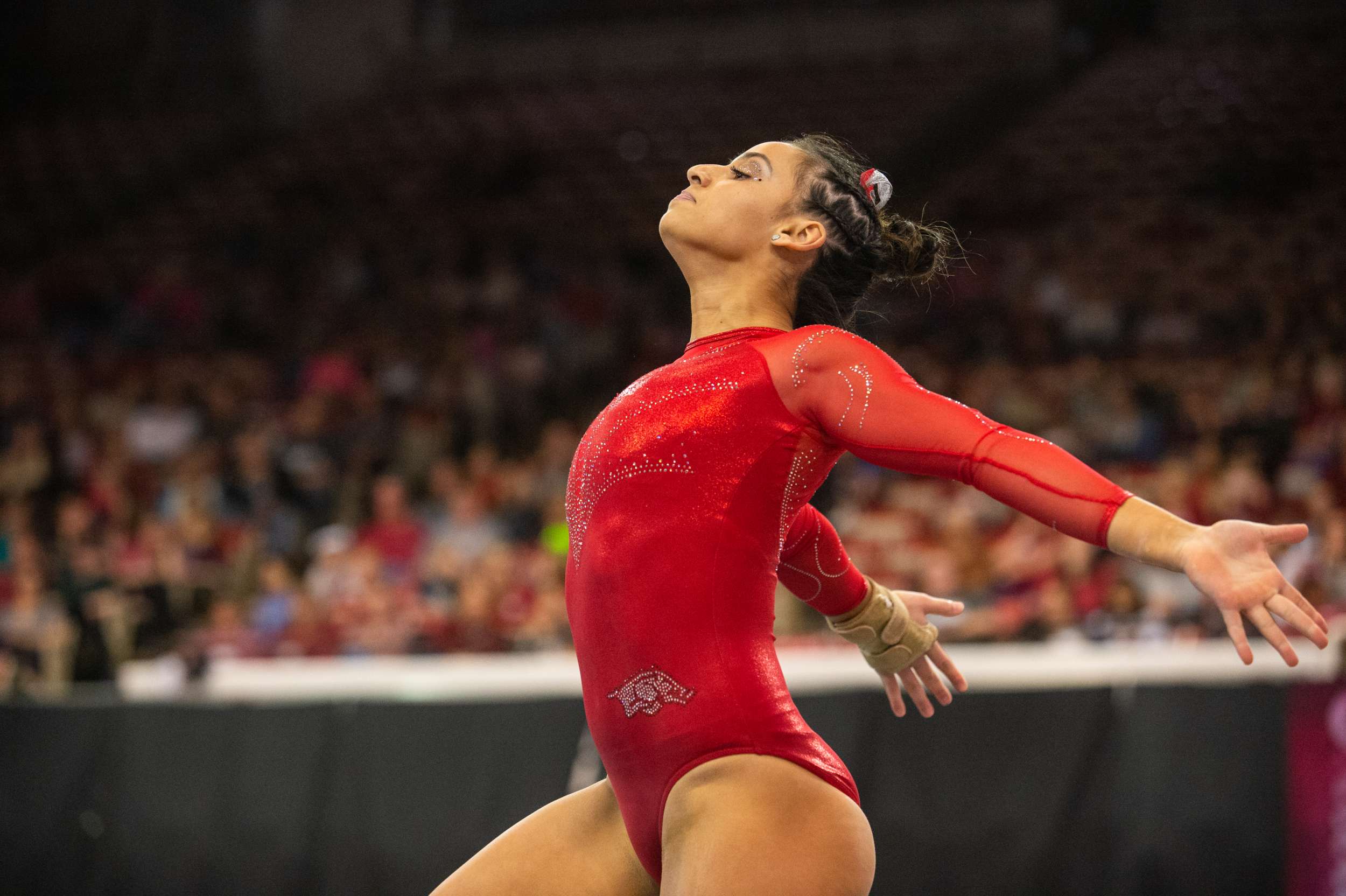 Arkansas Falls On The Road To Kentucky
LEXINGTON, Kent. – The Arkansas gymnastics team fell at Kentucky Friday evening 195.275-193.875. The meet was held inside Rupp Arena as the Razorbacks were Kentucky's first Southeastern Conference opponent inside the venue.
First Rotation: Kentucky Vault: 49.175, Arkansas Bars: 47.900
Arkansas fell behind in the first rotation as it was forced to count a fall. Sophomore Jessica Yamzon began the rotation with a 9.700 as fellow Sophomore Hailey Garner posted a 9.750 in the fourth spot. The Razorbacks finished with a 9.600 from junior Michaela Burton and a rotation leading 9.775 from sophomore Sarah Shaffer.
Second Rotation: Kentucky Bars: 48.950, Arkansas Vault: 48.700
Arkansas began the second rotation with a pair of 9.675's and a 9.650; but finished the rotation strong with a pair of 9.775's from Shaffer and freshman Kennedy Hambrick. Senior Sydney McGlone anchored and led the event with a 9.800.
Third Rotation: Arkansas Floor: 49.050, Kentucky Beam: 47.775
Arkansas made up some ground in the final rotation as Kentucky was forced to count a fall on the balance beam. Yamzon led Arkansas off in the rotation with a solid 9.775 on the floor. Freshman Bailey Lovett made her debut on the event in the two spot with a 9.750.
Hambrick followed that up with a 9.775 as Sydney McGlone posted a season high 9.800. Shaffer followed that up with a 9.800 of her own as sophomore Sophia Carter ended the rotation with a 9.900 on the event. Carter has not scored below a 9.900 on the event this season.
Fourth Rotation: Kentucky Floor: 49.375, Arkansas Beam: 48.225
Yamzon led off the final event with a 9.775 that was followed up with a 9.800 from Hambrick. Hambrick competed in the all-around for the first time in her career in her third meet. After a fall, Carter posted a 9.775 as the rotation ended a 9.800 from the anchor Burton.
Up Next
The Razorbacks hit the road again for the Metroplex Challenge in Fort Worth, Texas. The Razorbacks will face off against No. 1 Oklahoma, No. 10 Missouri and No. 8 Denver.
For more information on Arkansas gymnastics, including in-meet updates, follow @RazorbackGym on Twitter.