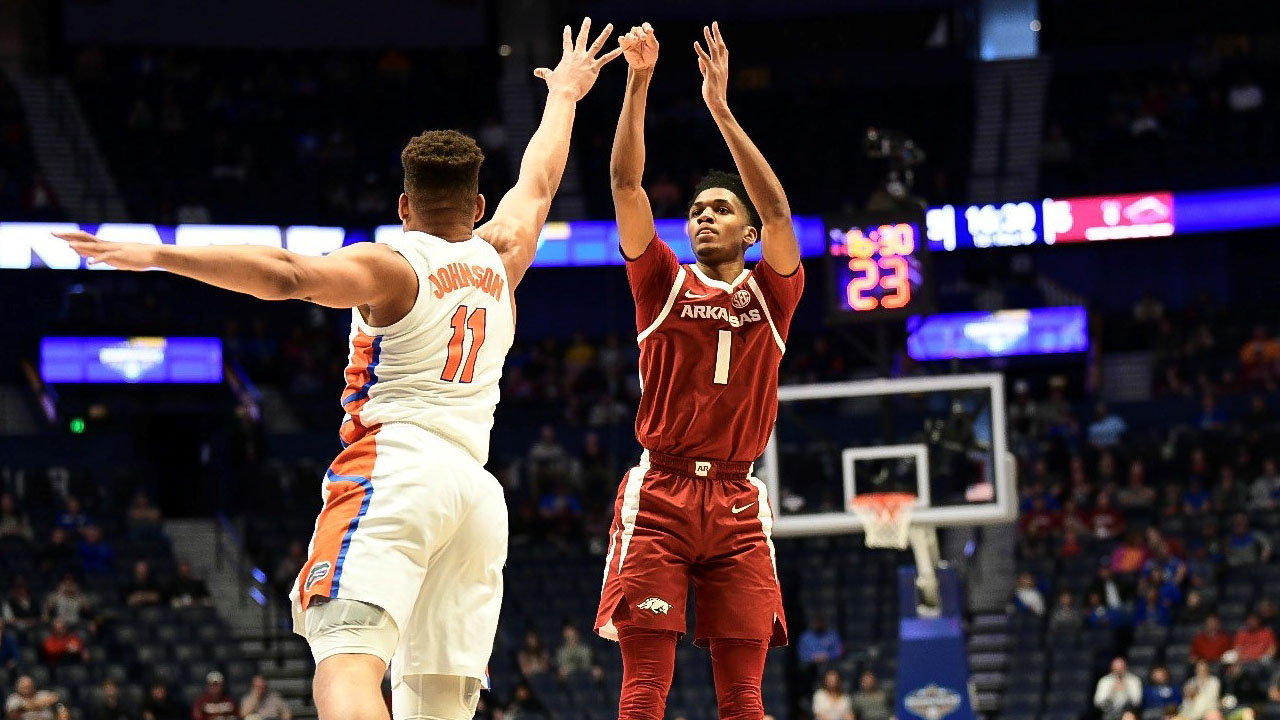 Arkansas Falls to Florida in SEC Tournament
NASHVILLE, Tenn. – Arkansas, seeded ninth, was down six (54-48) with 4:32 left but went cold down the stretch as the eighth-seed Florida Gators claimed a 66-50 victory in the second round of the 2019 SEC Tournament at Bridgestone Arena.
The game was tight through the first 35 minutes as eight points were the largest lead. Arkansas led by eight points (17-9) with 11:19 left in the first half. The Gators took over the lead with 4:32 left in the first but the Razorbacks kept it within six points until Florida's Keyontae Johnson made a layup with 4:58 left to go up eight.
Gabe Osabuohien answered with two free throws to get it back to a six-point deficit. However, the Gatos went on a 10-0 run to go up 16 with 39 seconds left to seal the Razorbacks' fate.
"I feel like we could have got anything that we wanted," said Arkansas' Daniel Gafford, who led the Razorbacks with 15 points. "We couldn't execute. We shot ourselves in the foot down the stretch."
Arkansas entered the game as one of the hottest teams in the league, shooting over 50 percent from 3-point range over its final four regular-season. The Razorbacks were just 4-of-16 (25 percent) versus the Gators, who lead the SEC in 3-point field goal percentage.
"Very disappointed in our performance," Arkansas coach Mike Anderson said. "(We'd) been playing some pretty good basketball. To come on this stage and not play as well we've been playing is kind of disappointing."
Johnson led Florida with 20 points and 12 rebounds, while KeVaughn Allen scored 17.
The Razorbacks were led by Gafford's 15 points and six rebounds. Isaiah Joe added 12 points.
FIRST HALF: Arkansas 28 – Florida 30
The score was tied at 7-7 at the first media timeout. Razorbacks used an 8-2 run to lead 15-9 at the second media timeout. Arkansas led 19-17 at the third media timeout.
Florida scored first but Arkansas led most of the first half. The Razorbacks were up 17-9 with 11:05. However, the Gators did regain the advantage, 26-25 at 4:32, as part of a 19-8 run. Gafford ended run with a dunk at 2:28 to get Arkansas to within one, 28-27.
Isaiah Joe led Arkansas with nine points and Daniel Gafford had seven.
SECOND HALF: Gators got on 10-0 run late to secure the win.
Daniel Gafford scored the first points of the second half to tie the game, 30-30.
Arkansas kept it a two-possession game, leading by six twice. The first six-point lead was trimmed to four (43-39) on two Gafford free throws. The second was trimmed to three (45-42) on a Mason Jones 3-pointer with 8:14 left.
Jones also had a tip-in with 7:54 left to get Arkansas to within three (47-44).
KeVaughn Allen answered with a 3-pointer and Johnson had a layup for and eight-point lead with 4:58 left.
GAME NOTES
Arkansas' starters were Desi Sills (G) – Isaiah Joe (G) – Jalen Harris (G) – Daniel Gafford (F) – Gabe Osabuohien (F). It is the sixth straight game for this lineup. This also marks the sixth career starts for Sills and Osabuohien. Joe, Harris and Gafford have started all 32 games this season.
Arkansas controlled the tip. Florida's Keyontae Jonhson scored the first points, a 3-pointer at the 18:45 mark. Daniel Gafford scored the first points for Arkansas, a layup off a Jalen Harris assist at 17:49.
Arkansas has committed 15 or fewer turnovers in each of its last seven games.
Arkansas held Florida to just 38.2 percent shooting from the field,
Florida, which had 19 offensive rebounds, out-rebounded Arkansas 41-26.
Arkansas had reached at least the semifinals in each of the last three years and are now 26-27 all-time at the SEC Tournament.