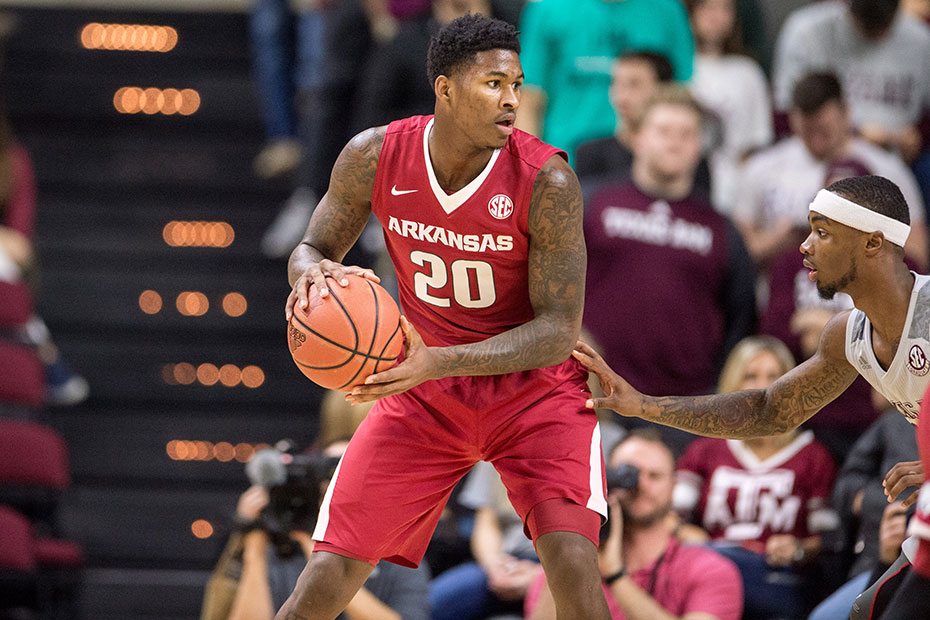 Arkansas Falls To Hot-Shooting Aggies On Road
COLLEGE STATION, Texas – The Arkansas men's basketball team could not overcome the hot shooting Texas A&M Aggies Tuesday night, as the Razorbacks fell on the road 80-66.
The Razorbacks and Aggies traded baskets for the first four minutes of the game, as Texas A&M would hold a one-point lead. Getting his fifth start of the season, freshman guard Darious Hall was big early for the Hogs. Hall had six of Arkansas' first 14 points to go along with two steals.
The Razorbacks ran off a 10-0 run to take a 17-8 lead, their largest in the first half. A&M would put together a 20-4 run of their own to take a six-point lead, but Arkansas would use a 9-2 run to close the half to trail 33-32 at the break.
Arkansas' offense ran through its defense. The Razorbacks forced 12 Aggie turnovers in the first half, scoring 15 points off of those miscues. Arkansas also had its own mistakes though, turning the ball over nine times in the opening period. Hall tied with Daryl Macon at the half, leading the Hogs with 10 points each.
To open the second half, the Aggies got hot. Texas A&M manufactured an 24-4 run, hitting five consecutive three pointers to quickly stretch their lead to 21. A&M hit nine of their first 10 shots coming out of the break, including seven three pointers, while Arkansas missed 11 of its first 13 shots.
After the Aggies built their largest lead of the game at 59-38, the two teams would go back and forth before Arkansas manufactured a 13-2 run, including scoring 10 straight to cut it to nine with six minutes remaining.
That is as close as Arkansas would get. The Aggies would hold on for a 80-66 win.
Macon led all scorers with 20 points on 7-of-16 shooting, going 3-of-9 from deep. Hall finished with 13 points on 6-of-6 shooting, while senior guard Jaylen Barford scored 19 of his own, going 7-of-16 from the floor.
Texas A&M went 7-of-12 (.583) from deep in the second half to run away from the Hogs, going 15-of-25 (.600) from the floor overall in the final period.
Tickets
Single-game tickets for South Carolina, Vanderbilt and Auburn are available now at the Razorback Ticket Center by calling at 1-800-982-HOGS (4647) and online by clicking here.

For more information on Arkansas men's basketball, follow @RazorbackMBB on Twitter.