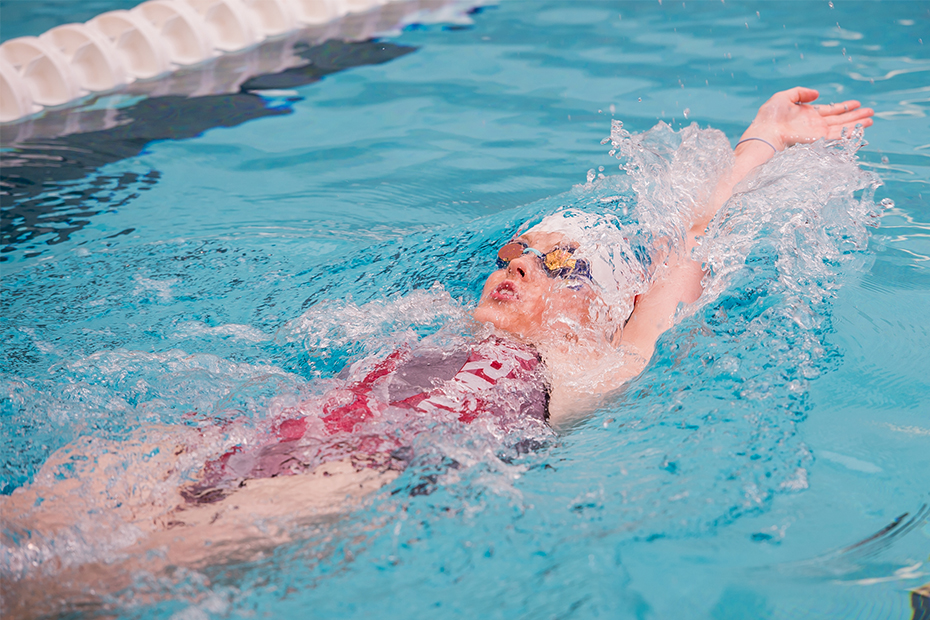 Arkansas Falls To No. 7 Tennessee On Senior Day
FAYETTEVILLE, Ark. – On Saturday's Senior Day, the Arkansas swimming and diving team (6-3, 2-2 SEC) fell to No. 7 Tennessee 199-101.
"Today was a great day for our seniors," said head coach Neil Harper. "To be able to host and compete against a top-10 team in Tennessee and recognize all of the many contributions of our seven seniors was nostalgic, emotional and was a tremendously proud day for our Razorbacks. We competed well and were led by our divers. Winning both events was very exciting. Several of our swimmers stepped up and were close to or recorded their best in-season times. This is the hardest phase of our training heading into the SEC Championships in four and a half weeks. We have stayed committed and focused on that and look forward to fine tuning and tapering when the time is right. We still have some more hard work and two more away meets before them, so we have to stay positive, focused and continue our strong belief in each other."
In all, Arkansas seniors combined for nine of the 17 top-three finishes for Arkansas Saturday.
The meet started off with a third, fourth and sixth-place finish for the Razorbacks in the 200 medley relay. In the first individual event of the morning, sophomore Ayumi Macias placed third in the 100 freestyle in 10:06.97.
Senior Jessie Garrison followed Macias with a third-place finish in the 200 free, touching in a season-best 1:49.92. Senior Chloe Hannam recorded three top-three finishes with a second-place showing in the 200 back in 1:58.08 and a third-place finish in the 100 back in 56.25. Hannam owns the top-six times by a Razorback this season in the 200 back. In the final individual event of the meet, Hannam touched second in the 200 individual medley in 2:04.14.
Junior Madison Strathman recorded two second-place finishes, the first coming in the 100 breast in a time of 1:03.72. Following the first diving break, Strathman recorded her second second-place finish of the meet in the 200 breast with a season-best 2:17.09.
Tatlow followed Strathman with a second-place finish in the 200 fly in 2:01.77. Arkansas record second, third, fourth and fifth-place finishes in the event.
At the first diving break, freshman Brooke Schultz controlled the one-meter dive, scoring a 344.78 to claim first. Senior Nicole Gillis put up a solid showing, finishing second with a score of 301.28.
Freshman Marlena Pigliacampi touched second in the 100 fly in 56.89, prior to the second diving break.
On the three-meter boards, Schultz and Gillis mirrored their 1m showings, finishing first and second, respectively. Schultz scored a 344.18, while Gillis recorded a 334.50.
Of Schultz's six-dive 3m performances this season, she has yet to finish outside of the top two, recording eight first-place finishes. Of her 18 six-dive efforts this season, Schultz has 15 first-place showings, having never finished outside the top three. In dual meets alone, Schultz has yet to finish off the top of the podium, recording 10 first-place finishes – five each on the 1m and 3m.
Arkansas will return to the pool on Jan. 19, when Arkansas travels to Houston to face the Houston Cougars and the Vanderbilt Commodores. Earlier in the year, Arkansas defeated the Commodores 133-67 in Nashville.
For more information on Arkansas Swimming and Diving, follow @RazorbackSD on Twitter.