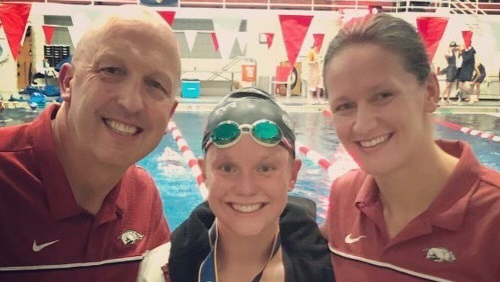 Arkansas Finishes Eighth at SEC Championships
Fayetteville, Ark.- The 20th ranked Arkansas Swim & Dive team wrapped a good showing at the SEC Championships on Saturday, finishing in eighth place with a school record 595 total points.
Peyton Palsha continued her outstanding performance this week, taking third place in the 1,650-yard freestyle with a time of 15:58.42. Her time is the fifth-best in the nation this year. Palsha closed out the SEC Championships by finishing in the top five three times.
Kobie Melton grabbed 12th in the prelims and finals of the 100-yard freestyle, finishing in 48.92 in the finals. Vanessa Herrmann took 10th place in the 200-yard breast finals with a time of 2:09.90. The Razorbacks finished the day strong in the 400 free relay with Melton, Emily Barclay, Adela Vavrinova and Palsha finishing eighth with a time of 3:17.83.
Quotables
Arkansas Head Coach Neil Harper: "Just a great overall team effort. the highest team points we have had in my five years here and I am super proud of the year we have put together in very difficult times. Go Hogs!"
For more information on Arkansas women's Swimming and Diving follow @RazorbackSD on Twitter, Instagram and Facebook