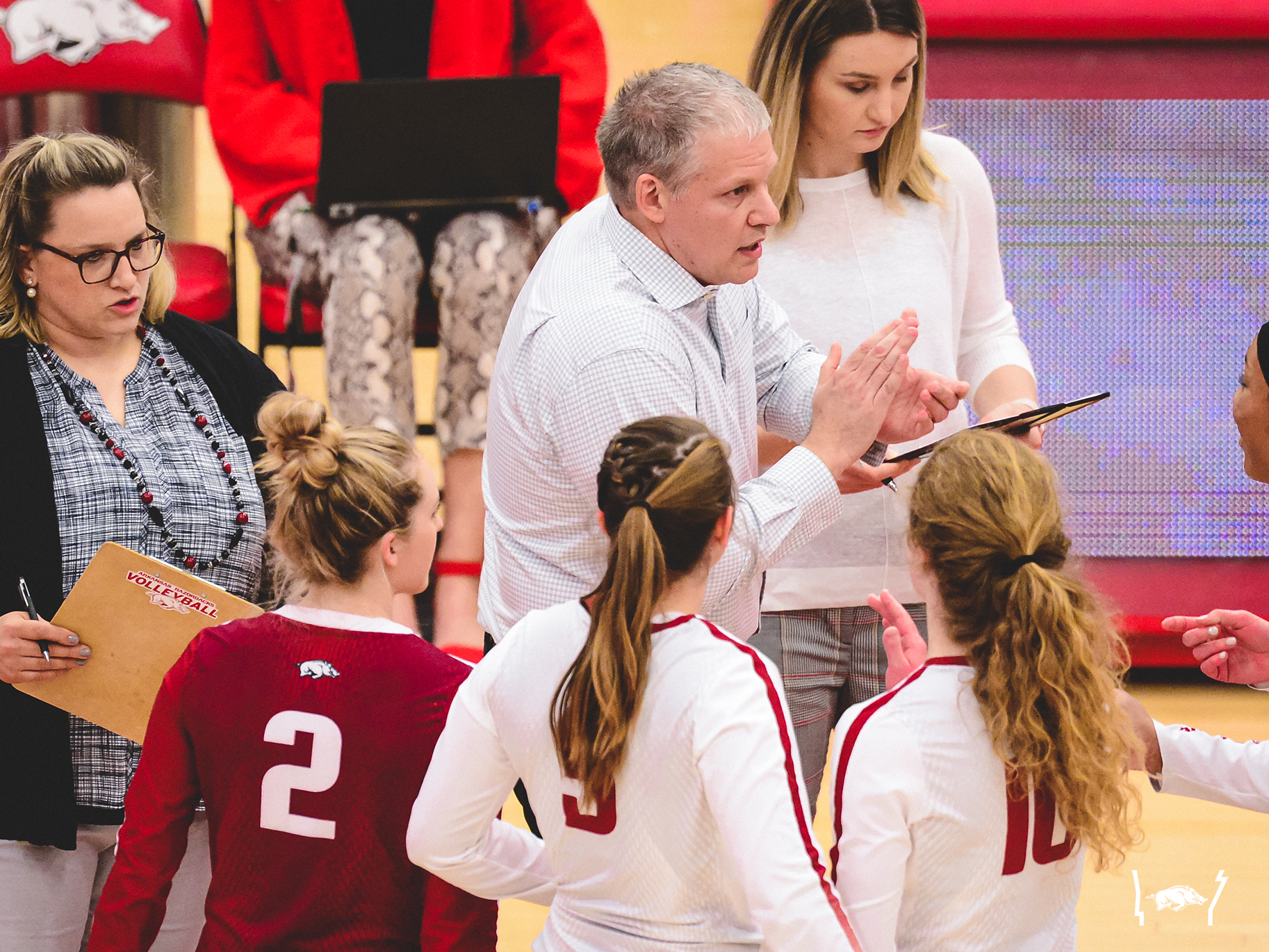 Arkansas Focused on Florida and South Carolina
FAYETTEVILLE – The University of Arkansas volleyball team is wrapping up the regular season this week, as the Razorbacks head east, slated to face no.15 Florida on Wednesday evening and South Carolina on Friday night.
"Over the past two weeks, our team has continued to look for ways to play good volleyball," said head coach Jason Watson. "Four-straight five-set matches means we've been playing a lot of volleyball and plenty of opportunities to find ways to play better than our opponents."
"I'm really proud of the way we continue to prepare and practice. I like the way we are going about our business this late into the season," Watson added.
Arkansas sits at 11-17 overall and 5-11 against conference opponents. The Hogs are headed to Gainesville, Fla then Columbia, S.C. after sweeping its weekend opponents for the first time since week one of the season – taking five-set wins over Ole Miss (25-17,33-35,25-18,14-25,15-12) and Mississippi State (28-26,25-18,20-25,20-25,15-13).
Senior Rachel Rippee celebrated her senior day on Sunday with the win over the Bulldogs and signed off on a career that ranks her first all-time in assists during the rally scoring era at Arkansas. Rippee set a season-high with 39 assists versus Ole Miss before breaking her own season high with 44 assists against the MSU.
Freshman Jillian Gillen was named SEC Freshman of the Week for the second time during her rookie campaign after posting 5.50 points, 5.10 kills and 1.60 digs per set in wins over Ole Miss and Mississippi State this past weekend. Gillen recorded a season-high 31 kills against the Rebels Friday night and 20 kills against the Bulldogs on Sunday. Over the last four games, Gillen has recorded a combined 101 kills and averaged 5.05 kills per set
vs No.15 Florida
When: Wednesday, Nov. 27 at 4:00 p.m. (CT)
Where: Gainesville, Fla. | Stephen C. O'Connell Center
Series Record: Arkansas trails, 3-43
Last Meeting: Oct. 11, 2019 in Fayetteville (L, 3-0)
Live Stats
SEC+
vs South Carolina
When: Friday, Nov. 29 at 6:00 p.m. (CT)
Where: Columbia, S.C. | Carolina Volleyball Center
Series Record: Arkansas leads, 27-13
Last Meeting: Oct. 13, 2019 in  Fayetteville (L,3-2)
Live Stats
SEC+
Visit ArkansasRazorbacks.com for the latest information on all things Arkansas Volleyball. You can also find the Hogs on social media by liking us on Facebook (Arkansas Razorback Volleyball) and following us on Twitter and Instagram (@RazorbackVB).