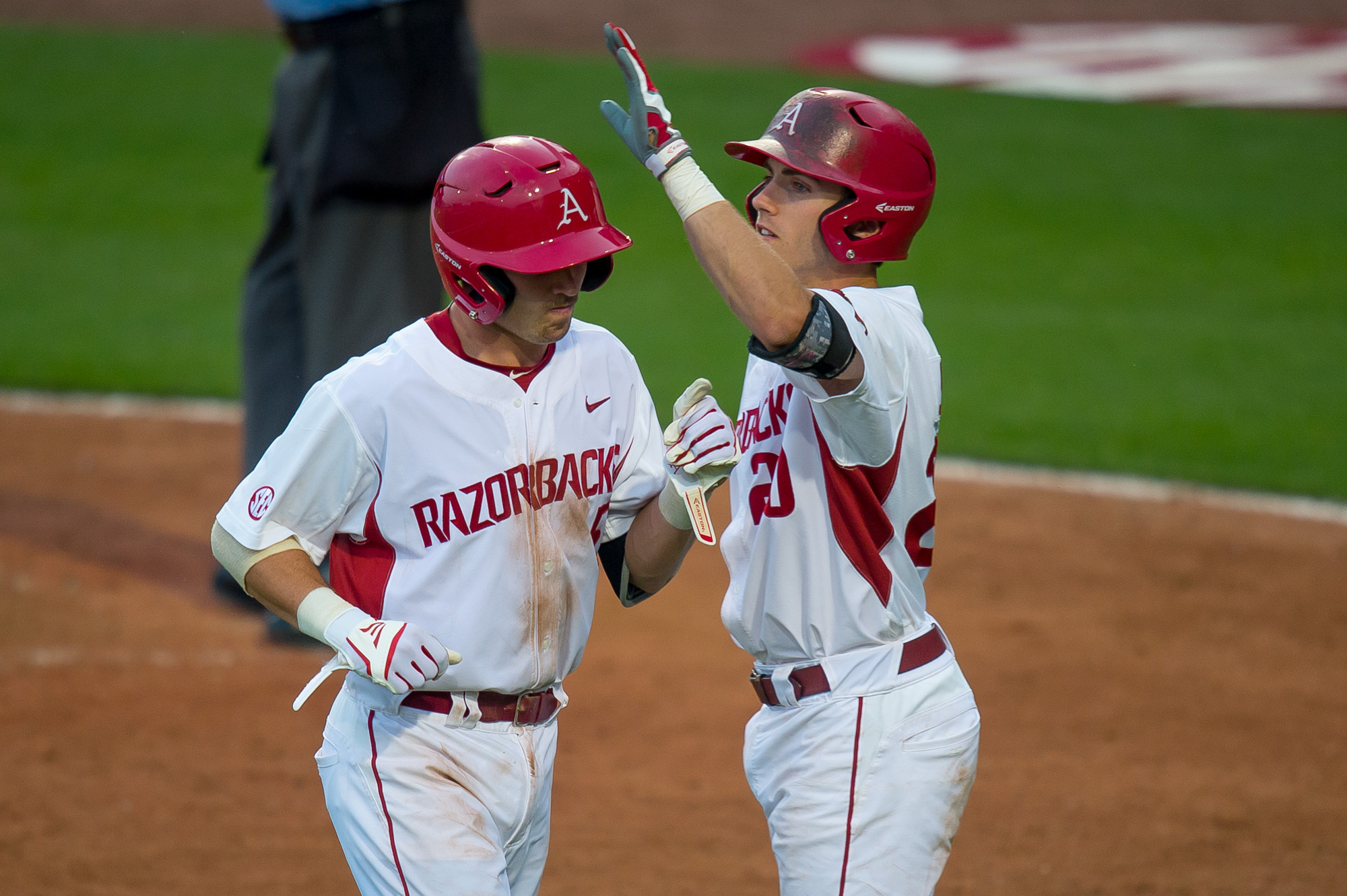 Arkansas Gets 2nd-Ranked Texas A&M At Home
Arkansas vs. Texas A&M Notes (PDF) 
FAYETTEVILLE, Ark. – Coming out a winner in four of its last five games, the Razorback baseball team (25-16, 6-12) looks to win its second-straight conference series this weekend when it hosts No. 2 Texas A&M (33-8, 12-6)for a three-game slate Friday through Sunday at Baum Stadium.
The series between the Razorbacks and Aggies begins Friday at 6:35 p.m. CDT and can be seen on SEC Network+. The final two games of the weekend will be broadcast nationally with Saturday's game on ESPN2 and Sunday's game on ESPNU. Game times for Saturday and Sunday are 2 p.m. and 1 p.m., respectively.
The Hogs are coming off a good come-from-behind victory over No. 18 Oklahoma State on Tuesday, winning 7-6. After being down 3 runs heading into the bottom of the sixth inning, Arkansas delivered key hits during decisive moments: Senior Rick Nomura's RBI single and sophomore Carson Shaddy's RBI triplewere enough to take the lead for good over the Cowboys.
Arkansas also knocked off No. 12 Kentucky in Lexington last weekend, winning the first two of the three-game series with the Wildcats, in turn snapping an eight-game SEC losing streak. Junior pitchers Dominic Taccolini and Zach Jackson were each masterful in their two starts, throwing complete-game shutouts — the first of their careers.
For Taccolini, the Texas-native generated career-high numbers: 10 innings along with 10 strikeouts. The performance earned him SEC Co-Pitcher of the Week. Jackson went a full 7 innings the following day, tying a career-high 8 strikeouts. Arkansas and Kentucky were forced to play two seven-inning games on the series' final day after rain postponed game 1.
Taccolini is scheduled to start game 1 opposite right-hander Brigham Hill for the Aggies. Taccolini holds a 4.50 ERA and a 4-2 record. The 4 wins leads the Razorback team and he'll be making his 10th start of the year, all coming on Fridays.
Jackson will start game 2 on Saturday and he'll be going up against Jace Vines for Texas A&M. Jackson, who started out the year as Arkansas' closer has been moved into the starting role and will be making his fourth-straight start on the year. Jackson has a 3-4 record and a 4.12 ERA. He has a team-leading 48 strikeouts over just 39 1/3 innings pitched.
Things to know
Sophomore Carson Shaddy hit his first triple of the year on Tuesday against Oklahoma State. As a team, Arkansas has hit 9 triples from seven different players.
Arkansas is hitting .281 as a team this year, but during the last five-game stretch, the offense has come through when needed, scoring 20 runs, 10 extra-base hits and 19 RBIs. Shaddy is currently leading all Razorbacks with a .400 average over the last five games with 3 hits coming on Tuesday against the Cowboys.
Texas A&M leads the all-time series with the Razorbacks (38-36) and has won 18 of those games in Fayetteville. However, the Hogs have won seven of the last nine against the Aggies including a crucial series win a year ago in College Station, Texas that helped jumpstart the second half of the season and led to Arkansas' eighth College World Series appearance.
Arkansas is 19-8 in games played at Baum Stadium this year, four wins coming in conference play. The offense is hitting .287 while inside the friendly confines with 28 home runs. Luke Bonfield leads all Hog hitters at Baum Stadium with a .377 average, 4 home runs and 22 RBIs.
Arkansas and Texas A&M come into this weekend's series with 40 home runs each, which is tied for the top mark in the SEC. That total is also 29th in the nation.
No. 2 Texas A&M will match the highest ranked opponent for the Razorbacks this year. 2nd-ranked Florida visited Baum Stadium two weeks ago, but this weekend's games against the Aggies will be the 19th, 20th and 21st game against a ranked opponent for Arkansas this year. The Hogs have played a ranked opponent in eight-straight games leading into Friday's matchup.
Follow Live
Friday's game between the Razorbacks and the Aggies will be broadcast online on SEC Network+, while Saturday's game will be on ESPN2. Saturday's game 3 can be seen on ESPNU.
Phil Elson (PXP) along with Rick Schaeffer can be heard on the radio waves via the Razorback Sports Network from IMG. Fans in the Fayetteville area can listen to the game on the flagship station 92.1 FM The Ticket or online on ArkansasRazorbacks.com.
Probable Starters
Fri | 6:35 p.m. | (ARK) RHP Dominic Taccolini (4-2, 4.50 ERA, 47/15 K/BB) vs. (TAMU) RHP Brigham Hill (5-0, 1.74 ERA, 53-12 K/BB)
Sat | 2 p.m. | (ARK) RHP Zach Jackson (3-4, 4.12 ERA, 48/26 K/BB) vs. (TAMU) RHP Jace Vines (6-1, 4.05 ERA, 52/14 K/BB)
Sun | 1 p.m. | (ARK) TBA vs. (TAMU) RHP Kyle Simonds (6-1, 2.96 ERA, 46/18 K/BB)