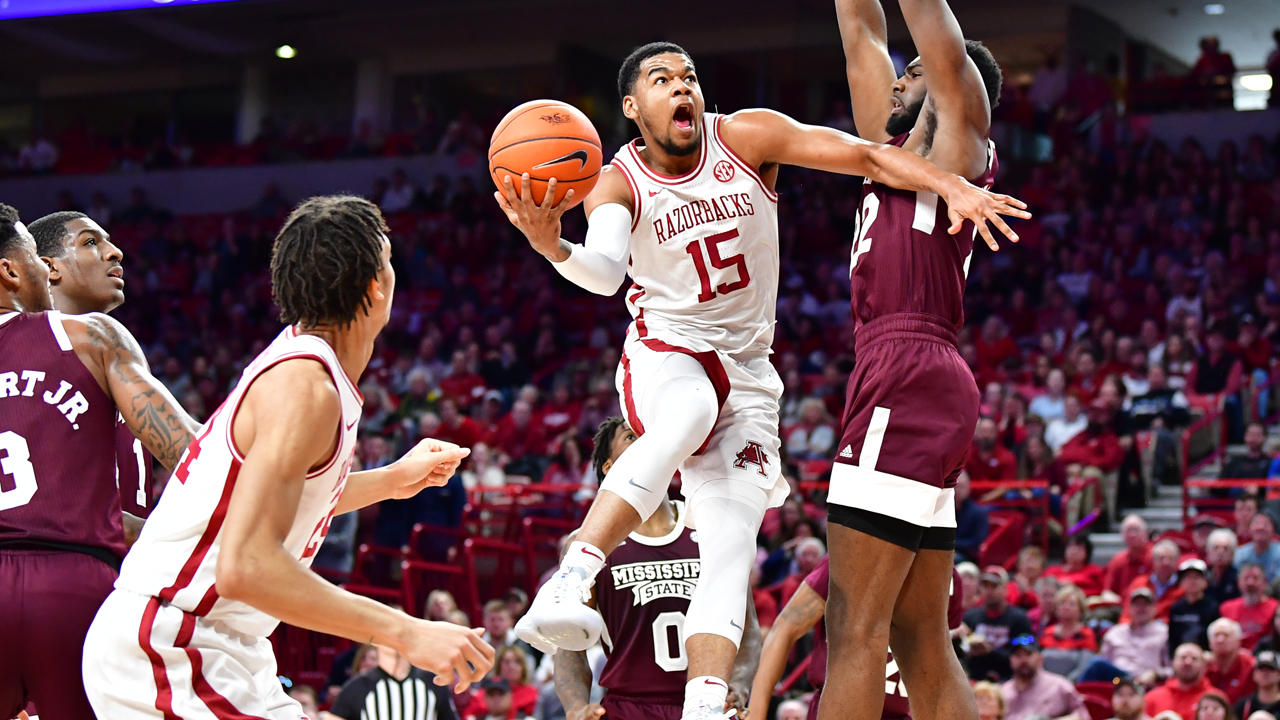 Arkansas Gets Beat at the Buzzer by Mississippi State
FAYETTEVILLE – Arkansas erased a 17-point, second-half deficit – thanks to 38 points by Mason Jones, to take a lead with 1:45 left in the game but Mississippi State's Abdul Ado tipped in a missed basket with six-tenths of a second left to give the Bulldogs a 78-77 win Saturday afternoon at Bud Walton Arena.
Arkansas was down 17, 56-39, with 14:37 to play. The Razorbacks picked up the defensive intensity and out-scored the Bulldogs 36-16 over the next 14 minutes to lead by three, 75-72, on a Desi Sills 3-pointer. The Bulldogs ran off four straight points to regain the advantage, 76-75, after a steal and fastbreak layup by Tyson Carter. Jones drew a foul with 59 seconds left and sank both attempts to put the Hogs up one, 77-76.
On the ensuing possession, Arkansas got a stop on the defensive end. The Razorbacks could not capitalize, and Mississippi State had the ball with nine seconds remaining. Carter drove the ball to the basket and missed a layup with one second left. Ado came in and tipped the ball in before the buzzer for the one-point win.
Jones produced his sixth 30-point game of the season and, with six rebounds, had his 20th game with at least five boards. He was 18-of-21 at the free throw line. The 18 makes are an Arkansas single-game record in an SEC game while ranking third (tied) overall. The 21 attempts are the second-most by a Razorback in an SEC game behind Corliss Williamson's 22 in 1995 and ties for fifth-most overall.
Sills added 15 for the Razorbacks and Adrio Bailey had 10.
Carter paced the Bulldogs with 26 points with Reggie Perry adding 17.
Arkansas will play at Florida (Tues – Feb 18) before returning home to host Missouri (Sat.  Feb. 22) and Tennessee (Wed. – Feb. 26). The Florida game will be televised on ESPNU.
FIRST HALF: Arkansas 32 – Mississippi State 40
Mason Jones scored 8 of Arkansas' first 10 points to give the Razorbacks' a 10-8 lead at the first media timeout (16:00).
Mississippi State used a 6-0 run to lead 17-14 at the second media timeout (11:46).
Mason Jones ended a 4:10 scoring drought with an old-fashion, 3-point play to cut the Razorback deficit to two (27-25) at 3:44 left.
Mississippi State hit a 3-pointer at the halftime buzzer to lead 40-32 at the break.
Mason Jones scored 19 of the Razorbacks' 32 points.
Arkansas outrebounded the Bulldogs 14-13 but committed 10 turnovers.
SECOND HALF: Arkansas Erases 17-point deficit
Mississippi State used an 8-0 run to push a seven-point lead to 15 (51-36) at the 15:54 mark.
Arkansas went down 17 but turned up the pressure with a 9-0 run to make it an 8-point game (56-48) after two free throws by Desi Sills. Sills extended run to 12-1 as he converted an old-fashion, 3-point play to get to within six 57-51.
Sills drove and dished to Adrio Baily to extended run to 14-2 and the Hogs trailed 58-53 at 11:53. Overall, Arkansas had a 17-4 run to make the score 60-56.
Arkansas erased the 17-point deficit, tying the game at 72-72 with 2:31 left after two free throws by Mason Jones at 2:31.
Desi Sills hit a 3-pointer at 1:45 to give Arkansas its first lead (75-72) since early in the first half, out-scoring the Bulldogs 36-16 over 14 minutes.
Arkansas only committed three second-half turnovers.
GAME NOTES
Arkansas' starting lineup was Jimmy Whitt (G) – Desi Sills (G) – Mason Jones (G) – Reggie Chaney (F) – Adrio Bailey (F) for the third time this season.
Arkansas won the tip for the 12th time in 25 games this season. Arkansas is 9-3 in such games.
Mason Jones scored the first points of the game, a 3-pointer at 19:48.
Mason Jones leads the SEC in scoring (20.8 ppg).
Arkansas took a season-high four charges, two by Jimmy Whitt Jr., one by Desi Sills and one by Jalen Harris.
Desi Sills scored 15 points. He is the only Razorback to score in double figures in each of the five games Isaiah Joe has missed.
Arkansas was only outrebounded by two for the game, 28-26, and Mississippi State only had four offensive rebounds.
For more­­ information on Arkansas Men's Basketball, follow @RazorbackMBB on Twitter.