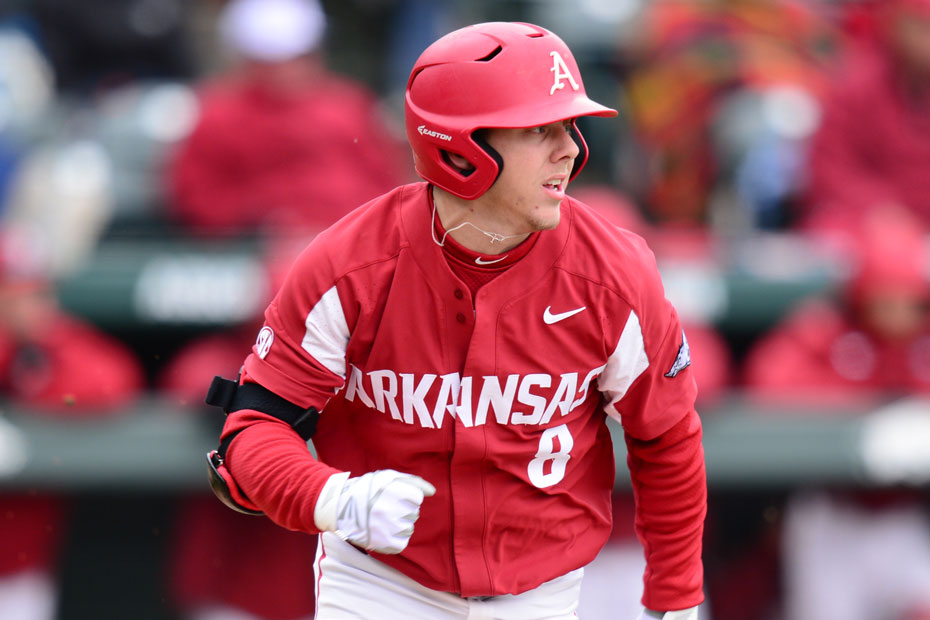 Arkansas Gets Good Midweek Test With No. 4 Texas Tech
FAYETTEVILLE, Ark. – The No. 7 Arkansas Razorbacks are back home this week to start a five-game homestand at Baum Stadium. In what will be its final midweek games of the 2018 season, the Hogs will get its toughest midweek test of the year as they welcome No. 4 Texas Tech starting on Tuesday.
First pitch on Tuesday between the Razorbacks and Red Raiders is set for 6:30 p.m. on SEC Network+. Game two will be on Wednesday at 6 p.m. and televised nationally on the SEC Network.
This week's series marks the first multi-game series between the two schools since they were both part of the old Southwest Conference in 1991. Arkansas won that series 2-1 in Lubbock, Texas and this week's slate of games will be the first in Fayetteville since 1990.
This week's series will also be the fourth time this year that the Hogs will face off against a top-five opponent, and the second time at home. In the previous nine games against top-five opponents, the Razorbacks are averaging just under eight runs per game, and have won five of those nine games.
Freshman pitcher Jackson Rutledge with be making his second mid-week start of the season, his first coming against ULM on April 3. In that game, he gave up just two hits over three innings and struck out two. Rutledge is currently 3-0 on the year with wins over USC, Memphis, and Grambling State, and has only given up three earned runs in 10 appearances
FOLLOW LIVE
Both games this week can be seen online via Watch ESPN. Game one will only be on SEC Network+ as Brett Dolan (PxP) and Troy Eklund (Analyst) will be bringing you the action. Game two will be broadcast on the SEC Network as Tom Hart (PxP) and Mike Rooney (Analyst) will cover that game.
As always, Arkansas' Sportscaster of the Year Phil Elson will call both games on the radio with former Razorback Bubba Carpenter for the Razorback Sports Network from IMG. Those radio broadcasts are also available on the Razorback Gameday app.
IMPORTANT LINKS (ALL TIMES CENTRAL)
Tue, April 24 – Arkansas vs. Texas Tech – 6:30 p.m. – LIVE STATS | WATCH (SECN+)
Wed, April 25 – Arkansas vs. Texas Tech – 6 p.m. – LIVE STATS | WATCH (SEC Network)
PROBABLE STARTERS
TUE: ARK RHP Jackson Rutledge (2.08 ERA, 3-0, 11 K, 8 BB) vs. TTU RHP Ryan Sublette (8.62 ERA, 0-1, 13 K, 11 BB)
WED: ARK TBA vs. TTU TBA
RAZORBACK PRIME 9
>> Arkansas starts a new homestand on Tuesday when it welcomes No. 4 Texas Tech for a two-game midweek series at Baum Stadium. This will be the fourth top-five opponent for the Hogs this year.
>> The Razorbacks have won five-straight midweek games dating back to the March 27 contest at Memphis. Overall, Arkansas is 10-1 in midweek games this season.
>> This week's two-game series will be the first multi-game series between Arkansas and Texas Tech since 1991. The last meeting game on Feb. 28, 2016 at the Houston College Classic at Minute Maid Park.
>> Sophmore Matt Cronin has nine saves on the season, which is currently second in the SEC. He needs just four more to tie the single-season Arkansas record set by Colby Suggs (13) in 2013.
>> Heston Kjerstad (.368, 9 HR) and Casey Martin (.338, 8 HR) are the only Division I freshmen with a .315 average or higher and eight or more home runs.
>> With his RBI-single in the first game of the doubleheader with South Carolina, Carson Shaddy hit the 200-hit mark for his career. Now at 204 hits, he needs just 25 more to crack the Arkansas all-time top 10.
>> The Razorbacks are currently the best hitting team in the SEC with a .308 combined batting average. Heston Kjerstad (.368) and Carson Shaddy (.356) lead the team in hitting and are fifth and seventh in the league, respectively.
>> Arkansas recorded 10 or more hits in a game twice during the Mississippi State series. This year, the Hogs have totaled 10 or more hits in 24 of 41 games and are 18-6 in those games.
>> Junior Eric Cole hit a grand slam in Friday's series opener with Mississippi State. He's the second Razorback to hit a grand slam this year and is currently tied for the team lead with nine home runs.