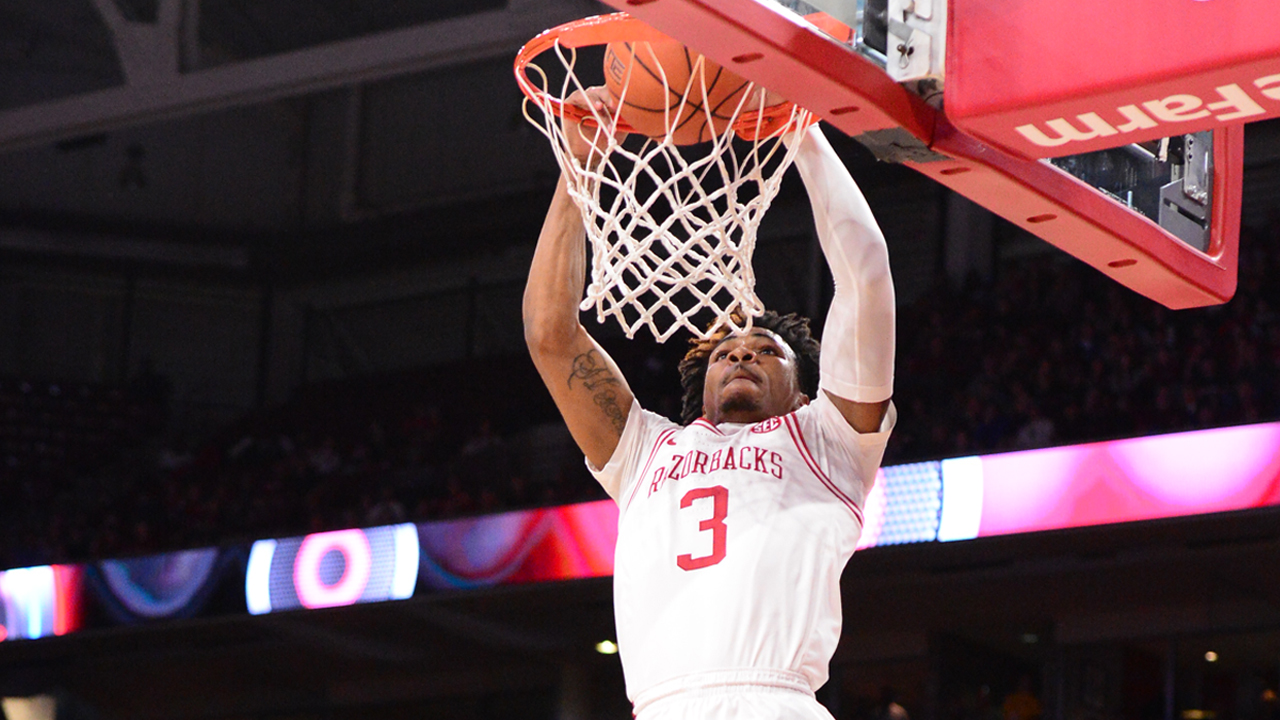 Arkansas Holds Off Norse
FAYETTEVIILE – Jimmy Whitt Jr., tied a career high with 24 points and Reggie Chaney came off the bench to grab a career-high 11 with a career-high five assists to lead Arkansas (7-0) to a hard-fought 66-60 victory over Northern Kentucky Saturday evening at Bud Walton Arena.
With the victory, Arkansas wins the Collegiate Hoops Roadshow – Razorback Regional with a perfect 4-0 mark. Whitt was voted MVP while Desi Sills and Isaiah Joe were named All-Tournament. Northern Kentucky's Dantez Walton, who scored 30 points Saturday, was also voted to the All-Tournament team. The 30 points by Walton was the most by a Razorback opponent since Colorado State's Printiss Nixon had 31 on Jan. 20, 2017.
Whitt also reached a milestone in the win. He needed 14 points to reach 1,000 for his career and, with 24 Saturday, now has 1,010.
Arkansas trailed most of the first half but closed the period on a 10-0 run – and 13-3 over the last 5:17- to take a 33-28 lead at the break.
The Razorbacks, who led by as many as 12 in the second half, never surrendered the lead. However, the Norse did trim their deficit to one, 61-60, on a Walton layup with 24 seconds left. Isaiah Joe made 1-of-2 at the free throw line for a two-point cushion. Northern Kentucky ran a nice play for an open 3-point attempt in the left corner with 14 seconds left, but the shot missed and Adrio Bailey came down with the defensive rebound. The senior was immediately fouled and sank both free throws for a four-point lead. The Norse missed another 3-point attempt and Whitt secured his ninth rebound with two ticks left. Whitt converted both free throws for the six-point win (66-60).
Sills just missed his career high, finishing with 17 points, and Joe had 10 points with four assists. Jalen Harris played 35:15 off the bench and contributed five assists.
The Razorbacks were without leading scorer Mason Jones, who suffered a shoulder injury during Friday's practice.
Arkansas turns around to host Austin Peay on Tuesday (Dec. 3). Tipoff at Bud Walton Arena is set for 7 pm.
FIRST HALF: Arkansas 33 – Northern Kentucky 28
Arkansas scored first on a Desi Sills layup, but the Norse went on an 8-0 run, making two 3-pointers.
Sills had a steal and a dunk to get the Hogs to within two, 15-13, and later tied the game, 15-15, on a layup.
Sills gave Arkansas its first lead, 29-28 at 2:22, since the opening bucket of the game.
Arkansas closed the half on a 10-0 run – and 13-3 over the last 5:17- to take a 33-28 lead at the break.
Sills led the Hogs with 12 points while Jimmy Whitt Jr., had nine.
Isaiah Joe and Jalen Harris each had four assists.
SECOND HALF: Arkansas Led By 12 And Hit Four FT Late in the Win
At 13:26, Jimmy Whitt Jr., made an old fashion 3-ppint play to give him 1,002 for his collegiate career.
Arkansas led by 10 (55-45) at 7:26 media timeout despite being held scoreless for 3:09. Overall, the Norse went on an 8-0 run to cut its deficit to four (55-51). Reggie Chaney ended the drought with a dunk at 6:03.
The Hogs pushed their advantage to 12 with 8:49 left when Isaiah Joe was fouled attempting a 3-pointer. Joe sank all three from the line for a 55-43 lead.
The Norse went on an 8-0 run to get to within four (55-51) with 6:10 left.
Whitt gave Arkansas a little breathing room at 2:45 when his jumper in the lane put the Hogs up five (61-56).
GAME NOTES
Arkansas' starting lineup was Jimmy Whitt (G) – Isaiah Joe (G) – Desi Sills (G) – Jeantal Cylla (F) – Adrio Bailey (F) for the first time this season.
Arkansas won the tip for the fifth time this season.
Arkansas scored first for the sixth time. Desi Sills scored first for the Hogs at 19:23, the first time he has been the first to score.
This was the second straight year Arkansas went 4-0 to win an early season exempt tournament. The Razorbacks won the Hardwood Classic last season.
Jimmy Whitt Jr., had an impressive streak end at the 11:18 mark of the second half when he committed his first turnover on four games. Overall, Whitt played 158 minutes and 17 seconds without a turnover. He played the final 17:44 versus Montana without a turnover, all 33:46 versus Texas Southern, all 43:47 versus Georgia Tech and the first 27:33 today versus Northern Kentucky.
Arkansas entered the game as one of the nation's best defensive teams – leading the NCAA in 3-point percentage defense and ranking among the top 10 in scoring defense, turnovers forced, steals per game and overall field goal percentage. Also, opponents had only made 13 3-pointres in six games. The Norse made five and shot 33 percent from long range. NKU also made 39.2 percent from the field, only committed 12 turnovers and Arkansas had a season-low five steals.
Arkansas had led for at least 32 minutes in each of the first six games but only led for 22:43 Saturday.
Thanks to a career-high 11 rebounds by Reggie Chaney, Arkansas out-rebounded NKU 37-32, marking the third time this season the Hogs have out-rebounded an opponent
For more­­ information on Arkansas Men's Basketball, follow @RazorbackMBB on Twitter.