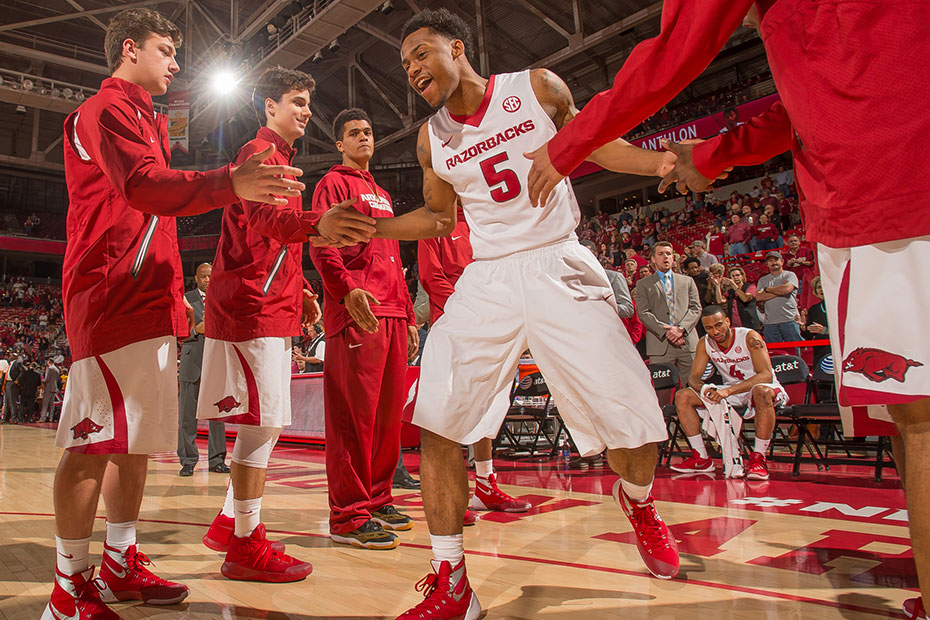 Arkansas Hosts Missouri, Honors Eddie Saturday
Game Notes (PDF)  |  Mike Anderson on Eddie Sutton  |  #BeatMizzou Video
FAYETTEVILLE, Ark. – The Arkansas men's basketball team (12-14, 5-8 SEC) will unveil a banner for basketball legend Eddie Sutton Saturday evening when the Razorbacks welcome Missouri (10-16, 3-10 SEC) to Bud Walton Arena for a 6:30 p.m. tip-off on SEC Network.
Tip-off: Saturday, Feb. 20 at 6:30 p.m. CT
Location: Bud Walton Arena (Fayetteville, Ark.)
TV: SEC Network  |  WatchESPN
Tickets: Click Here
#ThanksEddie
• Basketball legend and former Arkansas head coach Eddie Sutton will have a banner unveiled in the BWA rafters Saturday at halftime. Sutton won 260 games in 11 seasons and made nine NCAA Tournament appearances, including the Final Four in 1978.
The Opponent
• The Tigers are 10-16 on the season with a 3-10 record in SEC play. On Jan. 12, Arkansas defeated Missouri 94-61 in Mizzou Arena. The Razorbacks shot 62.7 percent – a program record in an SEC game – and scored the most points by a visitor in the Tigers' venue, which opened for the 2004-05 season. That loss was the first of nine straight for Mizzou, but the team is on a two-game win spurt, with victories over Tennessee on Feb. 13 and South Carolina on Feb. 16.
• The Tigers have 10 players who average at least 12.8 minutes per game, but none who average more than 11.2 points. Freshman forward Kevin Puryear leads the team with that mark, while Namon Wright (9.1) is the team's scoring leader. Wright is also the Tigers' leading rebounder, at 4.8 boards per contest. Missouri ranks fourth in the SEC, shooting 71 percent from the foul line, but last in the conference with a 29.5 percent mark from beyond the arc.
• Head coach Kim Anderson is in his second year with the Tigers and has a record of 19-39 (.328). Anderson came to Mizzou from Central Missouri, where he spent 13 years at the helm of the Division II program. In 2013-14, his last season with the Mules, the team won the National Championship en route to a 30-5 overall record.
#Fastest40 Facts
• The Razorbacks have seen eight of their 14 losses come by four points or fewer, including three of those in overtime.
• Arkansas leads the SEC and ranks No. 11 in the country in three-point field goal percentage at .405 and is on pace to break the school record of .395 set during the 1992-93 season.
• Anthlon Bell leads the SEC with 77 three-point field goals made, while his .458 three-point field goal percentage is second in the league.
• Arkansas has made at least one three-pointer in 900 consecutive games dating back to Jan. 7, 1989.
• The Razorbacks are one of five teams in the nation and the only high major program with three players averaging 15-plus points per game with Bell (16.4), Kingsley (16.2) and Hannahs (15.9).
• Moses Kingsley (13) and LSU's Ben Simmons (18) are the only individuals in the SEC with 12-plus double-doubles on the year.
• Kingsley is one of seven high major players in the country with 13-plus double-doubles.
• The Abuja, Nigeria, native has been named one of 10 finalists for the Kareem Abdul-Jabbar Award as the nation's top center. He is the only high major player represented on the list.
Series History
• Arkansas leads the all-time series 23-21, including a 94-61 victory over the Tigers in Columbia earlier this year.
• Mike Anderson was 111-57 in five years as the head coach at Missouri and made three NCAA Tournament appearances. He is 4-3 all-time as a head coach against Mizzou.
• In Arkansas' 33-point win at Missouri this year, the Razorbacks set a school record for shooting percentage in a SEC game, going 37-59 from field for 62.7 percent.
Up Next
Arkansas returns to the hardwood Tuesday, Feb. 23, hosting Ben Simmons and LSU in Bud Walton Arena. Tip-off is set for 6 p.m. on ESPNU. Click here for tickets.
For more information on Arkansas men's basketball, follow @RazorbackMBB on Twitter.