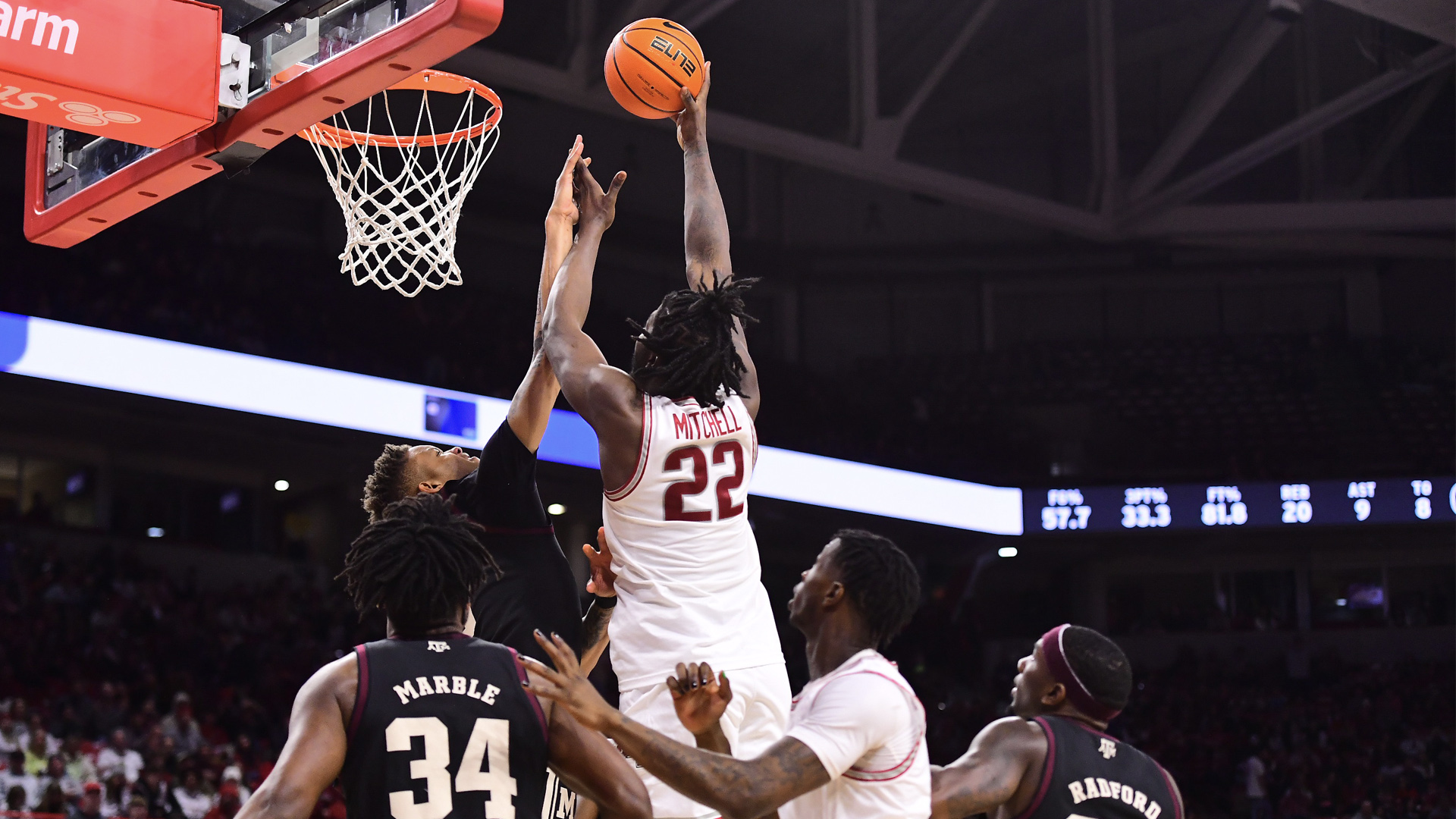 Arkansas Never Trails to Beat Texas A&M
FAYETTEVILLE – Makhel Mitchell had a career-high 13 rebounds with seven blocked shots and nine points while Ricky Council IV and Davonte Davis each scored 19 points to lead Arkansas to an 81-70 victory over Texas A&M Tuesday night at Bud Walton Arena.
The win was the third-straight SEC victory for the Razorbacks (15-7, 4-5 SEC) while the Aggies drop to 15-7, 7-2 SEC.
Together, the Mitchell twins (Makhel and Makhi) combined for 15 points, 18 rebounds and 10 blocked shots on what was their 23rd birthday. Makhi had six points, five rebounds and three blocked shots.
The Razorbacks shot 50 percent from the field (28-of-56) while holding the Aggies to 34.2 percent. However, the biggest difference in the game was the bench scoring. Arkansas only played two players off the bench – Jordan Walsh and Jalen Graham – and they combined for 17 points compared to zero bench points by the Aggies.
Arkansas scored first, never trailed and led for 37:03 with A&M tying the game four times – the last coming at 10-10 with 14:14 left in the first half. Arkansas led by as many as 13 (66-53) with 7:52 to play before the Aggies battled back to get to within four (68-64) with 4:10 remaining. Walsh got an offensive rebound and put back to get the Hogs back on track.
Arkansas held Texas A&M to just 1-of-12 from the field over a 3-minute span and regained a double-digit lead (78-67) before A&M hit a 3-pointer with 21 seconds left. The Razorbacks closed out the game with an Anthony Black free throw and a Davis dunk at the buzzer to provide the 11-point win.
Davis tied a career-high making four 3-pointers (4-of-8), Council had six rebounds and Anthony Black contributed 11 points, seven assists with five rebounds.
Henry Coleman III and Wade Taylor IV each scored 18 points and Tyrece Radford had 17. Coleman added 15 rebounds, including seven offensive, as the Aggies pulled down 24 offensive boards.
Arkansas will play the first of consecutive road games on Saturday (Feb. 4) at South Carolina. Tipoff is set for 2:30 pm (CT) and the game will be televised on SEC Network.
FIRST HALF: Arkansas: 42 – Texas A&M: 34
Arkansas made field goals on five straight trips and took its largest lead, 31-21, with 5:03 left.
Arkansas also made 4 of its final 5 shots of the half
The 42 points are the most scored on Texas A&M in the first half this season.
Arkansas shot 57.7 percent from the field and held A&M to 34.2 percent.
Arkansas had nine assists on 15 made baskets.
Arkansas committed eight turnovers while A&M only committed two.
Ricky Council IV led the Hogs with 11 points and Makhel Mitchell had six rebounds.
Anthony Black added four assists and five rebounds.
Wade Taylor IV led A&M with 9 points.
SECOND HALF: Arkansas: 39 –Texas A&M: 36
Texas A&M only had eight turnovers, but six came in the second half.
Davonte Davis led Arkansas with 13 second-half points.
Makhel Mitchell had seven rebounds.
Arkansas led by as many as 13 before Texas A&M cut the deficit to four with 4:10 to play.
Arkansas made 9-of-12 at the line down the stretch to get the win.
GAME NOTES
There were 3,248 students at the game, which is the most during the Musselman era.
Arkansas' starting lineup was Anthony Black – Davonte Davis – Ricky Council – Makhel Mitchell – Makhi Mitchell for the second time this season.
Arkansas won the tip.
Makhi Mitchell scored the game's first points, a 3-pointer at 19:04.
Jalen Graham was the first Razorback sub.
Texas A&M is Arkansas' most common opponent, going back to the Hogs' first year of basketball (1923-24). Arkansas is 106-59 all-time versus the Aggies – 1 of 3 teams Arkansas has at least 100 wins against. Arkansas is 61-15 versus the Aggies in Fayetteville. Since A&M joined the SEC for the 2012-13 season, Arkansas is 11-8 versus the Aggies, including a 9-1 mark in Bud Walton Arena.
Davonte Davis has scored in double figures in 9 of his last 10 games, scoring at least 16 points in eight of those games.
Davis was just 5-of-27 (19%) from 3-point range prior to SEC play. Since SEC play (including the Baylor game), Davis is 18-of-47 (38.3%).
The last time a Razorback had at least seven blocked shots was Reggie Chaney versus Providence in the NIT in (3/19/19).
Only three Razorbacks have ever had at least 9 points, 13 rebounds and seven blocked shots. Makhel Mitchell tonight with 9, 13 and 7; Moses Kingsley vs Tennessee Tech (12/12/15) with 10, 13 and 8; and Delvon Johnson vs North Carolina A&T (12/29/10) with 9, 13 and 7.
The zero bench points by the Aggies are the low for the year. The previous low was 3 points vs Creighton.
Arkansas has won three straight SEC games – all at home – with wins over Ole Miss, LSU and Texas A&M.
For more­­ information on Arkansas Men's Basketball, follow @RazorbackMBB on Twitter.