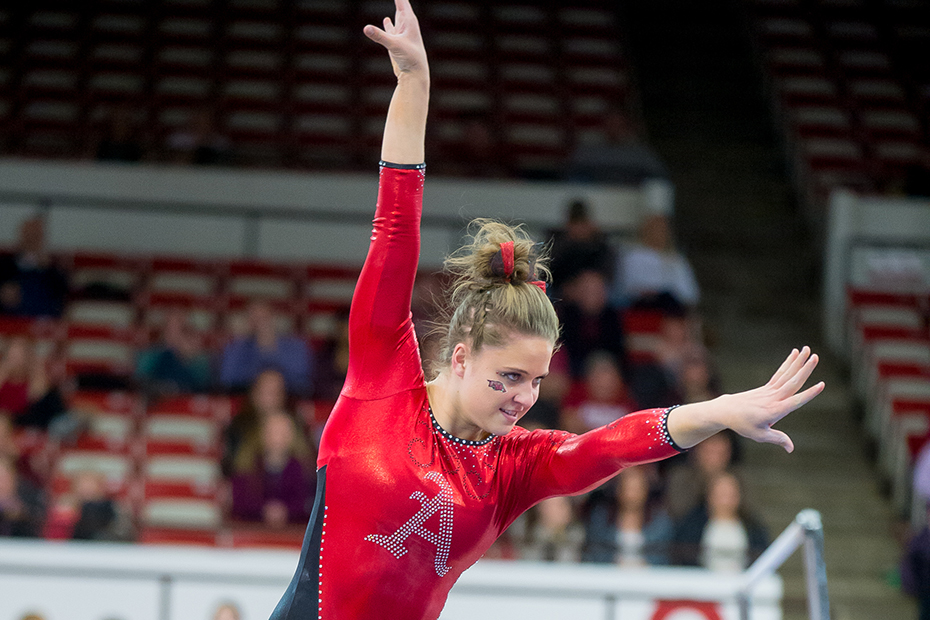 Arkansas Opens Season With 195.350 In Baton Rouge
BATON ROUGE, La. –The No. 19 Arkansas gymnastics team fell to third-ranked LSU 197.150-195.350 in Baton Rouge Friday evening as Amanda Wellick shined in her 2018 debut, scoring over a 9.825 on all three events in which she competed.
"Overall we had some great performances," said head coach Mark Cook. "There's a lot of positives that can come from this as well. It was a high-pressured meet and intense environment. I was very happy with a lot of things I saw."
First Rotation: LSU Vault: 49.175, Arkansas Bars: 48.650
Returning from an injury in 2017 and competing in her first event in over a year, Wellick and the Razorbacks began the night on bars. The Wheaton, Illinois native led the way with a 9.85 while freshman Sydney Laird scored a 9.800 in her first career event. It was the first of two 9.8 or higher scores for the freshman, as she scored a 9.825 on beam. The Razorbacks totaled 48.650 in the first rotation as LSU scored 49.175 on vault.
"I thought she was awesome," said Cook. "When you come back from an injury like that, some of the sharpness is a little bit missing. She didn't miss a beat. She came back mentally strong as well as physically strong. I was really proud of her."
Second Rotation: LSU Bars: 49.600, Arkansas Vault: 48.900
Arkansas' three anchors on vault each scored 9.800 or higher to lead Arkansas to a 48.900 on vault. Juniors Sydney McGlone and Braie Speed each scored 9.850 to lead Arkansas, while Wellick received a 9.825.
"It felt good to be back out on the floor with my teammates," said Wellick. "I thought the team did well tonight. It was a good starting point for us."
Third Rotation: LSU Beam: 49.050, Arkansas Floor: 48.650
Arkansas matched it's score on bars when it moved to the floor as sophomore Michaela Burton recorded a 9.825 to lead the Razorbacks. Burton has scored a 9.8 or higher in 10 of 12 meets dating back to 2017.
Fourth Rotation: LSU Floor: 49.325, Arkansas Beam: 49.150
Recording their highest beam score since April 14, 2015 at the NCAA Morgantown Regional, the Razorbacks recorded a 49.150 on beam as freshman Sophia Carter tallied the Razorback's first 9.900 of the season in her first career appearance on the event. The score ties for the ninth highest score on beam in team history. Four of five scored Razorbacks recorded of 9.800s or higher on the balance beam.
Sophomore Jessica Yamzon was Arkansas' best all-around performer. Yamzon totaled an all-around score of 38.950 while recording her best score of 9.825 on beam.
Up Next:
The Razorbacks make their home debut against the 10th-ranked Kentucky Wildcats next Friday, Jan. 12 at 7 p.m. inside Barnhill Arena. Tickets for meet can be purchased here.
For more information on Arkansas Gymnastics, including in-meet updates, follow @RazorbackGym on Twitter.