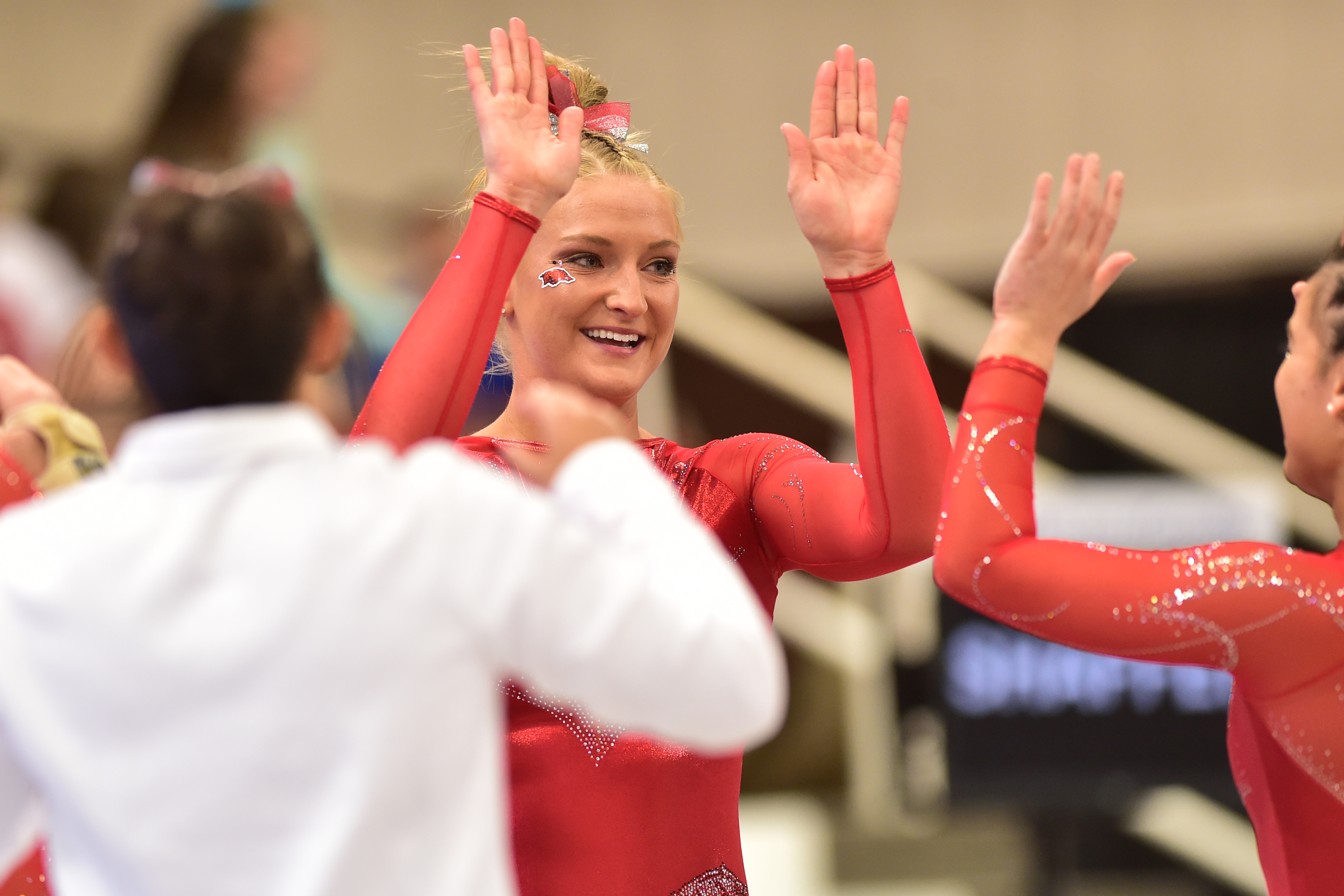 Arkansas Posts 196.525 In Home Opener
FAYETTEVILLE, Ark. – Redshirt freshman Sarah Shaffer posted a 39.325 in the all-around, including a 9.875 on vault, as No. 11 Arkansas fell to No. 6 Kentucky 196.950-196.525 inside Barnhill Arena.
"We came in here with a lot more energy," said head coach Mark Cook. "We had some fantastic routines and I'm really happy with the girls' improvement."
First Rotation: Kentucky Bars: 49.275, Arkansas Vault: 49.200
Arkansas and Kentucky were deadlocked after the first rotation as four of five Razorback competitors scored 9.825 or higher. Junior Sydney McGlone tied her career high with a 9.900 while Shaffer tallied a 9.875. Seniors Braie Speed and Amanda Wellick finished just behind with a 9.850 and 9.825, respectively.
"We had some really big vaults," said Cook. "We had to take that momentum through the entire meet. We were very aggressive, but we saw some big routines."
Second Rotation: Kentucky Vault: 49.200, Arkansas Bars: 49.050
Winning her first individual event title of the season, Wellick recorded a 9.900 on bars while Speed was just behind with a 9.875 to keep Arkansas locked in a tight battle with the Wildcats. A pair of freshmen in Shaffer and Sydney Laird were Arkansas' third and fourth scorers, each with a 9.800.  After two rotations, the Razorbacks trailed Kentucky 98.500-98.250.
"We were a lot more comfortable this week," said Shaffer. "Especially us being at home, the crowd really helped fuel our energy and we built off of them."
Third Rotation: Arkansas Beam: 49.250, Kentucky Floor: 49.100
Arkansas score of 49.250 on beam was its highest score since March 8, 2014 against Nebraska as the Razorbacks had all five scorers record 9.800 or higher. Freshman Sophia Carter again led Arkansas on the event, scoring a 9.900 for the second consecutive week while winning her first career event title. Wellick and sophomore Michaela Burton both posted 9.875, finishing just behind Carter.
Fourth Rotation: Kentucky Beam: 49.350, Arkansas Floor: 49.025
Four of five Razorbacks scored 9.800 or higher as both Shaffer and sophomore Jessica Yamzon recorded 9.850 to lead Arkansas on the floor. The 49.025 gave the Razorbacks a 49 or higher on each event for just the second time in 14 meets.
"Seeing the improvement we've made and we just know the potential we still have in the tank," Cook said. "If we're able to squeeze six or seven tenths out of this team, we could break a 197 with this team."
Up Next:
The Razorbacks travel to Columbia, Missouri for another SEC matchup against the Missouri Tigers next Friday at 7 p.m.