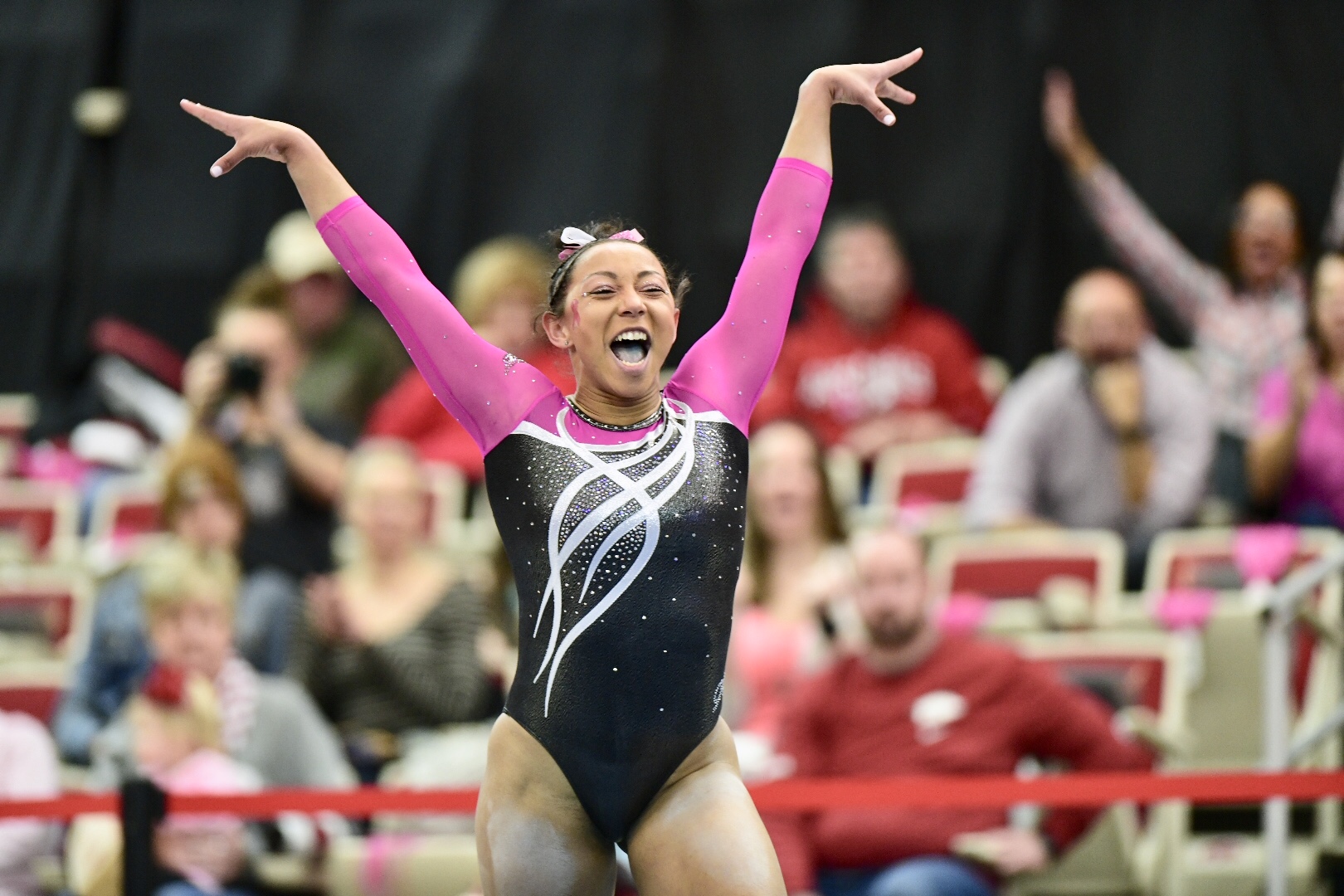 Arkansas Posts Season High In Loss At Auburn
AUBURN, Ala. – The Arkansas gymnastics team fell to Auburn inside Auburn Arena on Friday evening 197.100-196.175. Junior Michaela Burton scored a 9.950 on the beam, tying a career high and the second-highest score on the event in program history. The team score was a season high for the Razorbacks.
First Rotation: Auburn Vault: 49.325, Arkansas Bars: 48.325
Arkansas started the first rotation off strong with a 9.800 from junior Jessica Yamzon. It was the first of four scores of 9.800 or higher as freshman Kennedy Hambrick scored a 9.800 in the three spot. Junior Hailey Garner and sophomore Sarah Shaffer each posted 9.875's, but Arkansas was forced to count a fall in the first rotation.
Second Rotation: Auburn Bars: 49.600, Arkansas Vault: 49.050
Arkansas again put up a 49 on vault with a 49.050 in the second rotation that ended with four-consecutive scores of 9.825 or higher. Shaffer put up a 9.875 in the three spot, including a perfect 9.95 from one judge.  That was followed up with a pair 9.850's from Hambrick and senior Sydney McGlone. Freshman Amanda Elswick anchored the rotation with a 9.825 of her own.
Third Rotation: Arkansas Floor: 49.250, Auburn Beam: 49.000
Yamzon again led off the rotation with a 9.800 for the second time Friday night. The score was followed up with a 9.775 from Hambrick. Elswick made her debut on the event with a 9.800. Mcglone and Shaffer followed that up with a pair of 9.875's before sophomore Sophia Carter recorded her fifth score of 9.900 or higher with a 9.900 as Arkansas' anchor. The score marks the third time this season that Arkansas has posted a 49.250 or higher on the floor.
Fourth Rotation: Arkansas Beam: 49.250, Auburn Floor: 49.175
Arkansas returned to form on the balance beam, with all six scores totaling 9.800 or higher. Yamzon led off the rotation with another 9.800, her third of the night as the junior posted a 39.050 in the all-around. The score was followed with another 9.800 from Hambrick, as she recorded a 39.225 on all four events. In the third spot, Elswick put up a career high 9.850. Carter put up a 9.850 in the fourth position, as freshman Katarina Derrick put up a career high total of 9.800.
Junior Michaela Burton scored a 9.950 to wrap up the meet for Arkansas as the Razorbacks put up a season high 196.175 despite counting a fall.
UP NEXT – LSU Tickets
Arkansas returns home next Friday to host the fifth-ranked Fighting Tigers of LSU inside Barnhill Arena. The meet is slated to begin at 7:15 p.m. and will be televised live on the SEC Network. It is the Razorbacks' annual 'Pack The Barn' night as they try for the attendance record inside Barnhill Arena. The promotion last season saw the Razorbacks host nearly 5,500 fans that saw Arkansas defeat Georgia for the third time in school history.