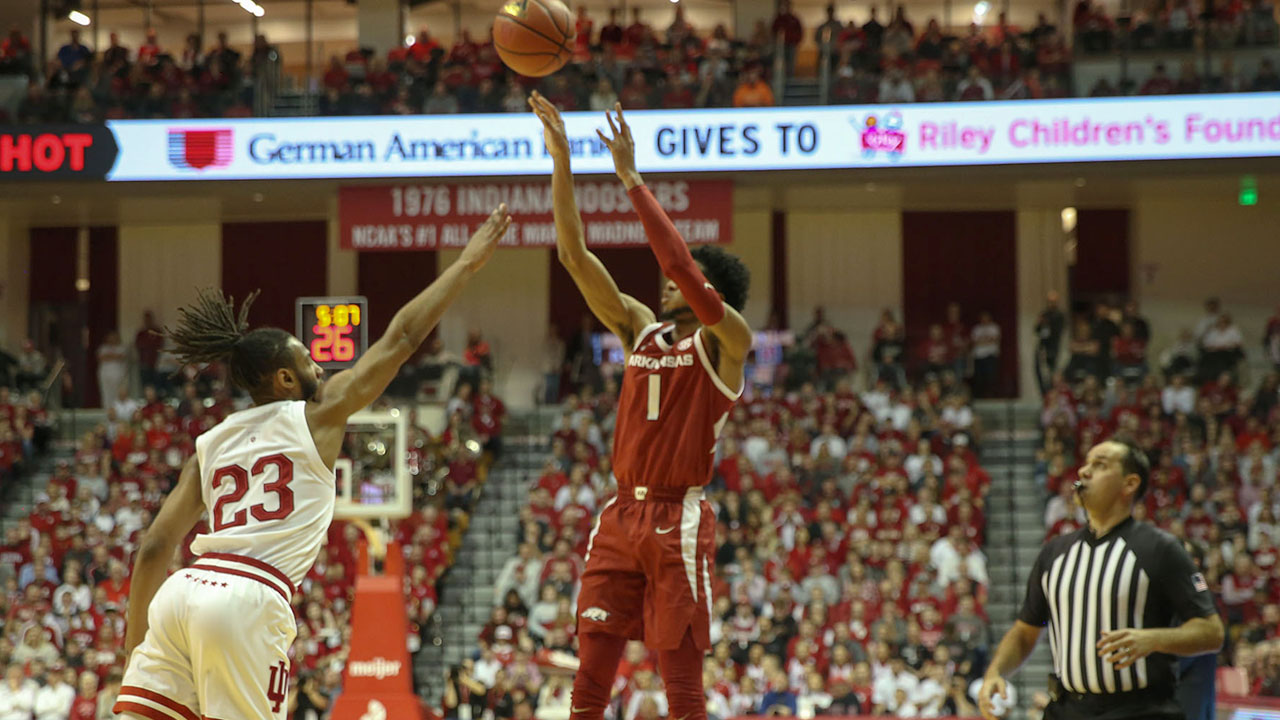 Arkansas Rallies on the Road to Beat Indiana
BLOOMINGTON, Ind. – Arkansas – down by as many as 11 in the second half and by one (62-61) with 3:17 left in the game – got back-to-back 3-pointers from Mason Jones and Isaiah Joe made four free throws down the stretch to cap a 19-3 run and secure a 71-64 victory at Indiana Sunday night at Assembly Hall.
Joe, who made three 3-pointers to cut the Razorback deficit from 11 to two with 13:27 left, finished with 24 points. Jones had 21 with six rebounds and a season-high six assists. This was the third straight game Joe and Jones each scored at least 20 points.
Arkansas improves to 11-1 for the season and 1-7 when playing on the road versus a Big Ten opponent. Indiana falls to 11-2. Arkansas also takes the rubber match in the series. The teams were 2-2 all time prior to tonight and both teams won on their home courts last season. (Arkansas won 73-72 in game three of 2018-19 and Indiana won 63-60 in the 2019 NIT game in Bloomington.)
After Joe made it a 2-point game, Indiana went on a run to go up nine, 61-52 at the 9:01 mark. It was from that point Arkansas went on its run to end the game and get the win.
The Razorbacks began its stretch run as Jones scored four straight, Desi Sills hit a 3-pointer in the right corner and Joe hit a turnaround jumper in the lane to tie the game, 61-61, with 4:58 left.
Indiana regained the advantage when Amaan Franklin went 1-of-2 at the free throw line. But that is the last time the Hoosiers would lead over the final three minutes. Jones immediately sank back-to-back 3-pointers (3:17 and 2:04) for a five-point cushion.
Neither team would score over the next two minutes. Indiana was forced to commit three straight fouls to put Arkansas in the bonus. Joe hit two free throws with 28 seconds left to put the Hogs up seven. Franklin followed with a jumper in the lane for the Hoosiers before Joe made two more at the charity stripe to provide the 71-64 final.
Arkansas returns home to open SEC play as the Razorbacks host Texas A&M on Jan. 4 (Saturday). The game, set for 6 pm, is sold out and will be broadcast on the SEC Network.
FIRST HALF: Arkansas 33 – Indiana 38
Through the first 7:18, the largest lead was three points by both teams. However, Indiana opened up a seven-point lead, 29-22, at 5:41.
The Razorbacks answered with a 7-2 run to get back to within two, 31-29, at 3:43.
Indiana hit a late 3-pointer to take a 38-33 lead at the break.
Desi Sills and Jimmy Whitt Jr., led the Razorbacks, each with seven points, while Adrio Bailey pulled down six rebounds.
Arkansas trailed at halftime for the second straight game and the third times this season.
SECOND HALF: Arkansas closes game on 19-3 run to pull out win.
Arkansas got down 11. 50-39, at 16:04 before Isaiah Joe heated up with three 3-pointers to get to within two, 52-50, with 13:24 left.
The Hogs went back down nine, 61-52 with 8:08 left, but got four points from Mason Jones, a 3-pointer in the right corner by Desi Sills a turnaround jumper in the lane by Isaiah Joe to tie the game, 61-61, with 4:58 left.
Arkansas shot 48.1% from the field in the second half, including 47.1% from 3-point range, while Indiana was held to 37 percent shooting from the field, including 23.1% from 3-point range.
GAME NOTES
Arkansas' starting lineup was Jimmy Whitt (G) – Isaiah Joe (G) – Desi Sills (G) – Mason Jones (G) – Adrio Bailey (F) for the 11th time this season.
Indiana won the tip. It was the sixth time in 12 games the opponent won the tip.
Mason Jones scored the first points of the game, a banked 3-pointer from the left wins at 18-59. He has scored Arkansas' first points – and the first points of the game – four times this season.
Isaiah Joe hit a 3-pointer at 17:11 to give him 153 for his career, moving into a tie for 10th on the school's all-time list. Joe finished with six triples to give him 158 in his short career, moving him to ninth past Dusty Hannahs (155) on the school's all-time list. Next on the list is 160 by Eric Ferguson ad 168 by Jannero Pargo.
Arkansas trailed 38-33 at halftime. It was just the third time this season – and second consecutive game – Arkansas trailed at the half.
Birthday-boy Desi Sills scored 10 points with five rebounds. He had five rebounds versus Valpo as well, both one shy of his career high. It was his fifth game to scored double figures this season.
Arkansas was only out-rebounded by six, 41-35. Indiana entered the game sixth in the NCAA in rebound margin at +10.3.
Arkansas held Indiana to 64 points. The Hoosiers were scoring 80.3 ppg entering the game. Also, Arkansas held Indiana to 42.2% shooting from the field and 23.8% shooting from 3-point range. The Hoosiers were shooting 48.4% from the field entering the game and 32.2% from 3-point range.
A key stat, Indiana entered the game making 19.6 free throws per game, attempting an NCAA-best 27.9 free throws per game and making 70.1%. The Hoosiers were just 9-of-18 from the line (50%).
For more­­ information on Arkansas Men's Basketball, follow @RazorbackMBB on Twitter.