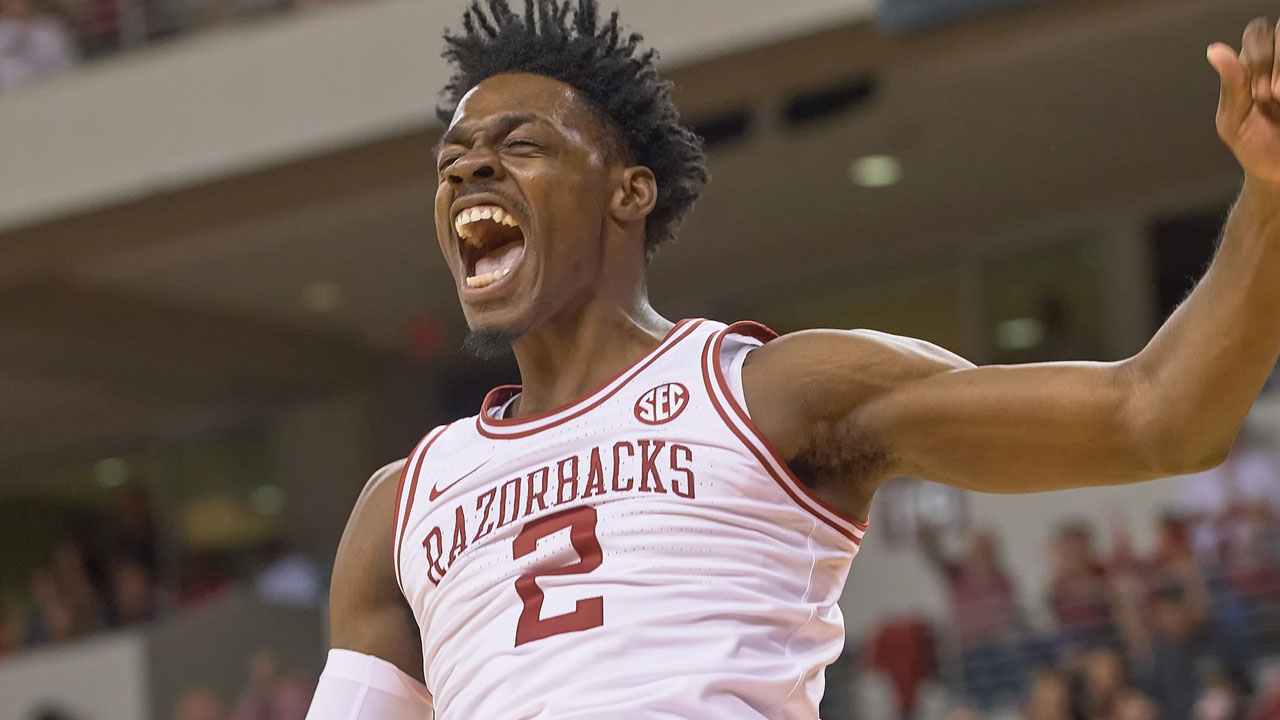 Arkansas Rallies to Defeat Valpo
NORTH LITTLE ROCK – Arkansas was down five (63-58) with 4:14 left in the game but went on a 12-2 run, thanks to a highlight-reel blocked shot by Adrio Bailey and two 3-pointers by Mason Jones, to pull out a 72-68 victory over Valparaiso Saturday night at Simmons Bank Arena.
Isaiah Joe started the run at the 3:50 mark, making three free throws when he was fouled attempting a 3-pointer from the top of the key. With 1:30 remaining and the Hogs down three, Joe got a steal and fed Jones for a 3-pointer from the left wing to knot the game, 65-65. On Valpo's ensuing possession, Jimmy Whitt Jr., got a steal and Jones drained a triple with 53 seconds left for a 3-point Razorback lead.
For the third consecutive defensive possession, Arkansas got a defensive stop as Bailey came through with the play of the game. The Crusaders' leading scorer, Javon Freeman-Liberty, drove the basket and Bailey blocked the layup attempt. Joe gathered the rebound, was fouled and sank two free throws to cap the run for a five-point lead with 36 seconds left.
Valpo answered with a 3-pointer to make it a two-point game, but Jones was fouled on the in-bounds play and promptly drained two free throws with 25 seconds left to provide the 72-68 final.
Jones, who battled foul trouble and missed his first three 3-pointers, made his last two triples of the game and was 8-of-9 from the free throw line to score 20 points. He added nine rebounds and four assists and was the only Razorback in double figures in the plus-minus with +17.
Joe led the Razorbacks with 21 pints and added seven rebounds. He made five 3-pointers and was 6-of-7 from the free throw line. Bailey sank two early 3-pointers and finished with 10 points, five rebounds, four blocked shots and three steals. Whitt added 10 points as well.
Arkansas will return to action Dec. 29 (Sunday) versus the Indiana Hoosiers. Game time is set for 6 pm (ET)/5 pm (CT) in Bloomington, Ind., and the contest will be aired on the Big 10 Network.
FIRST HALF: Arkansas 32 – Valpo 34
Arkansas raced out to a 12-3 lead to force a Valpo timeout at 16:25. The Hogs led by 13 (18-5) at the 12-minute media timeout.
Valpo went on an 11-1 run to cut its deficit to three, 19-16, with 7:26 left.
Valpo took its first lead, 31-29, on a 3-pointer by Liberty-Freeman at 1:58.
The Razorbacks trailed 34-32, at halftime. It was just the second time Arkansas has trailed at the break this season. The other was Western Kentucky.
Adrio Bailey hit two 3-pointers to led Arkansas with eight points. Bailey entered the game having made just two triples this season and four for his career.
GAME NOTES
Arkansas' starting lineup was Jimmy Whitt (G) – Isaiah Joe (G) – Desi Sills (G) – Mason Jones (G) – Adrio Bailey (F) for the 10th time this season.
Valpo won the tip. It was the fifth time in 11 games the opponent won the tip.
Valpo's Javon Freeman-Liberty scored the first points of the game, a free throw at 19:39. Jimmy Whitt Jr., scored the Razorbacks' first points, a jumper outside the paint on the right side. He has scored Arkansas' first points seven times this season.
Attendance was 15,630 – the fifth-largest for a Razorback game at North Little Rock.
This is the second time Arkansas trailed at halftime and is 1-1 in such games. (Arkansas lost at Western Kentucky).
Arkansas also trailed with five minutes to play (now 1-1 in such games) and trailed for the first time with two minutes to play (1-0 in such games).
This was the first time this season Arkansas had four players score double figures: Joe (21), Jones (20), Whitt (10) and Bailey (10).
Joe made five 3-pointers to give him 152 for his career. He is one shy of tying Jonathan Modica for 10th on the school's all-time list.
Desi Sills bruised his right knee in the first half. He attempted to return early in the second half but quickly returned to the bench for the remainder of the game.
Arkansas is 10-1, its best start since opening 2016-17 11-1. This is the 25th time in 97 seasons of basketball Arkansas has started at least 10-1.
For more­­ information on Arkansas Men's Basketball, follow @RazorbackMBB on Twitter.