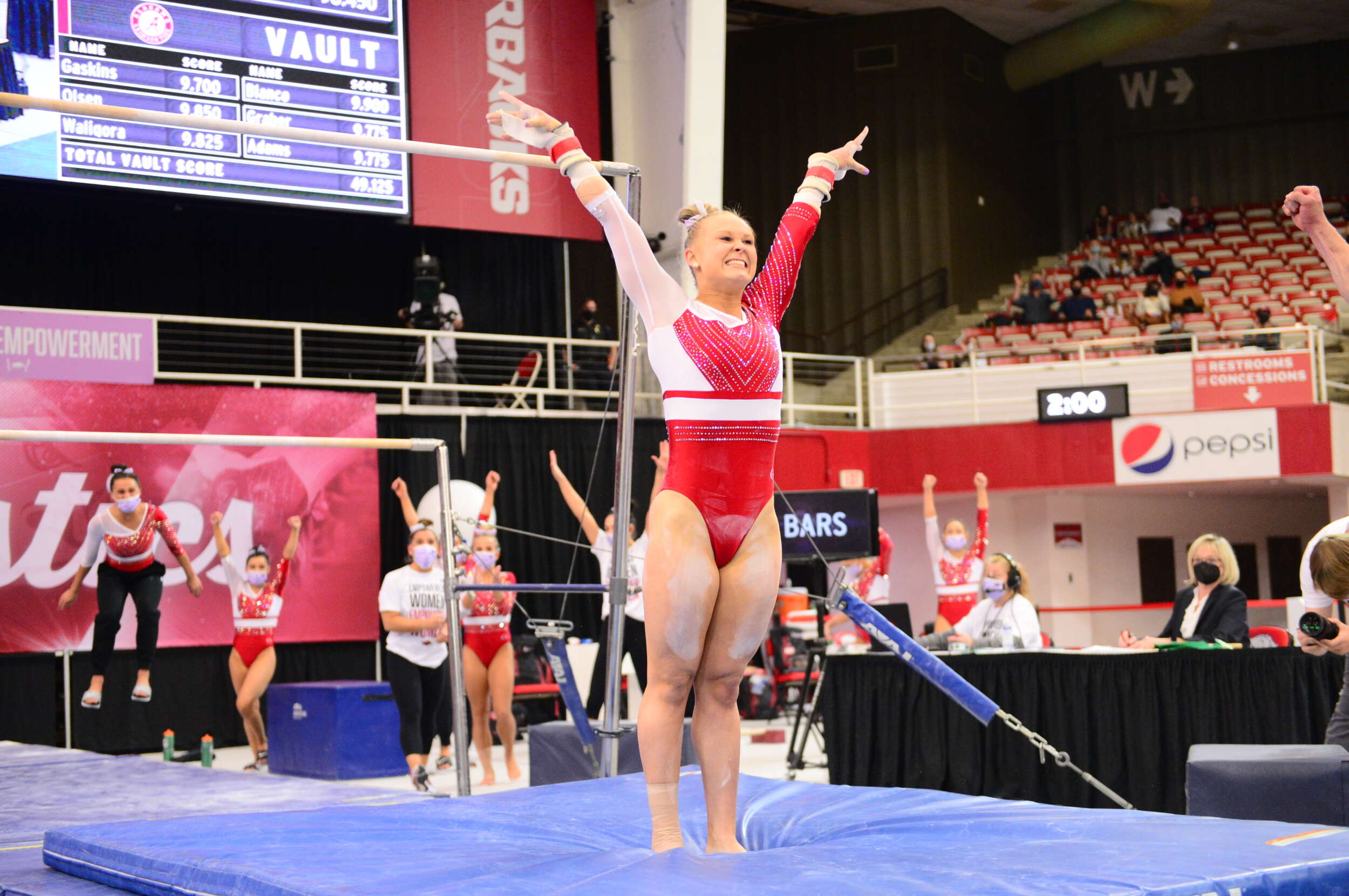 Arkansas Scores 197.000 on Women's Empowerment Night
FAYETTEVILLE, Ark. –  The No. 6 University of Arkansas gymnastics team closed out its final home meet of the year in Barnhill Arena, tying its season high on the floor. Four Gymbacks scored 9.925 en route to the team's 49.575 in the final rotation. Arkansas ultimately fell to No. 7 Alabama, 197.325-197.000.
On vault, Arkansas saw big performances from junior Savannah Pennese and Sarah Shaffer. Pennese's Yurchenko full and Shaffer's Yurchenko layout half both scored a 9.800 towards Arkansas' 48.850 team total.
The Gymbacks continued their upward climb on the bars with every countable routine scoring 9.825 or higher. Back in the lineup this week, freshman Jensen Scalzo showed off her blind-change jaeger to immediate overshoot and scored a season-best 9.875. Maggie O'Hara beautifully executed her bail handstand and double-layout dismount and earned a 9.950 in the anchor spot and secured her fifth event title of the season.
Moving along to the third rotation, sophomore Kiara Gianfagna scored a career-high as the leadoff for Arkansas, nailing her back-handspring layout to score a 9.875. O'Hara continued her success as a specialist, performing her routine wonderfully and sticking her side-ariel 1.5 dismount to score a 9.875 in the number three spot.
The Gymback anchors were crucial to the solid all-around team performance Friday night, as Kennedy Hambrick stepped up on beam and registered a 9.950 after sticking her cartwheel, gainer-full dismount.
Arkansas matched its season-high from last week against Missouri on floor, thanks to all six Gymback routines scoring 9.850 or better. Abby Johnston kick-started the floor party with a career-high 9.925, wowing the crowd inside Barnhill with her double-pike first pass. Hambrick's fun and energetic routine, complete with an exciting double-tuck opening pass, scored a 9.925 as well. Shaffer and Sophia Carter performed their final routines at Barnhill Arena and rightfully earned a standing ovation from fans, both Gymbacks signed off with a 9.925 on floor.
Seniors Shaffer, Carter, O'Hara and former Gymback, now student manager Sydney Laird were honored after the meet for their dedication to the program.
Arkansas travels to Auburn next Friday for the regular-season finale beginning at 7 p.m. on SEC Network+.
Visit ArkansasRazorbacks.com for the latest information on all things Arkansas Gymnastics. You can also find the Hogs on social media by liking us on Facebook (Arkansas Razorback Gymnastics) and following us on Twitter and Instagram (@RazorbackGym).