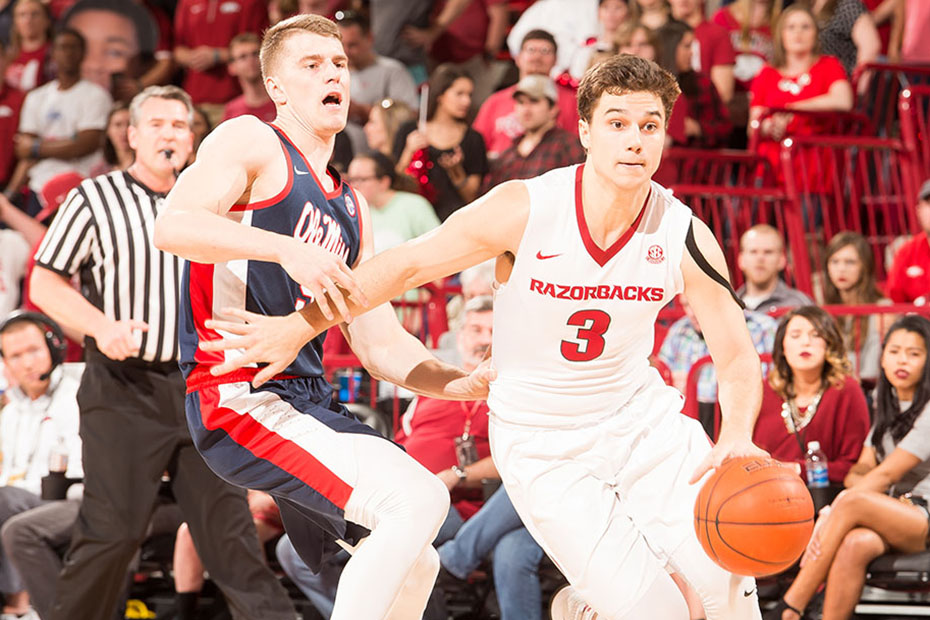 Arkansas To Face Ole Miss In Quarterfinals
FAYETTEVILLE, Ark. – The No. 3 seed Arkansas men's basketball team will make its 26th SEC Tournament appearance Friday evening, taking on No. 6 seed Ole Miss in the quarterfinal round at 8:30 p.m. on SEC Network.
The Rundown
Date: Friday, March 10
Location: Bridgestone Arena
Tip-off: 8:30 p.m. CT
TV: SEC Network
WatchESPN: Click Here
Who We'll Play
• The Razorbacks will face Ole Miss for the first time ever in the SEC Tournament after the Rebels defeated Missouri 86-74 on Thursday evening in the second round.
The #Fastest40 Facts
• After being picked to finish fifth in the SEC by the media, Arkansas finished higher than it was selected for the fourth straight season.
• Arkansas joins Kentucky as the only schools to finish in the top three of the SEC in two of the last three years.
• Arkansas enters postseason play having won six of its final seven regular season games for the second time in the last 11 seasons.
• Arkansas is outscoring opponents by two points in the first half and 197 points in the second half. The Razorbacks have only been outscored in the second half three times in 31 games.
• During the last four years, the Razorbacks have posted a 29-13 regular season record in the months of February and March.
• Arkansas has recorded eight victories over AP Top 25 teams during the Mike Anderson era, including at least one in five of his six years.
• The Razorbacks have scored 80-plus points in five of their last seven wins, and are 15-0 this season when scoring at least 80 points.
• The Razorbacks are looking to make two NCAA Tournament appearances in a three-year span for the first time in nine seasons.
SEC Tournament Notes
• Arkansas is the No. 3 seed for the fifth time since joining the SEC, having advanced to the championship game two of the previous four times.
• The Razorbacks won their only SEC Tournament championship in 2000 as the No. 3 seed, defeating Georgia, Kentucky, LSU and Auburn to capture the title.
• The Razorbacks are making their 26th SEC Tournament appearance where it has an all-time record of 22-24, including a berth in the title game in 2015.
• Arkansas is 2-5 in the SEC Tournament since the league went away from divisions after the 2010-11 season, with both victories coming in 2015.