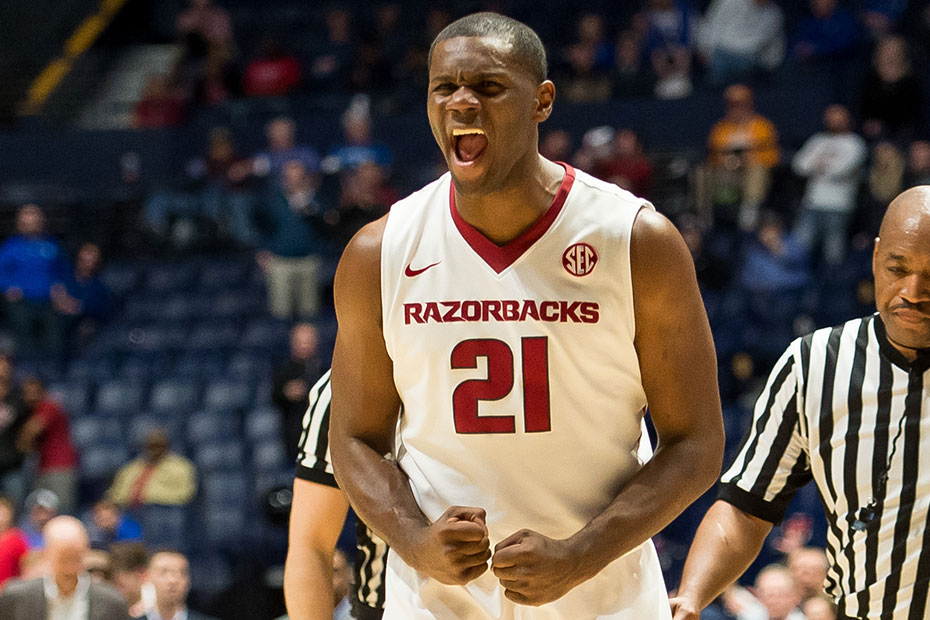 Arkansas Set For Semifinal Test In SEC Tournament
NASHVILLE, Tenn. – The No. 3 seed Arkansas men's basketball team will make its second SEC Tournament semifinal appearance in the last three years on Saturday afternoon, facing No. 7 seed Vanderbilt at 2:30 p.m. on ESPN.
The Rundown
Date: Saturday, March 11
Location: Bridgestone Arena
Tip-off: Approximately 2:30 p.m. CT
TV: ESPN
Talent: Joe Tessitore (PXP), Sean Farnham (Analyst), Kaylee Hartung (Reporter)
WatchESPN: Click Here
The #Fastest40 Facts
• Arkansas is 6-6 all-time in SEC Tournament semifinal games, winning each of its last three appearances and five of the last six.
• Arkansas is looking to make its seventh SEC title game, including the second in the last three years.
• The Razorbacks are shooting 76.2 percent from the free throw line, the highest in 55 years when Arkansas shot 77.6 percent in 1961-62.
• In the final minute of games this season, Daryl Macon is 27-of-30 (.900) from the charity stripe, including the game-clinching free throws in the quarterfinals with 23 seconds left.
• Dusty Hannahs is five points away from becoming the fifth player in program history to reach 1,000 points in two seasons, joining Todd Day, Scotty Thurman, Martin Terry and Bobby Portis.
• Arkansas is outscoring opponents by two points in the first half and 198 points in the second half. The Razorbacks have only been outscored in the second half three times in 32 games.
• Arkansas has 24 wins for the second time in the last 19 years, with both times coming in the last three seasons.
• After being picked to finish fifth in the SEC by the media, Arkansas finished higher than it was selected for the fourth straight season.
• The Razorbacks have scored 80-plus points in five of their last eight wins, and are 15-0 this season when scoring at least 80 points.