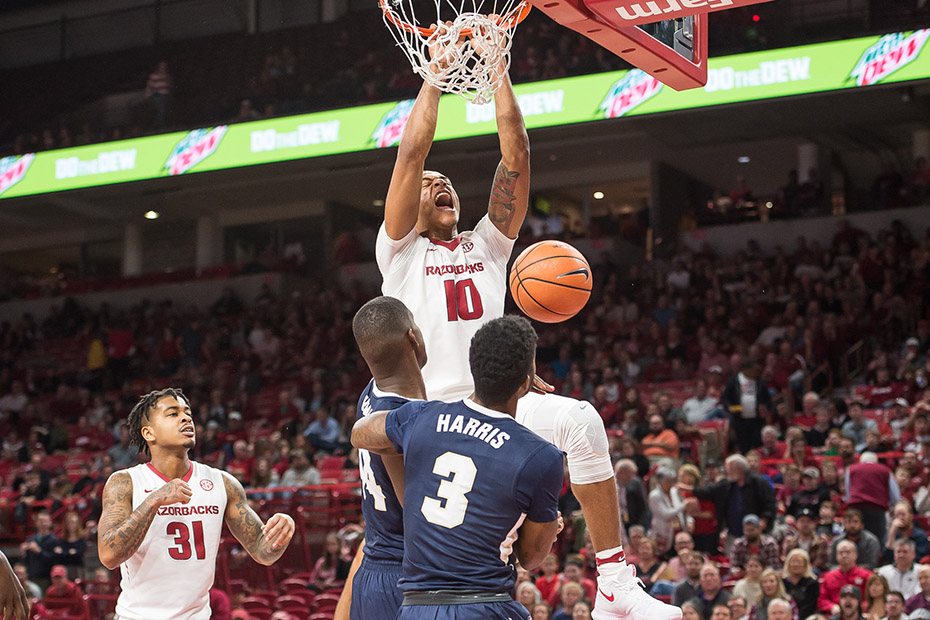 Arkansas Shows Out In Win Over Oral Roberts
FAYETTEVILLE, Ark. – The conference's top scoring offense put on a show Tuesday night, as the Arkansas men's basketball team defeated the Oral Roberts Golden Eagles 104-69 for its sixth 20-point victory of the season.
Arkansas eclipsed the 90-point mark for the sixth time this season, including fifth time out of six games in Bud Walton Arena. It was the third time that the Razorbacks surpassed the 100-point plateau.
The offense was sparked by Arkansas' defense that forced eight turnovers in the first eight minutes of action, helping build a 19-8 lead that the Razorbacks would never relinquish. Arkansas turned 16 first-half turnovers into 25 points, taking a 52-23 lead into the break. ORU finished the game with 27 turnovers, allowing the Razorbacks score a season-high 42 off its errors. That is the most turnovers Arkansas has forced since turning over Texas-San Antonio 28 times in 2013-14.
Arkansas got well-rounded efforts from many players, as five Razorbacks scored 10-plus points and had at least three rebounds and three assists.
Senior guard Jaylen Barford was all over the place on the defensive end, swiping four of Arkansas' seven first-half steals. The most an Arkansas player had had in a game going into the ORU contest was three, Barford finished with a career-high five steals.
Arkansas built its early lead thanks in large part to senior guard Anton Beard and sophomore guard C.J. Jones. Beard scored seven of Arkansas' first 10 points, while Jones splashed three early three-pointers to stretch the Razorbacks' lead to 30-12. Jones would lead Arkansas at halftime with 12 points, going 4-of-5 from behind the arc.
The Razorbacks would maintain their lead, not only due to its defense, but also because of its hot shooting. Arkansas shot 59.4 percent (41-69) as a team from the floor, including 56.0 percent (14-25) from behind the arc. Over the last four games, the Razorbacks have done a really good job of taking care of the ball. After having just nine turnovers Tuesday, it extends Arkansas' streak of games with less than 10 turnovers to four, the longest streak at least 28 years.
After having a rough game from the floor in Arkansas' last outing, Barford made up for it on Tuesday, going 8-of-9 from the field for a team-high 18 points to go with three rebounds and four assists.
The Razorbacks had six players with three or more assists, as Arkansas finished with 27 dimes, the second most this season by the Razorbacks. It is the fourth game this season that Arkansas has had 20 or more assists as a team, including the third in the last four games. During the last four games, Arkansas has turned the ball over just 27 times compared to 91 assists, good for a +3.4 assist-to-turnover ratio during that span.
Arkansas had six players finish in double figures, as Jones finished with 15, tying his career high with five made three-point baskets. Senior guard Daryl Macon and Beard each had 14 points, while freshman forward Daniel Gafford added 12 with four dunks. Freshman guard Darious Hall posted 11 points, including an impressive fastbreak windmill slam.
Arkansas will take the rest of the week off for the Holiday season, before returning to Bud Walton Arena next Wednesday, Dec. 27 against Cal State Bakersfield for a 7 p.m. tip off on SEC Network. It will be Arkansas' final non-conference match-up before conference play starts against No. 21 Tennessee on Saturday, Dec. 30.
Game Notes
• The Razorbacks improve to 6-0 at home for the 11th time in the last 14 years, including the fifth time in seven seasons under Mike Anderson.
• Arkansas has won nine straight games in Bud Walton Arena, dating back to last year.
• With the win, Arkansas the only team in the SEC to string together two separate four-game winning streak this season.
• The Razorbacks improve to 60-1 (.983) against unranked non-conference opponents inside Bud Walton Arena during the Mike Anderson era.
• With 27 assists and just 9 turnovers Tuesday, the Razorbacks have a combined 91 assists and 27 turnovers during the last four games, good for a +3.4 assist-to-turnover ratio. For the season, Arkansas has a +1.7 mark.
• During the last seven years, Arkansas is 43-3 when dishing out 20 assists, including a 31-1 mark in non-conference play. The Razorbacks are 4-0 this season when recording 20-plus dimes.
• Arkansas has 30 runs of seven points or more in 11 games this season, compared to just 11 by opponents.
• The Razorbacks have multiple runs of seven points or more in nine of 11 games.
• During the Mike Anderson era, Arkansas is 114-7 in games it led at the half, including 29 consecutive victories. This year, the Razorbacks have led by an average of 17.6 points at the break in their eight wins.
• In six games in Bud Walton Arena this year, the Razorbacks are 6-0 with a +152 scoring margin, including a +116 scoring margin in the first half.
Ticket Packages
Season tickets, mini plans, mobile passes and single-game tickets for the 2017-18 season are available now at the Razorback Ticket Center by calling at 1-800-982-HOGS (4647) and online by clicking here.