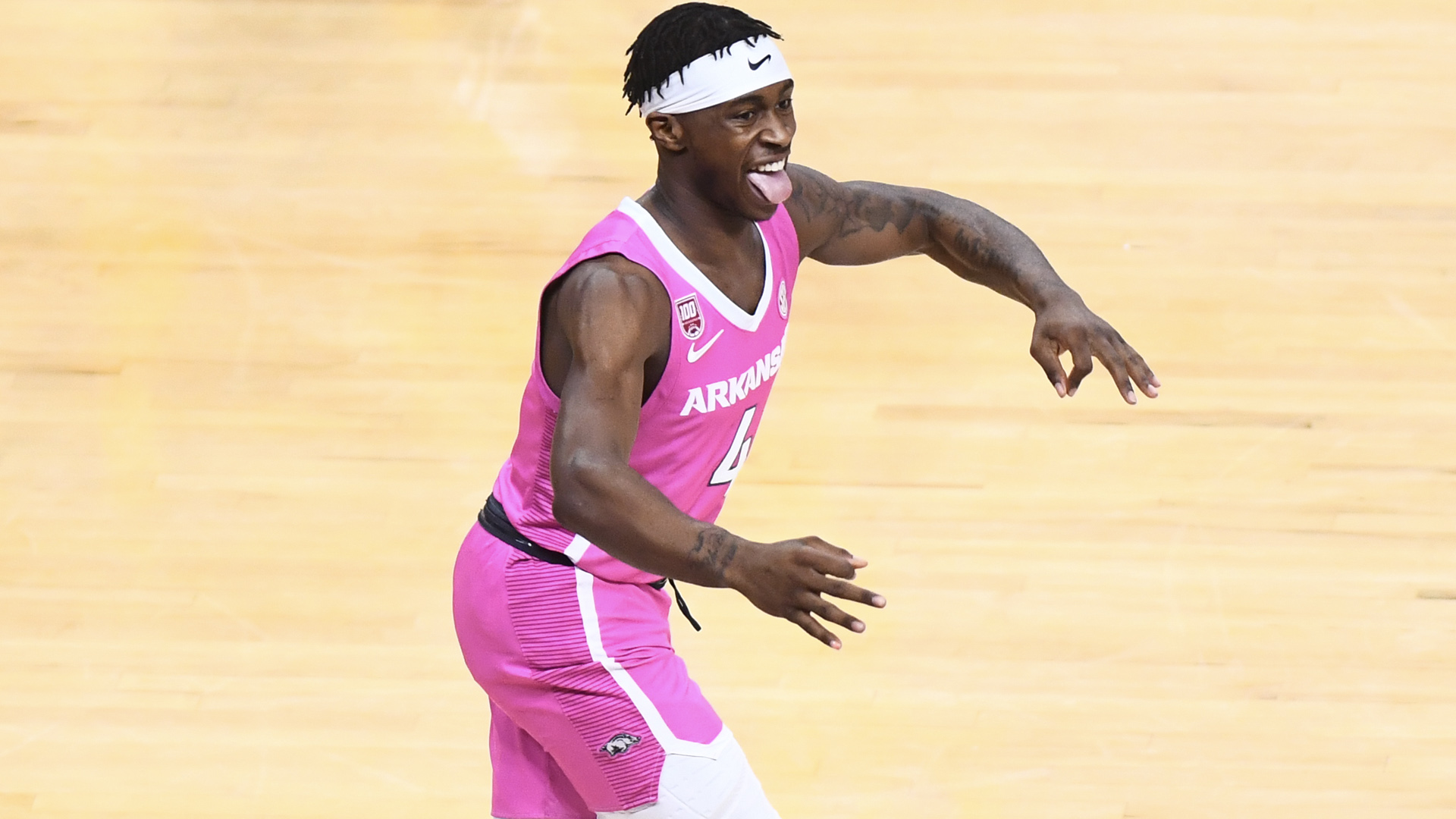 Arkansas Stifles Tigers
FAYETTEVILLE – Arkansas had its best defensive performance of the year – and one of its best overall – in a 60-40 victory over LSU Tuesday night at Bud Walton Arena.
The Razorbacks were led by Davonte Davis (16 points on 7-of-8 shooting and seven rebounds), Anthony Black (14 points, seven rebounds and three steals), Ricky Council IV (10 points, six rebounds and career-high tying seven assists) and Makhi Mitchell (10 points, eight rebounds and three blocked shots).
The following is a breakdown of the defensive dominance:
Arkansas held LSU to 40 points, which ties for the 10th lowest by any opponent in the modern era (1970-71) and the second-fewest in an SEC game.
Arkansas held LSU to 25.9% shooting (14-of-54), which is the fifth lowest by an SEC opponent and the lowest since holding Vanderbilt to a record-low in SEC games of 25% (14-of-56) on Feb. 10, 2018.
No LSU player scored in double digits.
LSU was just 3-of-25 (12%) from the field in the first half.
The 14 points ties for the sixth-lowest point total by an opponent in the shot clock era. The 38 points by Arkansas is the sixth-best, first half total this season.
The 14 points are the third lowest in a half by an SEC opponent behind 9 by Miss State (2/7/15) and 11 by Vandy (1/12/13).
The 24-point halftime lead ties for the sixth-largest halftime advantage in an SEC game.
The solid Razorback defense helped Arkansas outscore LSU 18-4 on points off turnovers and 15-7 on fastbreak points.
Adam Miller and KJ Williams led LSU with nine points, but the pair was just 5-of-22 from the field.
Arkansas will step out of league play to face #17 Baylor in the SEC-Big 12 Challenge on Saturday (Jan. 28). The game will be played in Waco, Texas. Tipoff is set for 3 pm (CT) and the game will be televised by ESPN.
FIRST HALF: Arkansas: 38 – LSU: 14
Arkansas had a 15-0 run to take a 30-11 lead. The run was second-best run total for the season behind 17-0 runs versus Louisville and Troy.
Arkansas had 10 assists on 15 made baskets and only committed five turnovers. LSU committed 10 turnovers.
Arkansas was 4-of-7 from 3-point range and LSU was 0-of-3.
Devo Davis led Arkansas with 12 points and Anthony Black had 10 points.
SECOND HALF: Arkansas: 22 – LSU: 26
LSU started the second half on a 15-2 run to make the score (40-29). Arkansas was just 1-of-8 from the field to start the half while LSU made 7 of its first 12.
Davonte Davis called a timeout after the opening LSU run to allow the Razorbacks to regroup.
LSU got to within 11 on two other occasions before the Razorbacks used an 11-1 run to push the lead back to 21 with 4:42 left.
GAME NOTES
Arkansas wore all pink uniforms with "ARKANSAS" on the front as part of Coaches vs Cancer Suits and Sneakers week. It was the first time Arkansas had worn pink uniforms.
Arkansas' starting lineup was Anthony Black – Davonte Davis – Ricky Council – Jordan Walsh – Makhi Mitchell. This is the 10th and the most common starting lineup this season.
Arkansas won the tip.
Devo Davis scored the first points of the game at 18:18.
Kamani Johnson was the first Razorback sub.
Jalen Graham only had six points, but they were the only six Razorback points off the bench. All three of his baskets were dunks. He was +20 in 16:59 played.
Arkansas only had 20 alley-oops heading into the game, but just one in SEC play. The Razorbacks had three alley-oops in the win over LSU.
Eric Musselman is 9-1 as Arkansas head coach when avenging a loss. The only time a team beat Arkansas the first time and Coach Muss did not get a win in the second meeting of the year was in his first year with the Hogs when Mississippi State tipped in a game-winner at the buzzer for a one-point win.
Arkansas eclipsed 8,000,000 in tickets sold in this the 30th year of Bud Walton Arena.
Arkansas is 42-35 all-time versus LSU, including an impressive 23-8 mark in games played in Fayetteville.
For more­­ information on Arkansas Men's Basketball, follow @RazorbackMBB on Twitter.