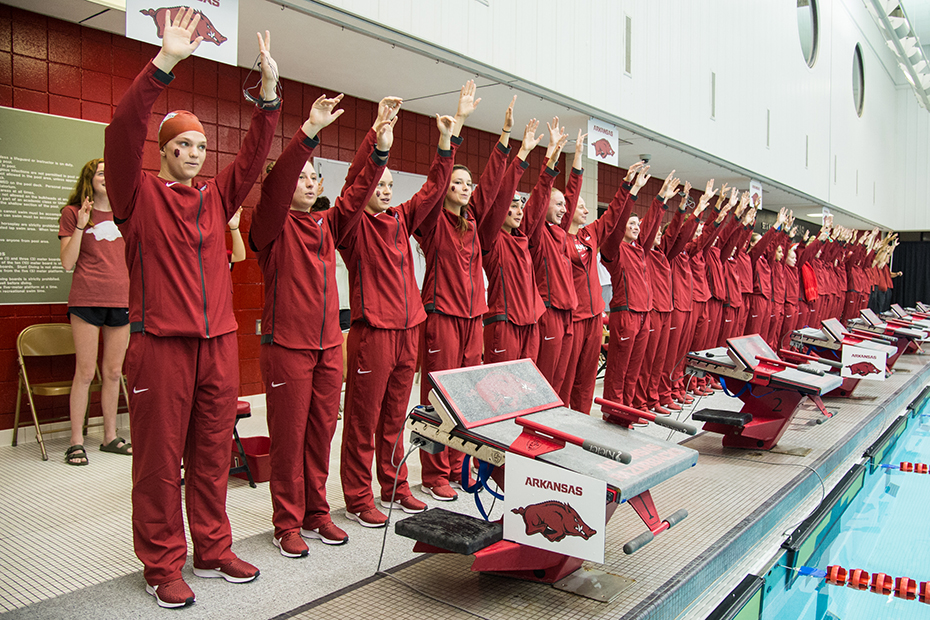 Arkansas Swimming and Diving Announces 2019-20 Schedule
FAYETTEVILLE, Ark. – The Arkansas Swimming and Diving team released their 2019-20 schedule, which features five teams that finished in the top-15 at the 2019 NCAA Championship meet. The Razorbacks are hoping to continue making history after they finished the 2019 season in the top-20.
"We are excited to have so many challenges on this year's schedule," Coach Neil Harper said. "To compete against 5 of last year's top-15 teams will be a great opportunity to see how far our program has come and how much further we have to go!"
The Razorbacks will open their season with the Pentathlon meet on Sept. 13 in Fayetteville, and their annual inter-squad Red vs White meet on Sept. 20. They will officially kick off the season by hosting Little Rock on Oct. 5.
The first road trip the Hogs will take is to Palo Alto, Calif., where they will face the defending NCAA Champion Stanford Cardinal on Oct. 12. The Hogs will then head back to Fayetteville to host their first SEC meet of the season, as Auburn will come to town for a meet on Oct. 26. With about a week of time to prep, the Razorbacks will find themselves at a two day meet in Lexington, Kentucky, where they will compete against No. 7 NC State, No. 15 Kentucky and No. 22 Missouri.
"Obviously being able to compete against the defending national champions in Stanford is an opportunity not too many programs get," Harper said. "We will also go on the road to compete against defending SEC Champions Texas A&M, No. 7 NC State and No.15 Kentucky. These teams are some of the toughest dual meet teams in the country. Hosting No.12 Auburn at home will give our fans a great meet in Fayetteville to come support us."
Following their trip to Lexington, the Razorbacks will find themselves on the road again, but this time in Atlanta, Ga., where Harper's squad will compete at the U.S. Open and the U.S. Winter Diving Nationals.
Heading into the new year, the Razorbacks will head to Knoxville for the Tennessee Diving Meet and return to Fayetteville where they will Host Drury & Oklahoma Baptist on Jan 18 for their senior day.
The 2020 postseason will kick off with the SEC Championships from Feb 13-17 in Auburn, Ala., and the divers on the team will have their chance to qualify for the NCAA Championships a month later at Zones. To close out the season, the Razorbacks will head to Athens, Ga., for the NCAA Championship, which are set for Mar 14-17.